© Manu Reyboz - Photographe
Best fondues in Les Arcs
Celebrate the enduring relationship between cheese and skiing
No trip to the French Alps is complete without indulging in delicious, gooey Savoyarde fondue.
Forget the exhilaration, forget the sense of freedom, forget the beautiful landscapes and joy of sliding effortlessly through a wonderland of snow and ice, most people in France only ski so they can burn enough calories to justify eating a median-lethal dose of cheese every evening.
There is an old rhetorical question around these parts, "who did we love first, the cow or the cheese?" In the summer, when the snow has mostly melted away and the pistes have become huge vertiginous fields full of grazing cows, the people of the Haute-Savoie turn their collective attention to the production of fantastic flavoursome cheeses.
You can turn heads in the Tarentaise Valley by simply saying the names of these local fromages aloud: "Beaufort, Raclette, Tomme, Emmenthal, Abondance, Reblochon..." During the cold winter months when luxuriously hearty meals are highly-prized, it's no wonder that that fondue, the supreme incarnation of molten cheese, tops the bill at many restaurants.
So grab some friends, and a fork, and join our tour of the best places to get your cheese-fix in Les Arcs.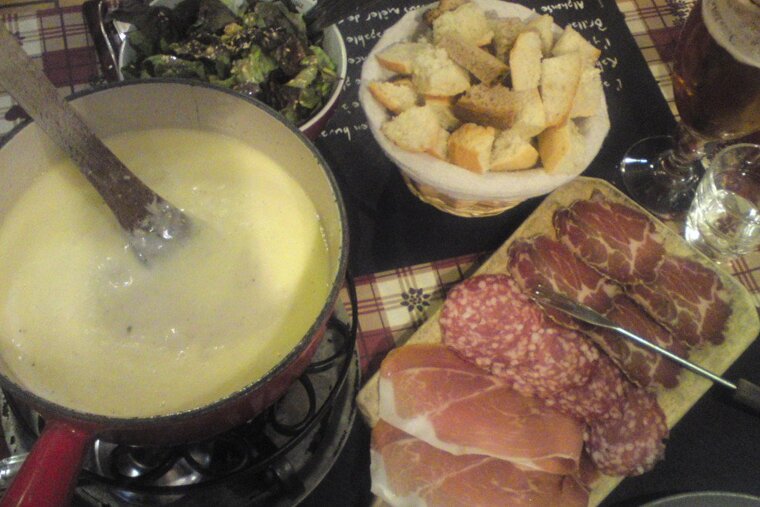 Le Refuge, Bourg St Maurice
This compact but characterful restaurant on Bourg's quaint, pedestrianised high street is incredibly popular throughout the year.
Serving primarily traditional, Savoyarde dishes, they somehow manage to achieve both quantity and quality of food, whilst keeping prices reasonable. The service is always absurdly hospitable, English and French menus are available.
There are usually three cheese fondues on offer (and a meat fondue, featuring beef and turkey) which are available for two persons or more. If you do somehow manage to eat all the fondue's accompaniments (which may, depending on choice, include bread, salad, charcuterie, pickles, etc) they will top them up free-of-charge.
With portion sizes already generous, the idea that you would need more can be quite absurd. Just be sure to book a table in advance, because the restaurant's big reputation but small size mean that "walk-ins" are sometimes disappointed.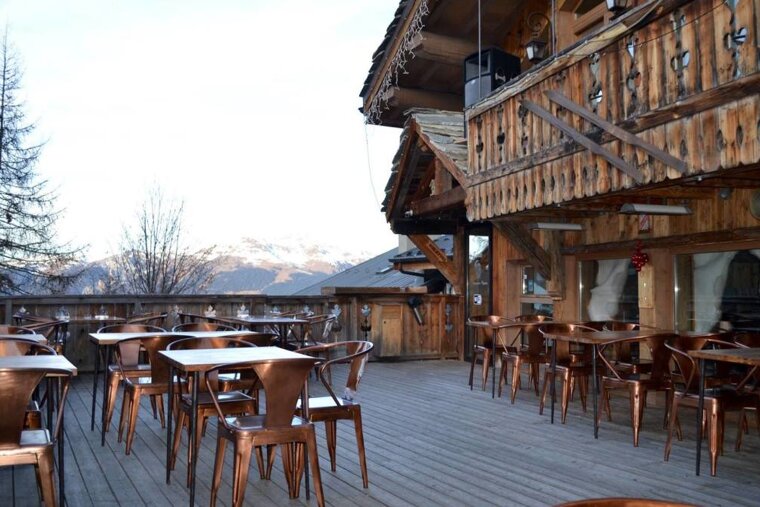 Le Solan d'Aniathazze, Peisey-Vallandry
With its outdoor terrace situated right next to the Vanoise Express, the Solan is easier to find from the piste than the main street. However, unlike Le Refuge above, the restaurant has a large number of tables over multiple levels so can quite easily accommodate bigger groups.
This is ideal as many of the chalets in Peisey-Vallandry are fully-catered, and with chalet staff typically having the same day off in the week, this causes increased demand on Tuesdays and Wednesdays.
The dining rooms have a "modern chalet" decor and are perennially popular, regardless of season, for lunches and evening meals. The fondues here are only available in the evening but are very good indeed.
There are two choices and charcuterie (a selection of cured meats) is optional. If, for some unknown reason, a member of your party prefers meat to cheese, they also offer "pierrades" whereby you cook your own miscellany of raw meats on the hot stone provided.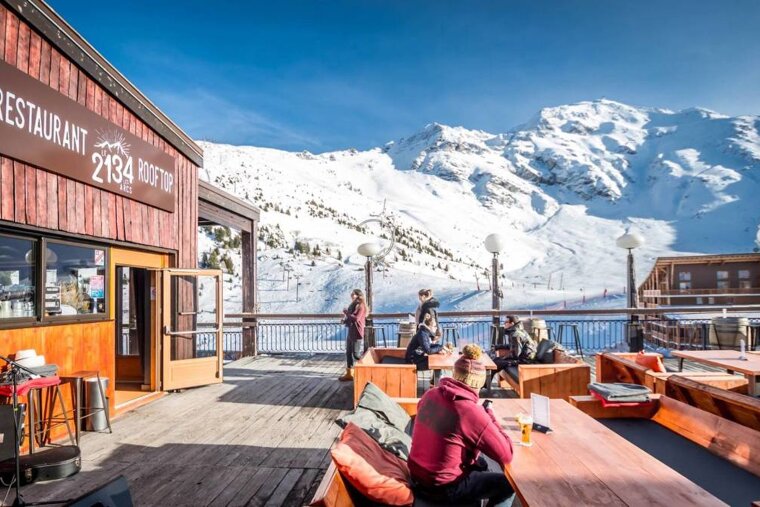 Le 2134, Arc 2000
If you're staying in either Arc 2000 or Arc 1950, a visit to Le 2134 in the upper village's Aiguille Rouge building is practically a necessity.
Named after the restaurant's altitude, the rooftop terrace gives excellent views of Les Arcs' highest peak. Considering the location and ambience, meals are very competitively priced and the waiting staff are almost universally lovely.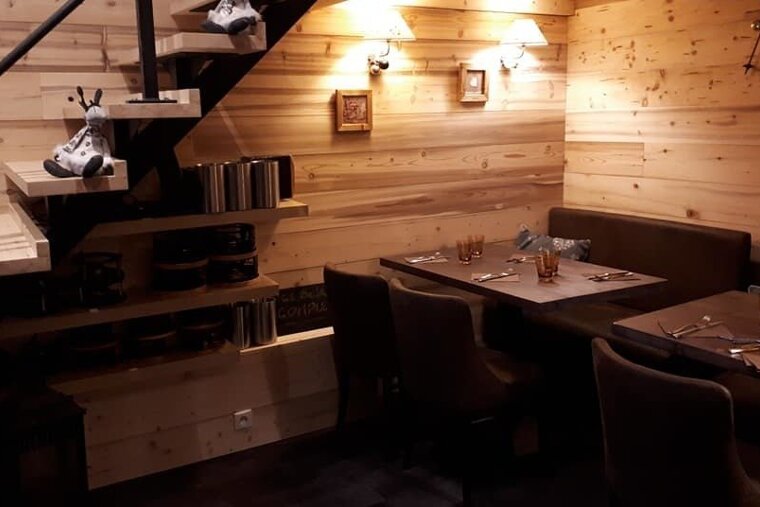 Le Dream Spot, Arc 1800
There is a wide choice of eateries in Arc 1800 and Le Dream Spot is quite easily overlooked despite its central position in Les Villards.
If you head away from the pistes on the top level of the Place Villards, past Le Saloon and Bar King Mad, just before you get to the apartment elevators of L'Armoise you will find a small but cosy restaurant built into the main complex.
This is another small place with a big reputation for excellent service, exceptionally reasonable prices and even better food/cheese. The decent selection of fondues (which include salad) are very reasonably priced, and you can pimp your sides by adding boiled potatoes and charcuterie for an extra charge.
One particular speciality is fondue served in a loaf of bread (or "Miche") which means you can keep eating even after you have reached the bottom of the cheese crucible. Just be sure to book (often at least a day) in advance for dinner, because tables fill up quickly and the restaurant is only open during traditional meal times.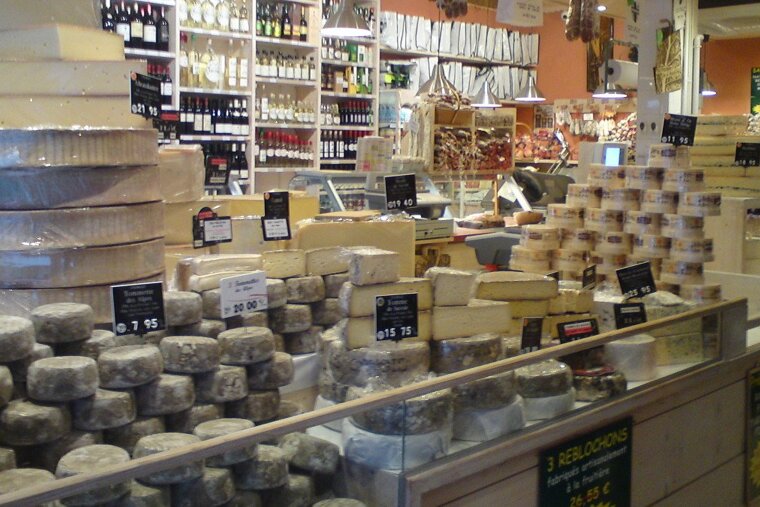 Make your own
If you're self-catering, you can always choose to Do It Yourself and make fondue in your own apartment.
If you have a kitchen in your accommodation, oftentimes there is a fondue kit tucked inside one of the cupboards. Even if there is no equipment to hand, many of the village shops serving local produce will be able to provide you with a set; this is often free of charge if you leave a deposit and buy your relevant provisions (typically cheese and genepi) from them.
The Grange Berger stores (Arc 1800 and Arc 1600) and Au Petit Savoyarde in Plan Peisey spring immediately to mind, although some of the more generic mountain supermarkets also provide the same service.