Les Arcs is a very popular choice for family holidays - it's great value for money, it has purpose built family accommodation, leisure complexes, and there are plenty of gentle ski slopes that are ideal for learning to ski.
Les Arcs is made up of four distinct holiday villages. Arc 1600, Arc 1800, Arc 1950 and Arc 2000 are all pedestrianised and offer direct access to the ski slopes. You can take a shuttle bus (free with your lift pass, running every 20 minutes) between villages so you can easily enjoy the entertainments in each resort. There are also three outlying villages within the ski area - Plan Peisey, Vallandry and Peisey Nancroix. These are smaller, traditional villages that offer a more tranquil ski holiday. A big draw for families is the new entertainment complex Mille8 in Arcs 1800. It includes fun ski areas for all ages, dedicated snow play areas for small children and a swimming complex.
Wherever you stay in Les Arcs, make sure that your accommodation, ski hire and ski school meet-up points are all in the same locality so that getting to your ski school or the ski lifts is not too arduous - important when you are carrying more than one set of skis.
Various family ski passes are available - essentially every family member pays the child's rate. Children under five ski for free and there are special beginner and pedestrian passes available. Take a look at our Ski Lift Pass Prices page for further information.
Les Arcs is a great option for a summer holiday as well. The Alps are very beautiful in summer with hot sunny days and cool nights, and plenty of activities and events to keep you occupied.
Accommodation for families
Taking the family on a ski holiday can be hard work so finding good family-friendly accommodation is essential to making life that little bit easier. Each resort in Les Arcs has a small selection of hotels, chalets and apartments, many of which are family friendly.
Arc 1950
Self catering apartments are a popular choice, the best ones for families tend to be in the newly built (but still characterful) Arc 1950. You'll find modern five star spacious accommodation here (all with access to swimming pools), baby equipment on request, childcare from nine months, and a good selection of daily family-focused entertainment.
Arc 2000
Smaller and quieter, it is linked to Arc 1950 by a short gondola ride and offers alternative activities such as the Igloo Village and outdoor ice rink. It is also however, home to the first five star hotel in the Paradiski area.
Arc 1800
The most lively of the resorts and home to the Mille8 leisure complex, which features an events venue and a wonderful aquatic centre. There are also great nursery and beginner slopes. You'll find a good selection of self-catering apartments here too.
Arc 1600
A quiet place to stay, with fewer facilities than the neighbouring villages. However, you are just a short funicular train ride away from Bourg St Maurice down in the valley which has a useful selection of services and shops if you are looking for something away from skiing.
Plan Peisey, Vallandry and Peisey Nancroix
For chalet accommodation you will most likely find what you need in these three outlying villages. All three are quiet villages with a more traditional feel, and all are connected to the main ski area by ski lift. The new Vanoise Express double-decker cable car goes from Plan Peisey to La Plagne ski resort, so if you are looking for the maximum amount of skiing, then it's a good place to base yourself.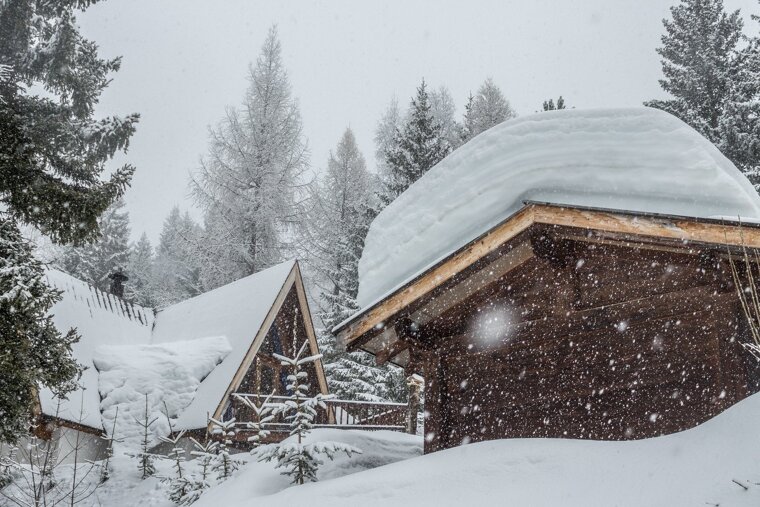 Lift passes for families
There are various "family ski pass" rates available, essentially these are discounts if you match certain criteria. For two adults (parents or grand-parents) and two children (aged five to 17 years) there is a discount per person when bought at the same time for the same duration and area. The need to be ordered at least two day s in advance of your arrival and children and seniors require proof of age when collecting. Children under five ski for free.
You can also buy reduced price ski passes for the nursery areas, please see the Beginners Ski Pass section on our Lift Pass Prices page for all the details.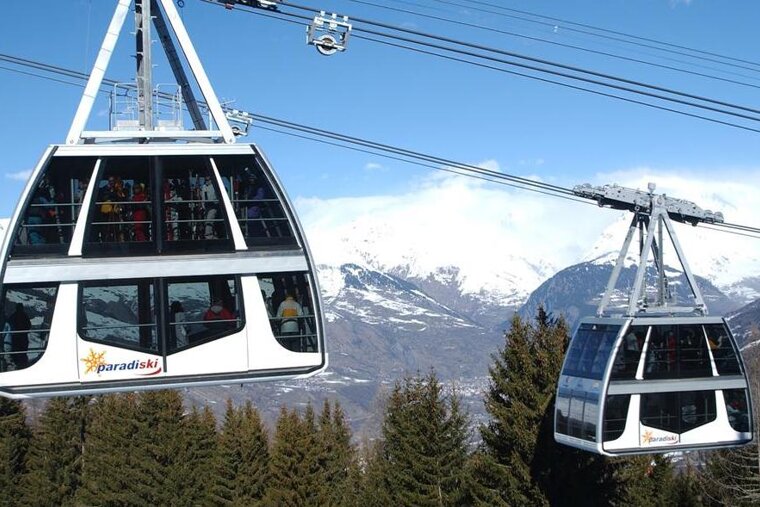 Ski schools for families
If you have designs on raising the next Shaun White or Chemmy Alcott, then getting your kids into ski school as soon as possible is going to be a priority! Ski schools will take children from three years old. If you want to teach your kids yourself, you can find out more about the nursery & beginner ski areas in Les Arcs in our guide. All ski equipment (and sometime ski clothing) can be rented at the ski hire shops in Les Arcs, either when you arrive or you can book everything online in advance. They will need a helmet, mittens and goggles in addition to skis (poles are not initially needed for kids), and make sure the children have enough layers on to stay warm. Remember to apply sun cream to their faces before they start and place a snack in their pocket, just in case.
For three and four year olds, the focus is on having fun in the snow and games are used as part of the teaching process. Their ski pass is free, just go to the lift pass desk with some ID to obtain the ticket. For children aged five and above, you can enrol them in courses according to their level, from beginners to good skiers who are nearing competition level.
There are several ski schools in each village offering ski lessons for children. The main ski schools that cater for children throughout Les Arcs include New Generation, ESF and Evolution2. They offer full/half day sessions with English speaking instructors and have dedicated areas for your kids to learn how to snow plough, stop, turn and glide. Spirit Ski School (run by Evolution2) additionally offer a crèche for children from nine months to three years old in Arc 1950. Your child's first experience on skis will be in a 'snow garden' where they can build their confidence whilst interacting with fun inflatables and characters, and by playing games. A 'magic carpet' travelator makes it easy for them to be taken up the slope, and drag lifts on the neighbouring nursery pistes will be introduced when they are ready. Three year olds and first-timers are likely to be satisfied with half day sessions, and all kids receive a medal at the end of their course.
Ski schools cater mainly for weekly courses, so if you are here for only a few days then you will need to enquire at reception when you arrive to see if there is any space for your kids on the days you are in resort. The alternative is to hire a private instructor for your dates.
Ski areas for families
Les Arcs forms a part of the famous Paradiski ski area, with over 425km of pistes, a modern ski lift infrastructure and superb snow parks. Each village has its own beginners areas with gentle slopes and slow drag lifts. With the lowest nursery areas being at 1,600m, you are guaranteed good quality snow to learn on. You can find out more about which slopes are the best for beginners in our Beginner Ski Areas in Les Arcs Guide.
There are two snow park areas in Les Arcs. The Apocalypse snow park sits above Arc 1600 and includes modules for beginners, intermediate and advanced skiers and snowboarders. Even if you are not tempted in yourself, it can be great fun watching when there are competitions on. In the Mille8 zone by Arc 1800 there is a ski and boarder cross track known as Les Bosses, where you can be filmed if you scan your ski pass at the start.
You can buy reduced price ski passes for the nursery areas, please see the Beginners Ski Pass section on our Lift Pass Prices page.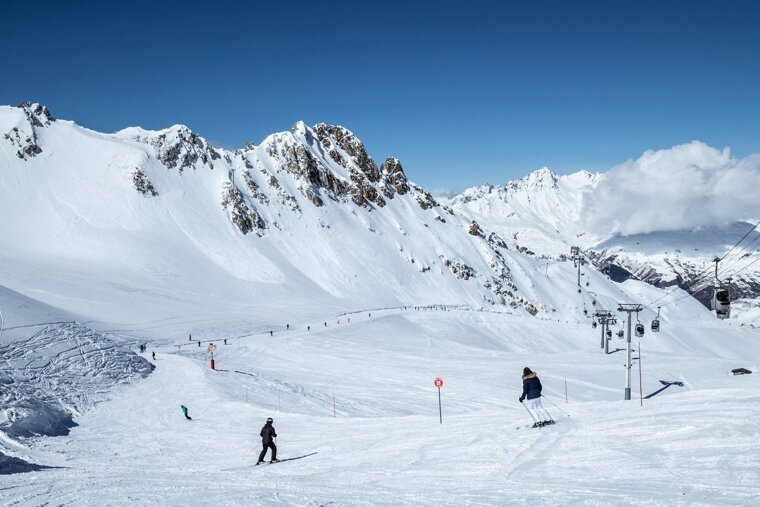 Activities for families
During the winter, if the kids are only skiing for half a day, then there are plenty of other activities available in Les Arcs to keep them happy.
On the snow
​If you want to stay on the slopes, there is a kids zone called Les Pingouins which has igloos, a sledging area, baby snow park and a magic carpet. There are winter walking trails you can take through the pine forests, and a 900m toboggan run that twists and turns down the mountain, finishing through an illuminated tunnel (for ages four and over). Other activities you may like to consider for your children include snowman building, snowball fun, and if you want a real treat, try husky dog sledding where the little ones from the age of five can ride in a passenger sledge with you - there is usually only one passenger sled per trip, so booking in advance is highly recommended to avoid disappointment. There are indoor bowling alleys in Arc 1800 and in Arc 2000 which also feature amusement arcades.
Sledging
There is another toboggan run above Arc 2000 called Rodeo Park which is a bit more adrenalin-fuelled - it's 3km of sliding with lots of banked turns. Children from the age of ten (and 1.25m high) can give it a go when accompanied by an adult. Also in Arc 2000 is an Igloo Village, with ice cave, bar with terrace, and a giant ice slide. It's also possible to overnight up there, reservation required.
Ice skating
Continuing with the ice theme, there is an outdoor ice rink at Arc 2000, you can rent skates here and it's suitable for adults and children.
Indoors
The first area to head to is the new leisure centre Mille8 in Arc 1800. Access to this complex is included in your ski pass (except for the toboggan and aquafun centre). You'll find a lodge with restaurants, which also serves as an events venue throughout the season, and a 3,800sqm swimming complex with covered pool, whirlpool baths, hot tubs, waterfall and slides, and a special play area for children. There is also a fitness centre, steam baths and saunas. Also in Arc 1800 is a laser quest game, you'll find it by the tourist office and a cinema which shows English language films (look for the VOST showings).
Non-skiers
For adults that aren't quite so sure of the skiing, there are a number of spas you can try for some indulgence, as well as fitness classes, or perhaps some snow shoeing. Pedestrian ski passes are available at a reduced rate so you can join the rest of your group up in the high mountains for lunch and spectacular views.
Festivities
During the school holidays there will be plenty of child friendly events to explore. At Christmas, you can enjoy festive markets, the Christmas parade in Arc 1950, shows and Santa. Plenty more child friendly events are added to our events calendar throughout the ski season, so please do check it when you arrive.
Summer
Summer holidays in Les Arcs are all about being active and there are a wealth of activities on offer here for all ages and members of the family. Our dedicated Guide to Summer Activities in Les Arcs includes a section specifically on kids' activities with information on horse riding, short family hikes, high ropes courses, where to go swimming, nature parks, and numerous other fun things that will help make your family holiday as unique and memorable as possible!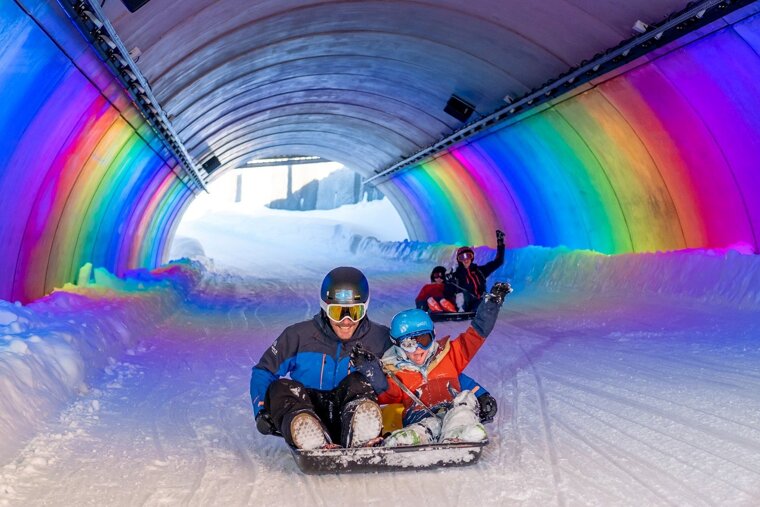 Baby equipment
It is possible to hire baby equipment in Les Arcs - items such as high chairs, pushchairs, cots and playpens can be rented in resort. Check with your accommodation provider, for high chairs and cots especially. All the ski shops offer a kids ski pack rental as well, with skis starting at a length of 67cm and boot size 23EU. Some will also rent you sledges, strollers and sledge-strollers.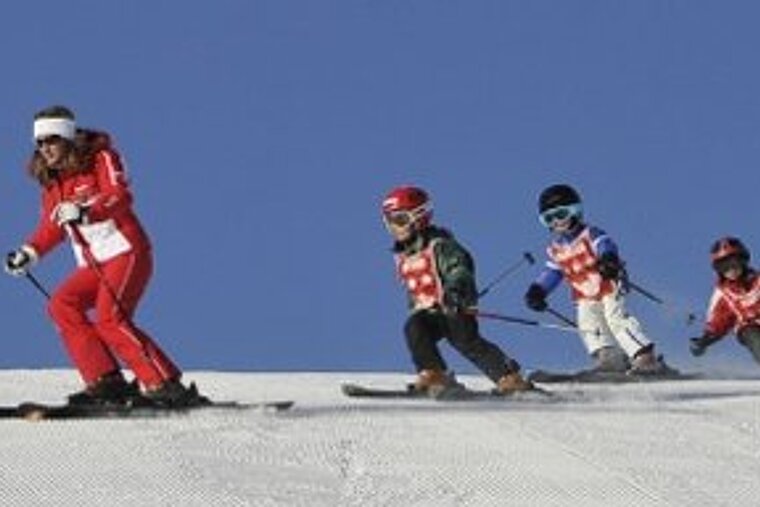 Childcare services
Children under three may be too little to try skiing so some help with childcare is essential if you plan on skiing yourself. The main winter establishments to help with childcare include the ski schools who cater for children who are three years and older. You can book your child in for full or half day programmes and lunch can also be provided for an extra charge.
As mentioned above, Arc 1950 probably has the most inclusive childcare in the resort, with its Cariboo Children's Club. But each village has good childcare options, children's ski schools operate in each resort and independent nanny agencies are also available. Both of these should be booked well in advance of your holiday. Have a look at our childcare listings page for more information or you can contact the local Tourist Offices for a list of available babysitters. NB. There are several municipal crèches in the area but they are reserved for residents, so we have omitted them here.
You may find that the main sports centre of each town host a kids club during the summer holidays, normally from 1st July to 30th August, with activities such as swimming, climbing, tennis, basketball, ice-skating, etc. and organised hikes and picnics.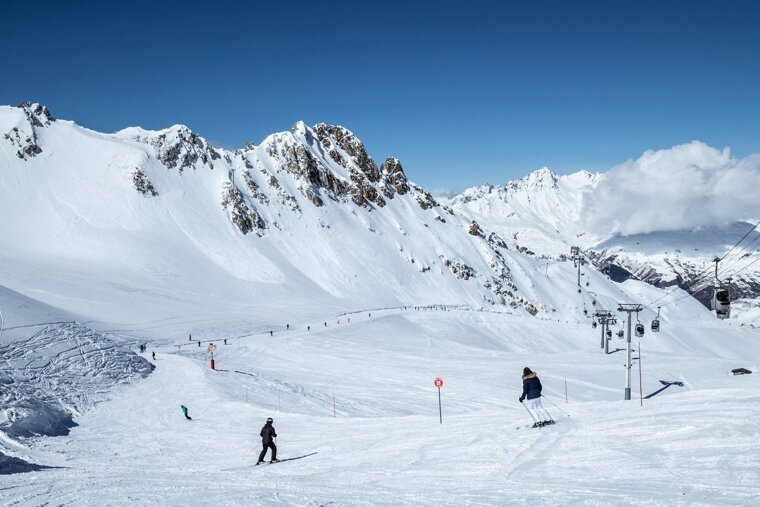 School holiday dates
France divides its school holidays into a regional timetable to ensure that the entire country doesn't go on holiday at once - however, this staggered system can mean that some months (particularly February) can be busy from beginning to end as one region after another arrives in resort! Chamonix is in Zone A.
Zone A - Ain (01), Isère (38), Savoie (73), Haute-Savoie (74) Caen, Clermont-Ferrand, Grenoble, Lyon, Montpellier, Nancy-Metz, Nantes, Rennes and Toulouse
Zone B - Aix-Marseille, Amiens, Besançon, Dijon, Lille, Limoges, Nice, Orléans-Tours, Poitiers, Reims, Rouen and Strasbourg
Zone C - Bordeaux, Créteil, Paris and Versailles
For the latest school calendars check: French School Holiday Dates and UK and European School Holiday Dates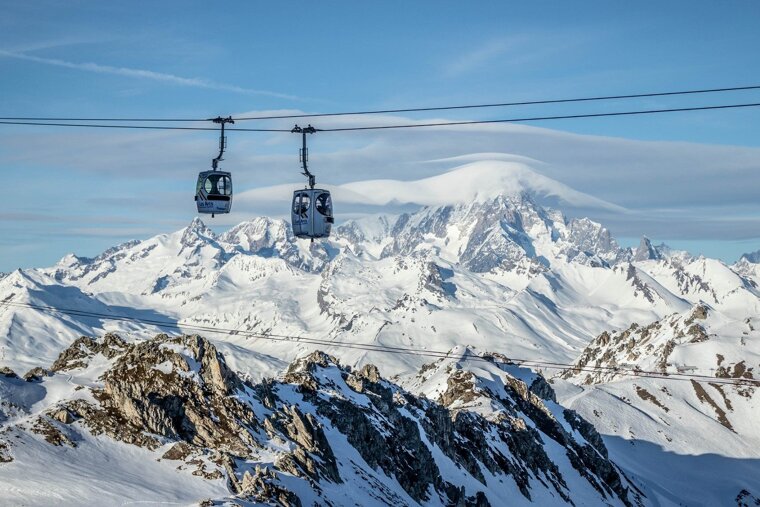 Bring your children on a ski holiday to Les Arcs
---
Why book a family ski holiday in Les Arcs
Travelling anywhere with children can be challenging, and in a ski resort it can be doubly so with things like lift passes, equipment hire and ski lessons to arrange (never mind hats, gloves, snotty noses and the rest...!). Les Arcs is a...