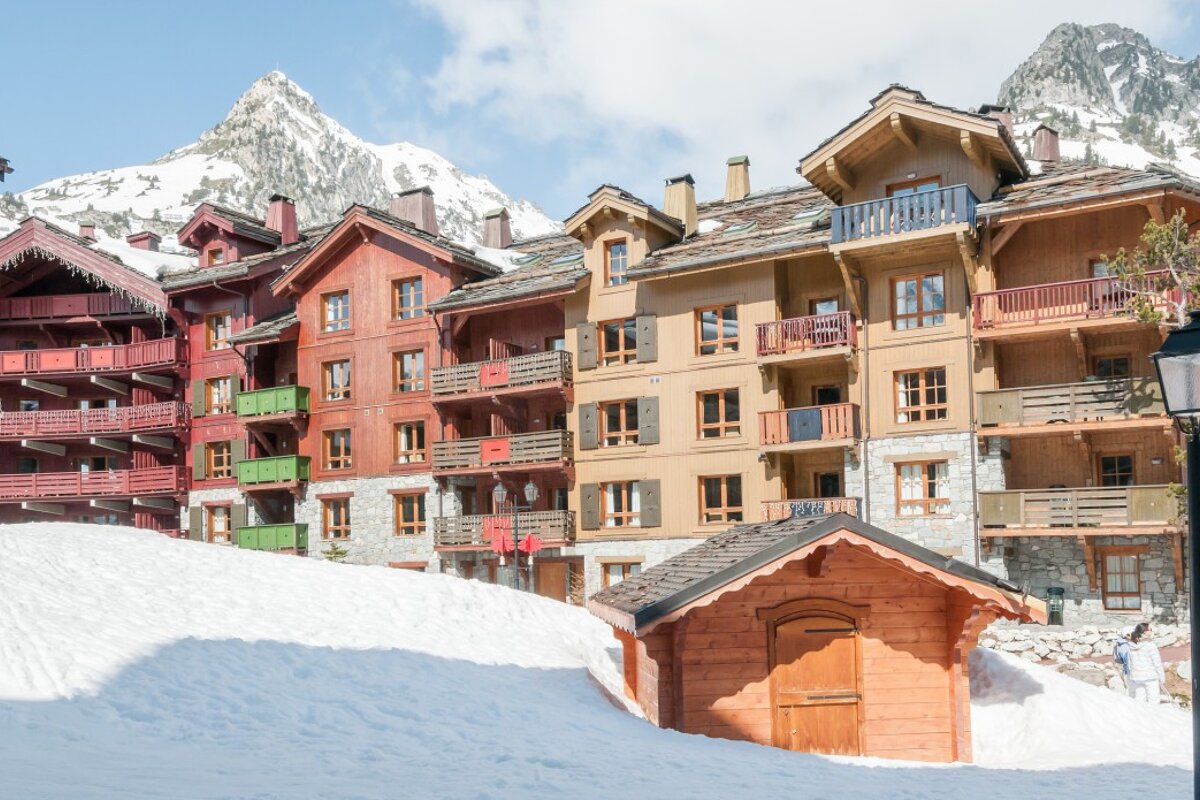 © Pierre & Vacances Premium
Where to Stay in Les Arcs
Discover the top Les Arcs places to stay
You've made up your mind – you want to come to Les Arcs on your next holiday. As you research your trip, you'll discover that there's more than one town in the area and that they all offer a great selection of chalets, apartments and hotels. Accommodation is one of the biggest expenses when booking a holiday, so you want to make sure that you've chosen the right location. Worry not, we're here to help.
With a global reputation for world-class skiing, Les Arcs is one of the most popular ski resorts in the world. Its location right at the heart of the Paradiski ski area is largely responsible for its success. There are several towns and villages that come under the umbrella of the brand 'Les Arcs', linked by an efficient and free bus service, as well as an extensive network of lifts. Les Arcs' four high-altitude villages and three lower-lying villages each have their own character.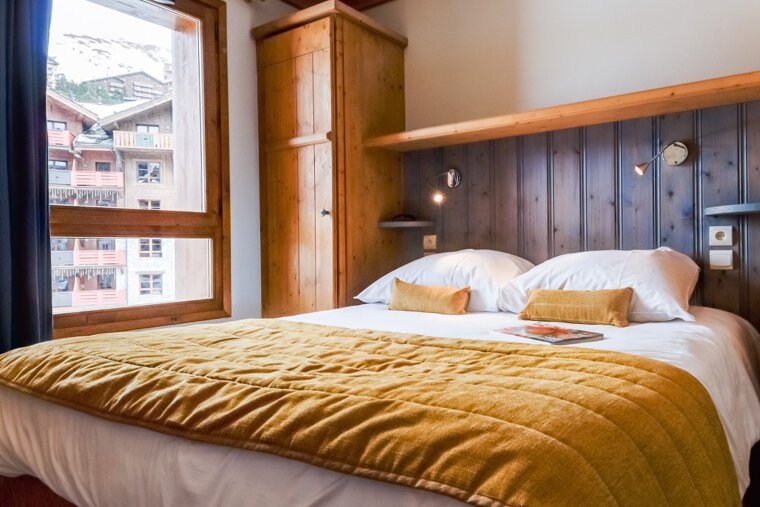 Five things to consider before deciding where to stay in Les Arcs
When it comes to booking accommodation in Les Arcs, there is certainly no shortage of choice. Whether you are looking for luxury hotels, chalets for large groups or apartments that are as close to the lifts as possible, you'll find it all here. This guide to the different sections that make up this superb area should help point you in the right direction so that you are situated as close to whatever action you're looking for. But, first things first.
Where should you stay in Les Arcs?
It depends on the type of holiday you'd like to have. It's always a good idea to know exactly what you're looking for: chalet or apartment, party or tranquillity, sporty or relaxed – a holiday in Les Arcs can offer all of these things. With an impressive assortment of accommodation hot spots, from the lively town of Arc 1800 to the traditional village of Peisey Nancroix, Les Arcs is full of surprises.
These are some of the things you may want to consider in advance before you pick the place you want to stay in:
Distance to the pistes: Being able to ski to your door is everyone's dream – there's no better feeling than putting your skis on right outside your front door. Les Arcs and its surrounding area offer a good selection of ski-in/ski-out apartments, chalets and hotels. However, bear in mind that these very sought-after spots are usually more expensive than the places further away from the pistes so, if you want to save some money, you can always rely on the excellent network of free shuttle buses that run around the area and will take you to the foot of the slopes in no time.

Quiet or bustling: Is après-ski as important (or more important) than the skiing itself? In that case, you'd want to stay as close to the bars and clubs in resort as possible. However, if you'd rather stay in after a day on the slopes and prefer to avoid the hustle and bustle of the centre, one of the charming villages surrounding Les Arcs is probably a better choice – and, if you find yourself itching to party, you can always hop on a bus to the centre of Les Arcs.

Amenities: Ask yourself what you'll need around you when holidaying in Les Arcs. For example, if you're self-catering you probably want to be as close to the supermarkets and restaurants as possible, while those staying in catered chalets and hotels may not need to. Having shops, ski and/or bike hire places and cafés around you can be very handy but also quite noisy.

Things to do: As with amenities, not everyone will need the same services nearby. For example, families will want to be near the ski schools meeting points to avoid trudging across resort in ski boots carrying yours and your children's skis. Having the local swimming pool and sports centre close by is also a great idea for those coming with little ones, it'll keep them entertained after a day on the slopes. Or perhaps you need a spa for a good back rub or to soak your sore muscles in a hot tub after a few hours snowboarding.

Budget: Last but not least, location is key when it comes to saving money. Generally, the closer you get to the slopes and to the resort centre, the steeper the prices will be, while the villages further away from the lifts will usually offer cheaper deals. You may have to sacrifice convenience for budget but worry not, you'll never be more than 30 minutes away from the world-renowned Les Arcs pistes thanks to the aforementioned shuttle buses.
Our local team's top tip: When booking accommodation, take a good look at the photos. You're going to be spending some time in this space so you may as well feel comfortable in it. It's not just about whether you prefer a cosy rustic interior or a light and airy open plan space, but also whether the layout and décor fit your needs. Are the rooms big enough? How about the bathrooms? Is there a super-modern, steep staircase your toddler won't be able to climb? What floor is the apartment on? Is it accessible by a lift? All of this matters when choosing your accommodation and not every town in Les Arcs will be able to provide all sorts of styles.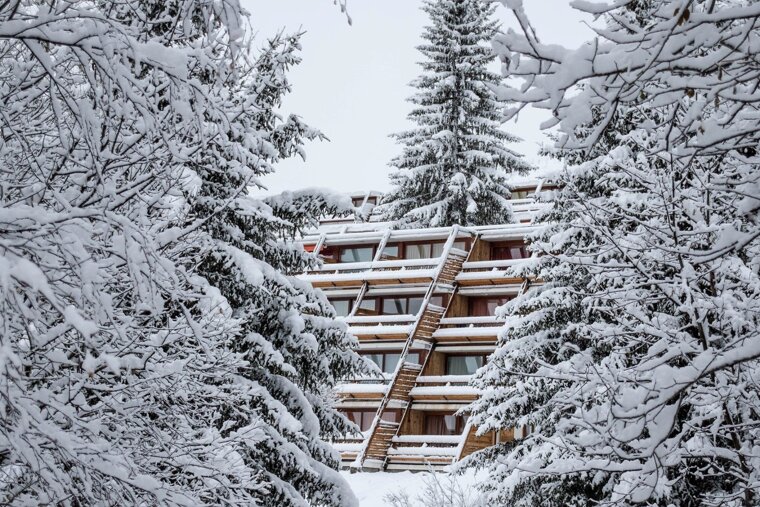 Arc 1600: Quiet village with excellent piste access
The lowest of the resorts, Arc 1600 was the first village built in Les Arcs. Its design was the work of world-renowned architect Charlotte Perriand, who wanted to create a village in communion with nature and the surrounding mountains.
Who should stay in Arc 1600?
Arc 1600 attracts those looking for a quiet vibe, that's why it's very popular among families. Situated at a lower altitude than the other Arc resorts, there are plenty of trees around which makes it a good place to be on bad weather days. Another plus is the easy access to the slopes and, in particular, to the Apocalypse terrain park one of the biggest of its kind in the Alps, which goes down really well with young kids.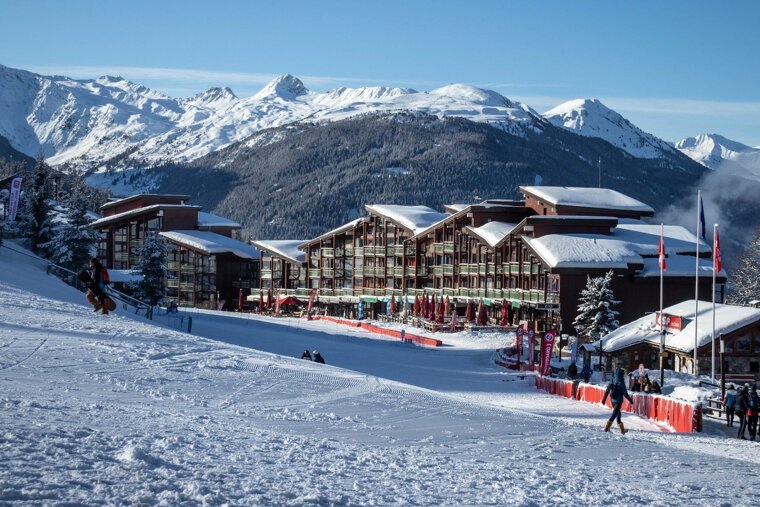 Arc 1800: Bustling resort with lots of accommodation options
Arc 1800 is the largest and most developed of the Les Arcs' villages. Located at the edge of a forest, it offers wonderful views over the mountains.
Who should stay in Arc 1800?
Arc 1800 is the resort to come to if you're looking for a lively ski destination with lots of nightlife, ski shops, bars, restaurants and other amenities. The resort is made up of four pedestrian villages: Le Chantel, Le Charvet, Les Villards and Charmettoger – the latter of which offers the most attractive style of accommodation. With a good selection of hotels, chalets and apartment-style accommodation on offer here, there is something for everyone in Arc 1800 if you like being at the heart of the action (both on and off the piste).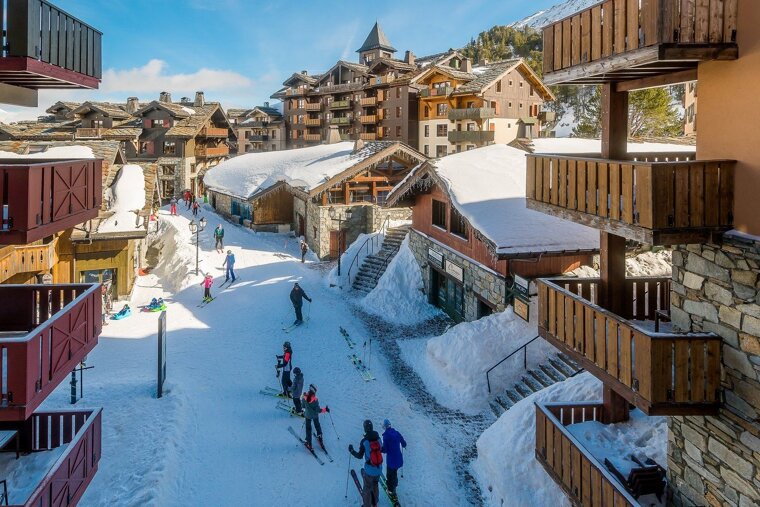 Arc 1950: Pedestrianised village with traditional mountain feel
Of all the Les Arcs ski resorts, Arc 1950 was built the most recently, yet it has a traditional mountain feel. The village was created by Intrawest who developed several North American ski destinations such as Whistler and Copper Mountain and was completed in 2007.
Who should stay in Arc 1950?
Quiet in the evenings, Arc 1950 is best suited to families with young children who are looking for modern, convenient and spacious apartment accommodation in an attractive alpine setting. All accommodation is ski-in/ski out, the centre is pedestrianised, and the resort puts on a lot of post-skiing, family-focused entertainment during the winter season.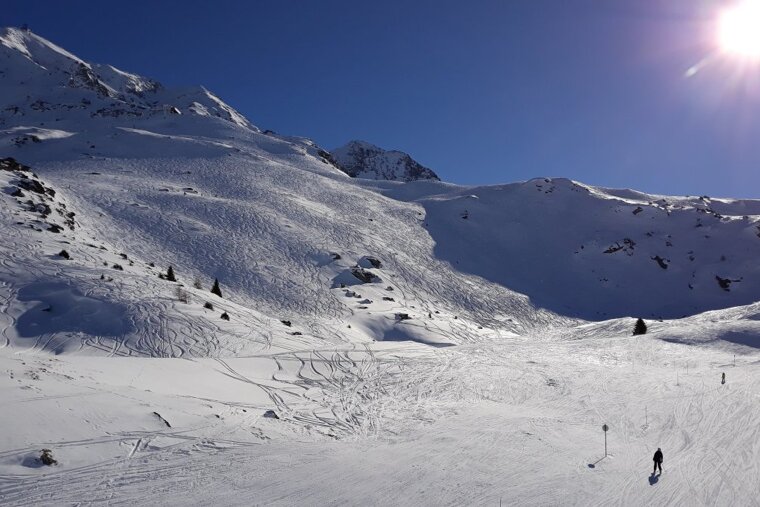 Arc 2000: Direct and easy piste access
The highest of the villages in the area, Arc 2000 offers unparalleled access to the surrounding mountains and snow-sure slopes.
Who should stay in Arc 2000?
Arc 2000 is perfect for those wanting direct and easy access to some of the best skiing in the area, including the freeride paradise of the Aiguille Rouge massif, which makes it popular with adrenaline seekers. However, Arc 2000 is suitable for all kinds of skiers. While there is not much here in terms of nightlife, Les Arcs 2000 is ideal for those looking for good value accommodation in a purpose-built ski-in and ski-out resort. Accommodation here is mostly in large self-catering apartment residences although some chalets have sprung up over recent years.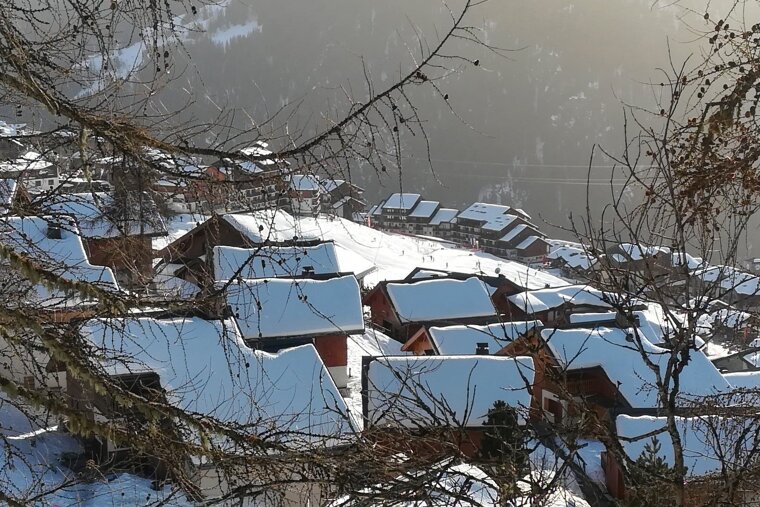 Plan Peisey & Vallandry: Small resorts with reasonable accommodation options
Until recently, Plan Peisey and adjoining Vallandry were two small resorts on the outskirts of the main Les Arcs ski area. However, their proximity to the new Vanoise Express cable car, which links the area to La Plagne, has changed all that and now they are at the heart of the world's third-largest linked ski area – the 425km Paradiski area.
Who should stay in Plan Peisey & Vallandry?
Skiers who want easy access to the whole Paradiski ski area and aren't too bothered about après-ski fun. While both Plan Peisey and Vallandry offer good value chalet accommodation with superb access to the ski area, there is little on offer in terms of a nightlife, making these villages better suited to families who want to concentrate on skiing rather than party animals. Accommodation here is mostly traditional in style, which makes them more attractive looking than many of the other resorts in the region.
Luxury hot spots in Les Arcs
Les Arcs is more about functionality and great skiing than luxury and glamour. Having said that, there are some high-end chalets and apartments to choose from dotted around resort.
Where are luxury chalets and apartments located in Les Arcs?
You can find some luxury chalet-style apartments in the charming resort of Arc 1950, a quiet spot with great facilities. Arc 2000, the highest of the Les Arcs' villages, also offers some of the highest-end apartments in the area. Recently built, they offer modern décor and state-of-the-art facilities.
Are there any five-star hotels in Les Arcs?
The first five-star hotel in the Paradiski ski area, Taj-I Mah, opened in Arc 2000 in 2016 with all you might expect from a luxury establishment: elegant décor, gourmet restaurants, a relaxing spa, an in-house ski rental shop and, of course, ski-to-door access.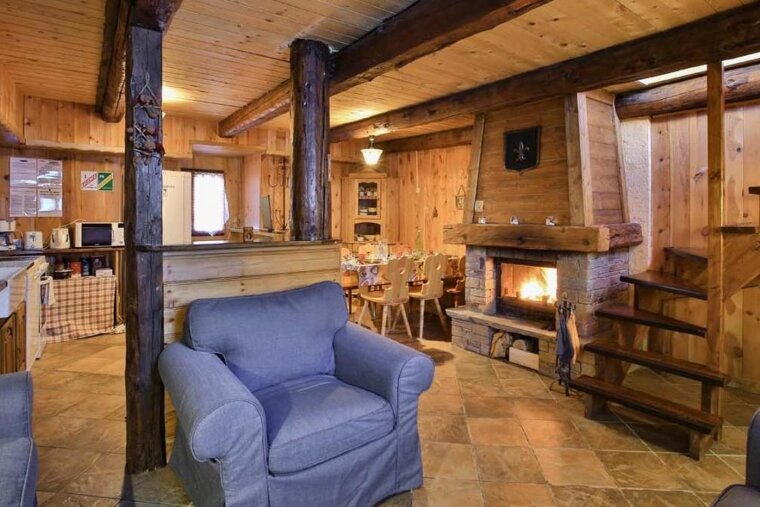 Group accommodation in Les Arcs
Groups have very specific needs, namely a big enough space and easy access to the slopes and the resort's amenities.
Where in Les Arcs can you find large apartments and chalets for groups?
Arc 1800 is where all the action takes place, making it a very popular destination for groups, especially younger crowds. There are plenty of bars and restaurants in town, as well as activities to keep everyone entertained. Arc 1950 also has a great selection of large apartments ideal for groups in a quieter atmosphere.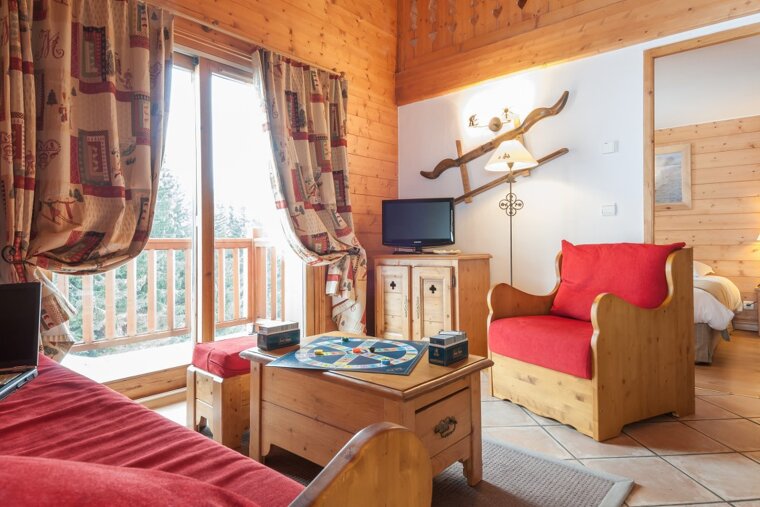 Family-friendly areas in Les Arcs
When travelling with young children, you ideally want to stay somewhere that has lots of facilities and services nearby so that you don't have to travel long distances to get to the slopes or the restaurants.
What's the best area for families with children to stay in Les Arcs?
The quieter villages of Arc 1600 and Arc 1950 tend to be especially popular with families. Providing easy access to the Paradiski ski area, they offer a slower pace of life that appeals to those travelling with younger children. If it's off-the-slope entertainment you're after, perhaps because you're coming with older children who need to burn off energy, then Arc 1800 is the place for you – there's lots to do here!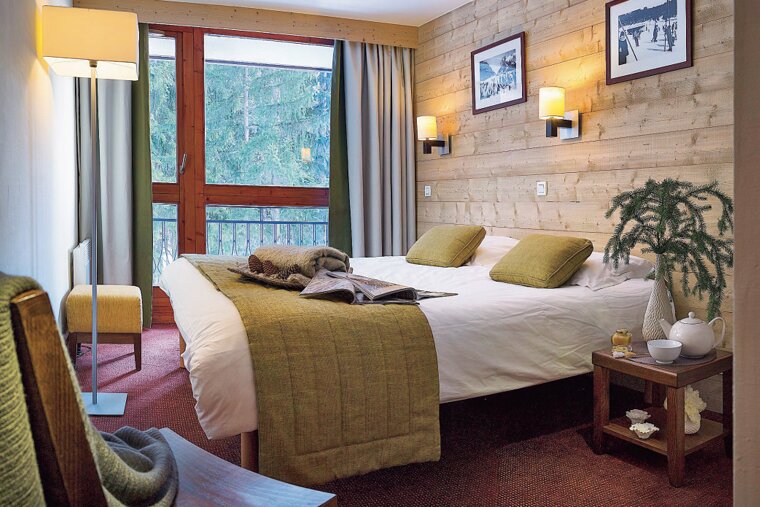 Cheap accommodation in Les Arcs
Les Arcs has a huge number of catered chalets and self-catered apartments on offer, many of which are on the affordable end of the spectrum. In general, the further away from the centre you get, the cheaper the prices are.
What's the cheapest area to stay in Les Arcs?
Anywhere, really. Well known for its affordability, finding a bargain in Les Arcs is easier than in many other Alpine resorts. Arc 1600 offers some older but renovated, budget-friendly apartments high on the mountain while, lower down, Plan Peisey, Vallandry and Peisey Nancroix offer great value for money, especially when it comes to booking chalets.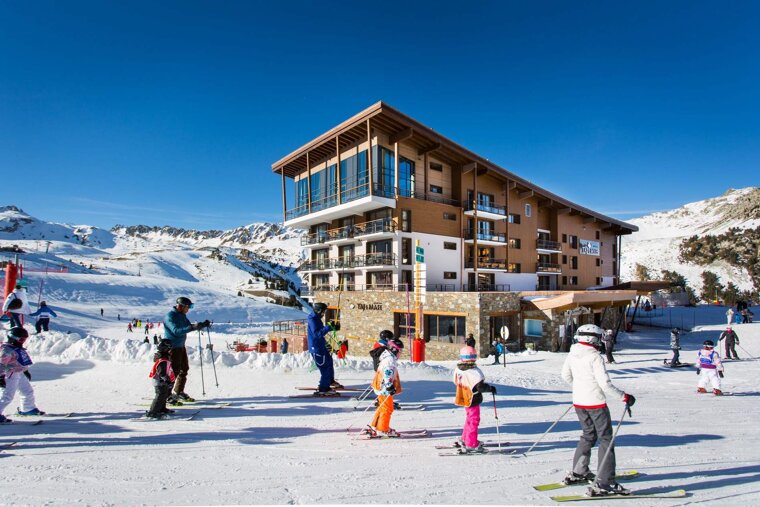 Ski-in & ski-out hot spots in Les Arcs
Ski-to-door accommodation is very popular in Les Arcs, which means that prices are usually more expensive than the accommodation a bit further away from the slopes. However, there's no greater feeling than arriving at your doorstep with your skis on, so get on booking as soon as you can if you want to experience it yourself.
Where can you find ski-to-door accommodation in Les Arcs?
Most of the purpose-built villages in Les Arcs offer ski-to-door accommodation of some sort. However, the slopeside apartments in Arc 2000 are the most sought-after because of their snow-sure pistes and excellent access to some of the gnarliest freeride lines in the Paradiski ski area.
Camping & glamping in Les Arcs
There are a few a campsite and a couple of motorhome areas in Les Arcs and its surrounding area. Although most are open only in the summer, there's a few open in the winter and even during the off-season – it's better to enquire before you book.
Are there any campsites in Les Arcs?
No, there are no campsites in Les Arcs itself. The closest ones are located around the towns of Peisey and Nancroix. You'll find a broader selection of campsites in and around the valley town of Bourg St Maurice, on the way up to Les Arcs.