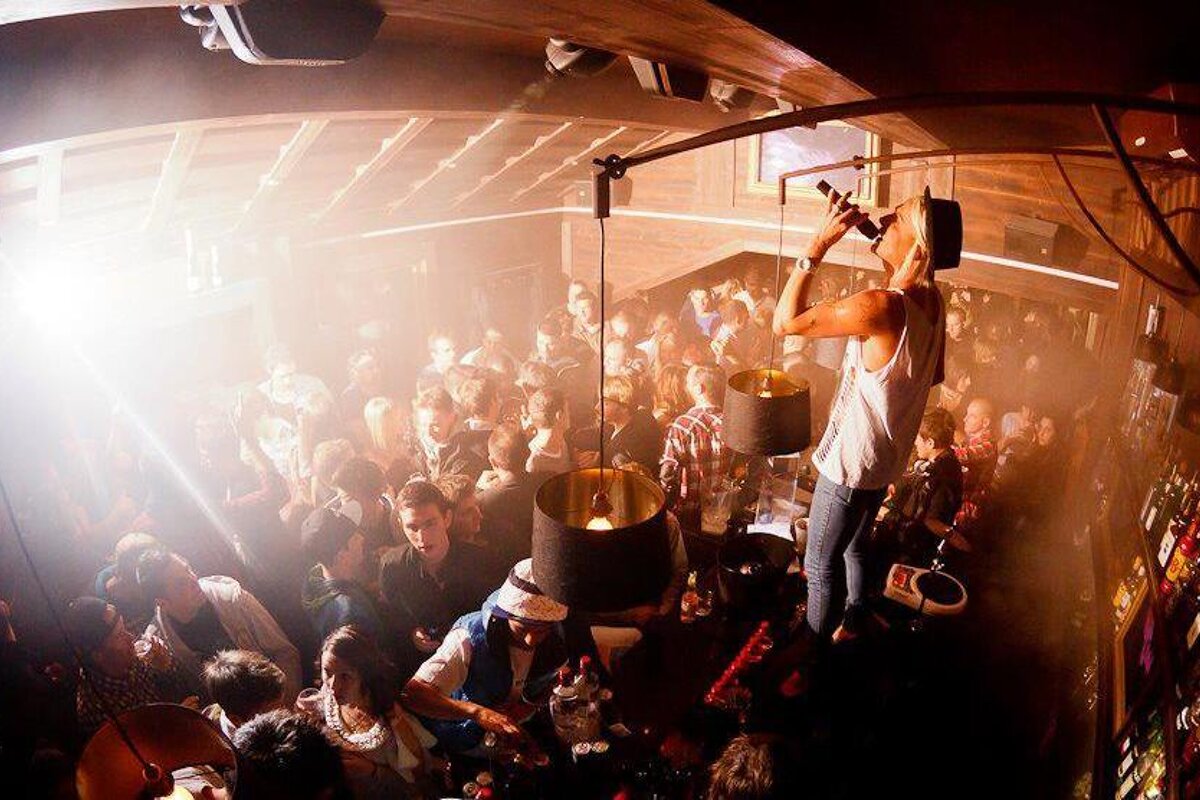 Nightlife in Les Arcs
Discover the top Les Arcs nightlife
Les Arcs wouldn't be the resort that it is without a good dose of après-ski to end the day with! There is no shortage of places to go for a few drinks and some live music after a day on the mountain.
Whether you prefer to soak up the late afternoon sun with a quiet glass of French wine or dance on the tables in your ski boots, beer jug in hand, Les Arcs has plenty of great spots when the lifts shut for the day.
Après-ski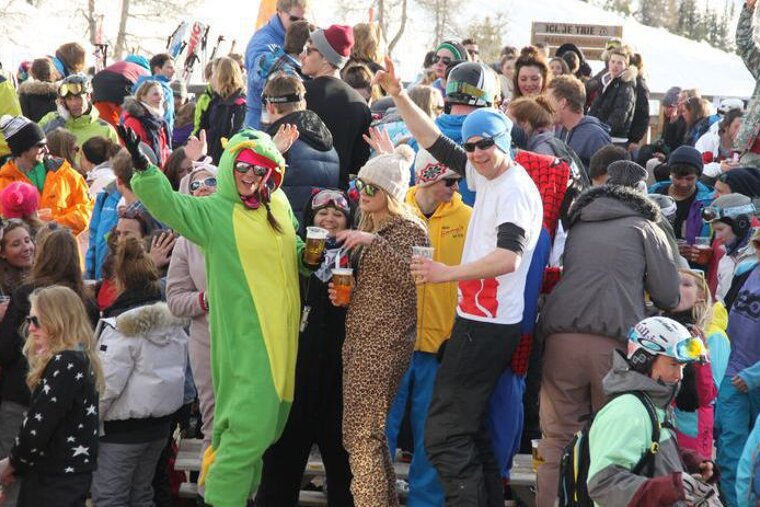 With a lively and vibrant après-ski scene, Les Arcs has plenty of spots opening their doors to welcome you off the pistes.
Arc 1800
If you want to get things started whilst still up the mountain, head to L'Arpette bar and restaurant, situated near the snow park and Arpette lifts, it's a great spot for lunch but when Happy Hour kicks in and the DJ begins pumping out those tunes, table dancing is mandatory. If you really want to spend a night on the pistes, book one of their weekly soirées where you are fed raclette before totally getting your dance on. At around 21:00, everyone straps their skis/snowboards on and heads back to their respective resorts by torchlight. A must-do on your trip! As is a visit to Folie Douce for their infamous après. Expect DJs, live music performers with aerial spectaculars from the in-house team. Accessible to all either on skis or by the Gondola Villards, it's open every day from 09:00-19:00, and until 20:30 on Wednesday, Thursday and Fridays.
In the Villards area is Jungle Café, a popular choice in Arcs 1800 with its jungle themed interior and murals on the walls. It's a pretty cheap place to drink and is open all day until 01:00, attracting a good mix of people, mostly locals and/or seasonnaires and they serve tasty food all day long. Also in the Villards area (near to the Red Bar) is more of a French style establishment and a true après ski bar - L'Ambiente Bar. You can sample one of their tasty cocktails or have a game of darts in a lively but equally chilled atmosphere.
Arc 1950
Although not as big as 1800, Arc 1950 is also very lively and has a good choice of bars. With its ski in/ski out location, the village is perfect for après. Up the mountain you'll find The Mont Blanc Bar, located right at the top of Vallandry close to the Grizzly chairlift. It's accessible from the piste so you can stop off for après without wasting time getting changed! There is a large terrace facing over towards La Plagne where you can catch the last rays of the day. The bar is open late and often has live music and DJ sets with specific nights such as Drum n Bass, normally on Thursday night, and the bar also has a pool table and Sky Sports. This is not the place to come if you are looking for somewhere with more of a French feel but it is still well worth a visit.
La Belles Pintes is a large Irish pub which has a sophisticated feel during the day turning into a lively boozer of an evening. There's plenty of seating and it's the perfect place for pint and a chat with friends. A more cosy place for après that serves a wide variety of wines and beers from around the world is George's Wine Bar. It's not a late night hang-out, but it's very relaxed and convivial.
Arc 2000
For something really unique visit a bar within an igloo. Head down to near the bottom of the Arcabulle lift and you'll find Village Igloo bar carved out of ice adjoining a grotto of ice sculptures. It's not the cheapest place to go for a drink, but it's certainly unusual and insta-worthy! Red Rock Café is also worth a try if you want an early dinner with your après. The American-themed café has good food which is also reasonably-priced, and their Mojitos are awesome.
Peisey Vallandry
Has a number of bar-restaurants which offer a more chilled out après experience. At the bottom of the little Parchey lift is the wonderfully welcoming La Vache, great for an après ski cocktail and dinner afterwards. Chez Felix is a small, characteristically French bar with a stunning view, which is good for a sneaky aperitif (or digestif if you have already eaten).
Late nights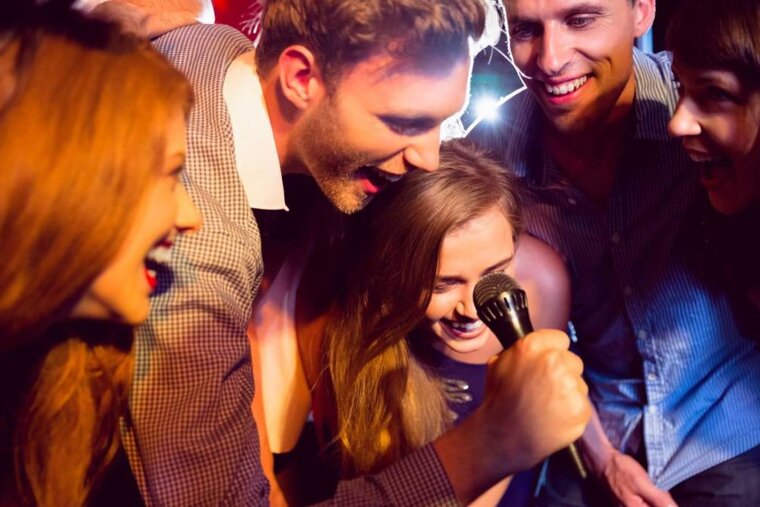 If you're looking for some late night fun you're in luck, there are several bars and clubs that stay open until the early hours of the morning.
For a big night out in Vallandry the main options are Le Mojo, down the steps below the Vallandry lift where you'll find a stylish cocktail bar which, in typically French style, gets busier as the night deepens. Happy Hours start after dinner, letting you get showered, spruced up and fed before you enjoy discounted prices on their drinks.
For something a little more refined in Arc 1600, Panoramic Bar is towards the funicular, and is good for a beer and even better for food. Abreuvoir Bar regularly have live music, play endless hypnotic videos of epic skiing and even have karaoke nights.
If you're staying in the valley in Bourg St Maurice, the best choice for a night out is Bazoom Bar opposite the train station. With pool tables, live music and an upbeat atmosphere, it's definitely the most popular place for a night out in Bourg.
As it gets later in Arc 1950 head to Chalet De Luigi, the bar is open until 02:00 and is generally lively, plus it has Club 1950 downstairs replete with dance floor. O'Chaud Lounge Bar is great if you want to "throw some shapes". During the ski season they have regular live music, well known DJ's and are generally pumping out electronica until 03:00.
El Latino Loco is a restaurant/bar/nightclub on the fifth floor of the Residence Aiguille Rouge in Arc 2000. It's one of Les Arcs' hottest nightspots after dark, with cocktails, music and dancing until after 04:00.
In 1800, Le J.O, is an ever-popular bar in Charvet, open from après until around 22:00. Red Hot Saloon is probably the biggest bar in resort with a good-sized dance floor. They have regular live music throughout the season, persuasive drinks deals and partying happens late into the night. And if you have staying power and are looking for a late night party, head along to one of the nightclubs; Club 73 or Le Carré, which is slightly more upmarket (and expensive). The Apokalypse is the biggest club in the area and is spread over three floors, so you'll find plenty of room for partying until dawn.
Sophisticated spots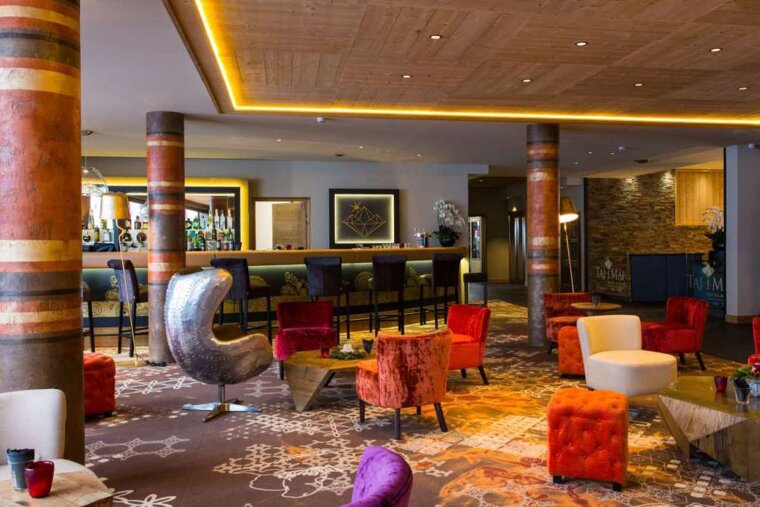 If you're looking for a more civilised evening or have something to celebrate, there are several hotel bars in the resort that cater to wine enthusiasts, cocktail aficionados and casual drinkers alike, and many will also have live music. Some offer a little snack alongside your choice of beverages, ranging from a bowl of nibbles to an entire tapas board.
Suffering from a surfeit of class, drop into Bulles by Champagne in 1600, a minimalist establishment serving Champagne (obviously) by the glass or bottle, you'll find the prices are actually fairly reasonable.
If you're staying in Arc 2000, head to the Taj-I-Mah Hotel, the area's first five star hotel. Their lounge bar has a large fireplace you can cosy up around whilst you enjoy some live music and the delights of the head barman's cocktail menu.
In 1800, pay a visit to Les Allobroges Bar in the Mercure Hotel, where you can relax with a drink around the central fireplace. There are exceptional views and often there is live music playing.
Live music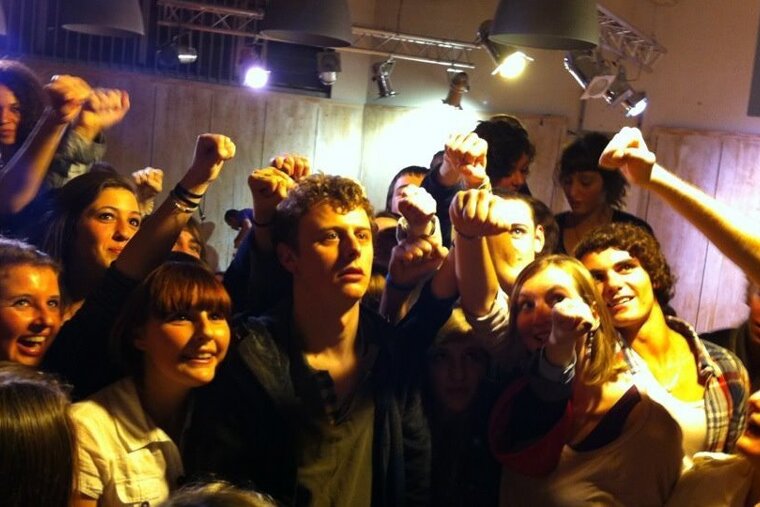 Live music is not that hard to find in Les Arcs. From the smallest bar to the swanky hotel lounges, there's always something on. Specific information regarding weekly line ups can be easily found by simply looking at any of the numerous information boards around resort, where each of the individual bars will post their weekly programmes and promotions. Most of the ones we'd recommend we've already mentioned above, so whatever night of the week it is you're bound to find something you can enjoy.
More inspiration...
Keep an eye on our Events Calendar for all the latest parties and events in Les Arcs.