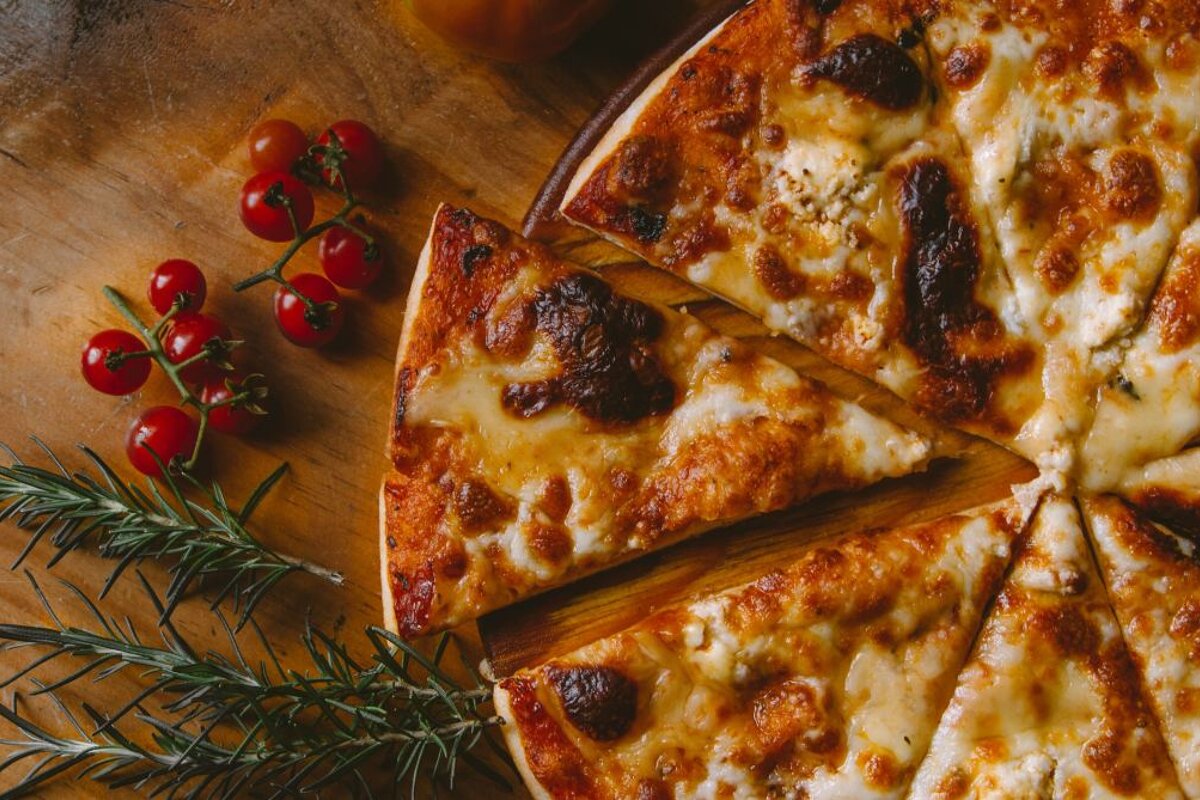 Best pizzas in Les Arcs
If you don't like pizza, you don't like life
I love pizza. It is my humble opinion that the combination of dough, tomato sauce, cheese and the limitless permutations of possible toppings make pizza not only the best type of food but also one of the most varied. It is therefore possible, if not preferable, to eat pizza on consecutive days/meals/hours without ever getting bored. When I was asked to visit the local restaurants to establish which ones served the best pizzas, I almost wept with joy.
Les Arcs is extremely close to Italy, some 10km as the crow flies, and the pizza in this area tends to be very good and rather authentic. I have never found a burger-bites and mozzarella stuffed crust here and even the "deep pan" style of pizza pie which is almost ubiquitous in the UK would seem quite out of place in the French Alps. The focus is almost exclusively on the quality of ingredients with fresh, often regional, ingredients used to embellish crispy thin bases. Even at takeaway-style places you should not expect your pizza to be precut into handy triangles, that sort of thing is anathema to the Savoie pizzaiolo; if you showed them a pizza wheel, they would show you a very genuine expression of confusion and/or disdain.
Fortunately, for the purposes of my nominated pizza-quest, I already had quite extensive experience of many restaurants across the different resorts, so have spent the last couple of weeks happily revisiting various eateries to ensure my knowledge of their produce is as up-to-date as humanly possible. After much meticulous and often repetitive research, let me present the best pizza restaurants from across Les Arcs.
Le Refugepizz, Plan Peisey
A relatively small place found a stone's throw away from the Vanoise Express in Plan Peisey, I have been visiting Refugepizz for over five years. Primarily a takeaway place serving customers in Peisey-Vallandry, there are a handful of tables inside with a couple outside, where you enjoy a sit-down meal of excellent pizza just a few steps from the pistes. The dining area may be compact but it is perfectly formed and decorated in a modern chalet style. When the sun is shining and the skiing is sweet, I have been known to call ahead with an order for collection, to be enjoyed whilst sitting on the Peisey lift.
The pizzas themselves are huge and very competitively priced. I have always particularly enjoyed the Diabolique which features some of the heartiest and meatiest sausage I have ever known although the vegetarian options, such as the generously-topped Provencale, are also personal favourites. The menu itself is massive, with enough variation to surprise even the most well-travelled pizza enthusiast, and also features traditional accompaniments/alternatives like salads and pasta dishes. Prices are reasonable, especially considering the (stunning) quality of the product. If you are staying in Peisey-Vallandry, make sure you visit Refugepizz early in the week (so you have the chance to go a second time) and, if you are staying elsewhere in Les Arcs, I would highly recommend a lunchtime trip. Just remember, it is closed on Tuesdays!
Le Cairn, Arc 1600
A relatively recent addition to my personal canon of preferred pizza-providers, Le Cairn is located in the Place du Soleil between the two Arc 1600 snow fronts. It is not the cheapest restaurant on this list but the food is definitely some of the best. The pizzas are absolutely massive and, when accompanied with a side salad, easily sufficient to feed two normal people. The service is fast, helping you to maximise your time on the slopes, and friendly – everyone working here seems to smile constantly, apparently through choice.
In addition to automatically providing water and bread to the table, you are always presented with a large bottle of chilli oil. This is a fairly common practice in Les Arcs and allows you to spice up your pizza where you feel it might be necessary. Be warned though, Le Cairn's oil packs flavour and HEAT! This is another place where booking in advance is recommended, particularly if you are part of a large group or if you ski during the school holidays. Fortunately, the restaurant is open every day during the season, so you should have ample opportunity to get a table.
Pizz'Attitude, Arc 1800
What's better than pizza? Two pizzas. Following this logic, Pizz'Attitude have two locations in Arc 1800, one below the Transarc in Les Villards and another at the Charvet end of the resort, under the Place du Soleil. Pizz'Attitude also serves two different sizes of pizza (Ø26cm and Ø33cm) with a small size starting at €9 and a large one being available from €10.50. They have an extensive menu which includes not only the omnipresent tomato-based "Red" pizzas and the lesser-spotted "White" sauce pizzas but also the presumably unique "Rose" pizza which sports a mix of the two above dressings. The award for most regional Savoyarde-themed pizza must go to the discreetly-named "4 Fromage" which, in addition to the usual house cheese, is topped with Reblochon, Gruyere and Auvergne blue cheese; it's insanely cheesy, which is clearly a good thing.
Open non-stop every day throughout the winter, both places primarily serve your pizza to take away. If you really want to "eat in" there are a couple of tables available but at the Le Charvet store you would still, technically, be eating outside. Apparently, Pizz'Attitude also deliver within resort, although the bulk of accommodation within Arc 1800 is within a short walking distance of one of the two shops, so that's largely unnecessary.
Bulle Café, Arc 2000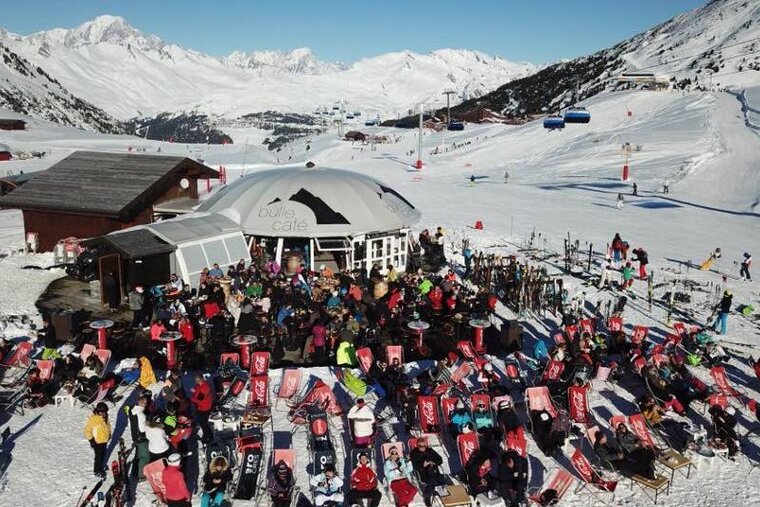 This choice may be considered a little bit "left-field" as the Bulle Café is actually a popular bar selling food on the piste next to the Arcabulle chairlift. Pizza is sold by the slice, along with sandwiches, platters of charcuterie and other bar snacks. My reason for including it here is, whilst I undoubtedly love pizza, I also love snowboarding and it can be difficult to choose between the two. The Bulle Café makes it possible to enjoy a slice of ready-made pizza (and perhaps a swift lager) with minimal waiting and without having to technically leave the slopes. You can even keep your helmet and goggles on, although mittens tend to make eating less straightforward and thus slower. Sometimes, whilst enjoying a good old shred, I forget to eat and suddenly realise I am (figuratively) starving. These are the times when a restaurant's ability to quickly and inexpensively provide me with a pizza-type snack becomes a surprisingly valuable trait. Uncomplicated, tasty and inexpensive, the Bulle Café is a great place for a short stop and a cheeky slice.
Ski Roc, Bourg St Maurice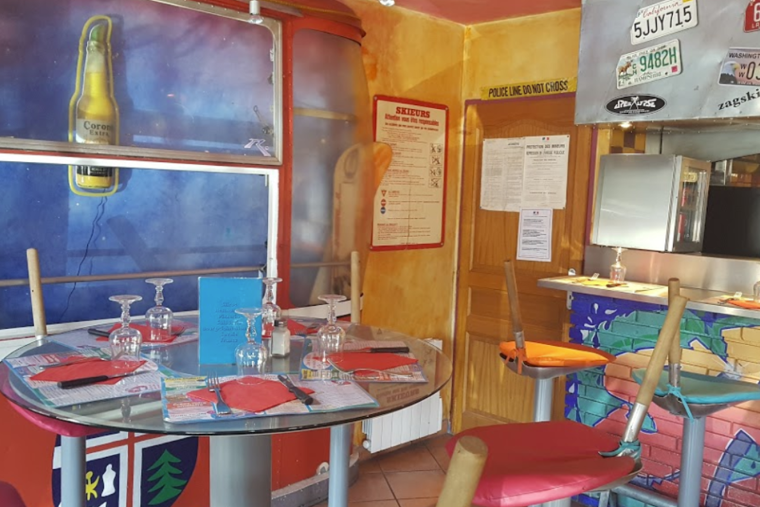 Situated opposite the train and bus station in Bourg St Maurice, Ski Roc is perfectly placed for anyone arriving (or departing) by Eurostar. It's also practically on the main road to the Les Arcs resorts, making it a great stop-off for the self-drivers. Specialising in pizza and burgers, the restaurant is super-relaxed and fun. If you have ever wondered if a snow-shovel would make a good stool, wonder no more! The decor is somewhat like an American diner but with very obvious concessions to the skiing heritage of the region. Prices are very competitive, with a hearty meal for two including wine and dessert easily achievable for under €40. They can also furnish you with a litre-glass of beer, which is just great. The pizzas are good quality, the location is handy and you get very decent value-for-money. Always worth a visit.
Location
Les Arcs Region, Les Arcs