Shredding the reds & blacks in Les Arcs in 2019
Go hard or go home
About
If you already have the skills to pay the metaphorical bills, Les Arcs has an enviable selection of red and black runs to challenge, thrill and generally put a big smile on your face.
From technical, steep and moguled pistes through ungroomed, obstacle-rich Natur' trails to one of the longest continuous runs in the world, there is something to whet every whistle. In statistical terms, you will find over 40 designated red runs across the mountain plus a snowpark for the jibbers and a red-level boardercross run. Experts can enjoy 17 different black runs, with most of them sitting above 2000 metres altitude.
Perhaps you are a hardcore shredder and have been skiing/snowboarding for decades, or maybe you are an intermediate who is looking to progress onto something a little more technical (and quicker). Here in Les Arcs, there is a great selection of pistes to suit every expertise-level and ambition. This is my guide to a few (but not all) of my favourite black and red runs.
Aiguille Rouge (black and red)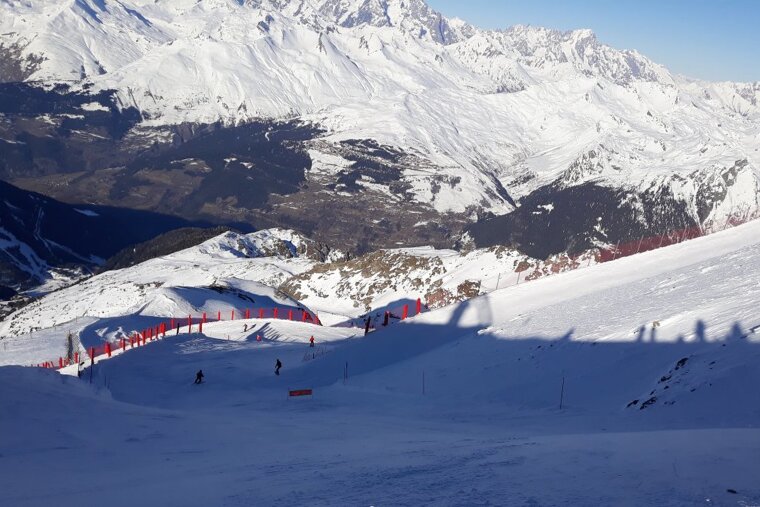 This is, quite rightly, one of the most famous pistes in the world. Starting at the highest peak in Les Arcs (3226m) it descends approximately 2km down to Villaroger and, depending on which route you take, can be significantly over 7km in length. The initial jump-off at the top of the eponymous Aiguille Rouge gondola (just below the peak) is pretty steep and, particularly following windy conditions, can be rather sheer. Fortunately, you can ease yourself into the run by following Arandelières as it wends down the upper section. Both runs converge on the Glacier du Varet, which is very broad, open, steep and largely north-facing. Then the Aiguille Rouge forks right, clinging to the side of the mountain, twisting, turning and becoming much more technical. When you pass the top of the Lanchettes lift, the run widens and becomes more predictable, so is reclassified as a red.
Probably the best things about the Aiguille Rouge (or 'Aggie' as I like to call it), other than the pure thigh- and calorie-burning distance, are the options it gives you. Before you commit to riding down to Villaroger, you can choose to 'bob off' onto one of three separate black runs which return to Arc 2000: Combes, Droset or Génépi, the last two of which are unpisted. Also, if you do decide to 'go all the way' with Aggie, you can extend the length of your trip by taking Lys (blue), add some gradient and often moguls by joining Solliet (black), or move seamlessly between the three runs. If you are in Les Arcs, if the gondola is open and if you have the requisite skills, maybe you should try the Aiguille Rouge.
Details: 7.5km Length, 1980m Descent (3182m to 1202m), 26.4% Average Gradient
---
Belette (red)
I spent my first season in Les Arcs living in Plan Peisey and spending a significant amount of my free time on Belette. It, therefore, remains close to my heart and a regular 'go to' every winter. Making a perfect loop from the top of the Derby lift to its bottom, Belette can be very fast indeed. It literally drops off the Traversée (blue) run, starting very steep before gradually levelling off. This results in a lot of initial speed which is followed by a growing sense of confidence as the run gets flatter in the middle section. Although you will often find people zig-zagging across the upper echelons of the slope, it is very wide, so you can usually overtake without getting anywhere near slower skiers. Towards the end the gradient increases a second time, providing an additional hit of speed to those who want it. It's a great piste, always well-maintained, seriously quick and don't get me started on the surrounding off-piste...
Details: 1.9km Length, 387m Descent (2325m to 1938m), 20.4% Average Gradient
---
Malgovert (red)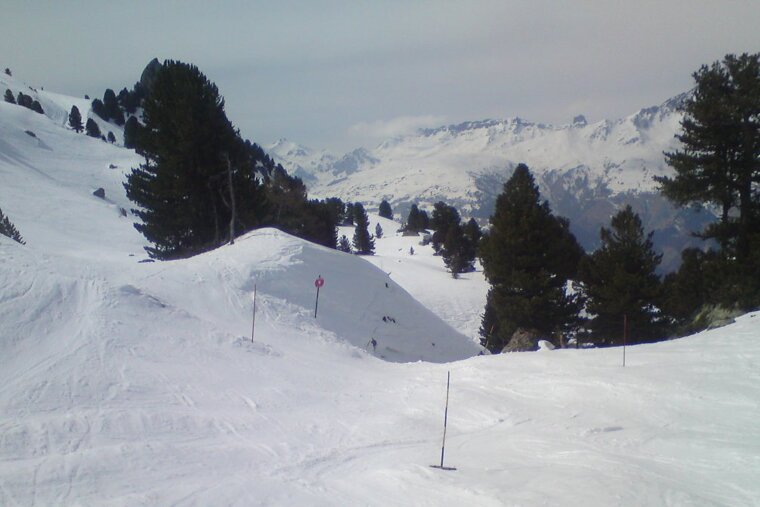 This is one for when nature calls. The piste-bashers leave Malgovert well alone, so it warrants the Natur' label and consequently includes a number of 'fun' obstacles. These include, but are not limited to, trees, rocks, shrubs, hidden dips and sudden changes of direction. Even the name of the piste suggests it should appear as a principal character in the musical Cats, presumably singing the song "Malgovert: The Crazy and Confusing Cat."
After an initial flat run from the Comborcière lift (snowboarders should prepare themselves for scooting), the piste then traces a rather eccentric route down to the Mont Blanc (blue) run and Arc 1600 somewhere below. It is not always the easiest run to follow; after significant snowfall the piste markers can get a bit buried, the "natural" parts of the run can be distracting, and it is easy to miss any one of its many sharp turns. When visibility is poor, so I would recommend avoiding it altogether, unless you have prior knowledge and a good sense of direction. However, once you do know where you are going, Malgovert is a real rollercoaster ride and an absolute experience.
Details: 1.5km Length, 235m Descent (2305m to 2070m), 15.7% Average Gradient
---
Myrtilles (red)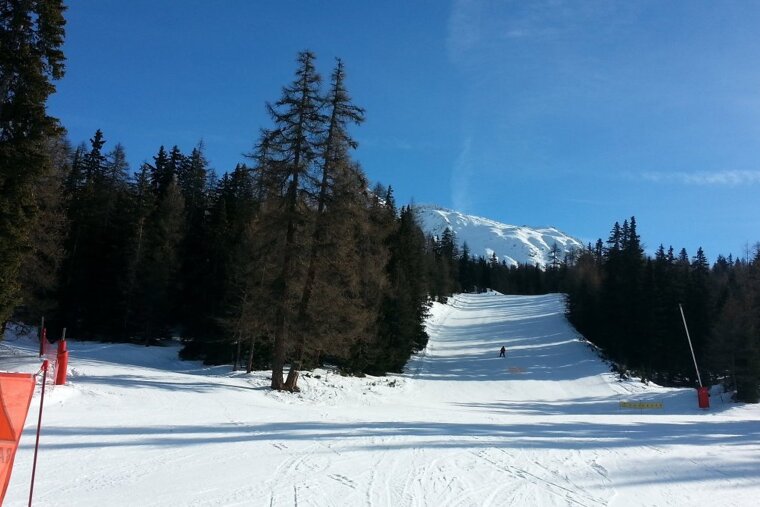 Setting out from the top of the Grizzly lift above Vallandry, this varied red run starts out open and high, before heading into the trees and finishes at an intersection with the Forêt piste. It is, therefore, possible to repeatedly loop the Grizzly lift on the Myrtilles run. Fast and wide, you should exercise caution around the intersections with Forêt (blue), Aigle (red) and at the bottom of the Derby lift. Once you enter the forest after the opening section, you can really let rip, with sweeping corners and consistent gradient taking you down to Le Derby. After there, the piste is similar to Aigle or Morey, and it is necessary to take a fairly flat blue run back to Vallandry. It may not be the longest run on this list but, especially in the initial high-altitude segment, it is always fun.
Details: 2.4km Length (although you can add another 1km to the Vallandry lift via the Forêt blue run), 575m Descent (2258m to 1683m), 24 % Average Gradient
---
Ecureuils (black)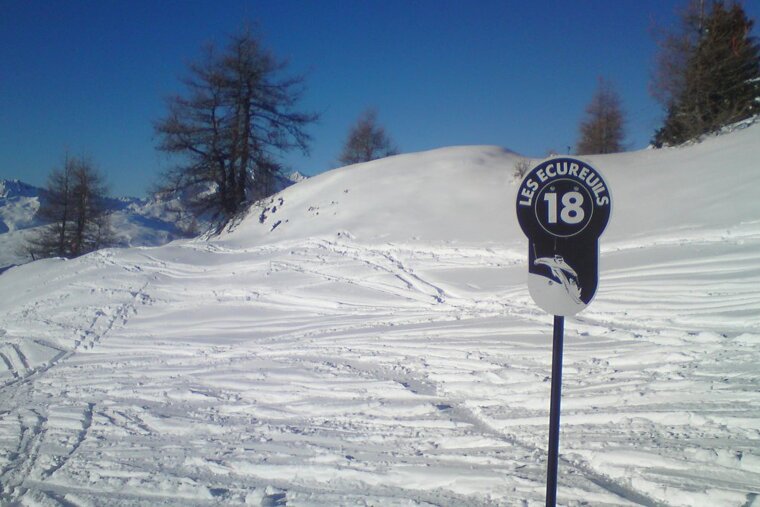 Ecureuils is something of an upside-down piste, with the steepest sections being at the bottom. It is true that the first part off the Grizzly lift is fairly precipitous but it is also quite short and leads into a predominantly flat run around the Peisey lift. This opening foray can also be surprisingly powdery even a couple of days after the most recent snowfall. You can, of course, join the run from the Peisey lift and thereafter there is a short, flat segment before you enter the trees. It is from this point that you can really crank up the speed: the piste rolls down the mountain, with steepish 'dips' alternating with flattish bits. In general, it is quite wide and there are no real crossroads (save for some unregistered 'cat tracks' until you reach the top of the Parchey lift). Ecureuils is, therefore, an ideal 'starter' piste for anyone who wants to try a black run. Arguably the most difficult parts are around the Retour Plan Peisey junction where there is both a mogul field and a much steeper section. You only need to take one or the other, so you can avoid the moguls by taking the second (still steep but significantly easier) turn towards Plan Peisey. There is also no need to do the final chunk down to the bottom of the tiny Parchey lift (closed at lunchtimes); it's actually more straightforward to simply join the blue run down to the Peisey chairlift.
Details (top of Grizzly to bottom of Parchey lift): 2.3km Length, 600m Descent (2258m to 1658m), 26.1% Average Gradient
---
Combe (red)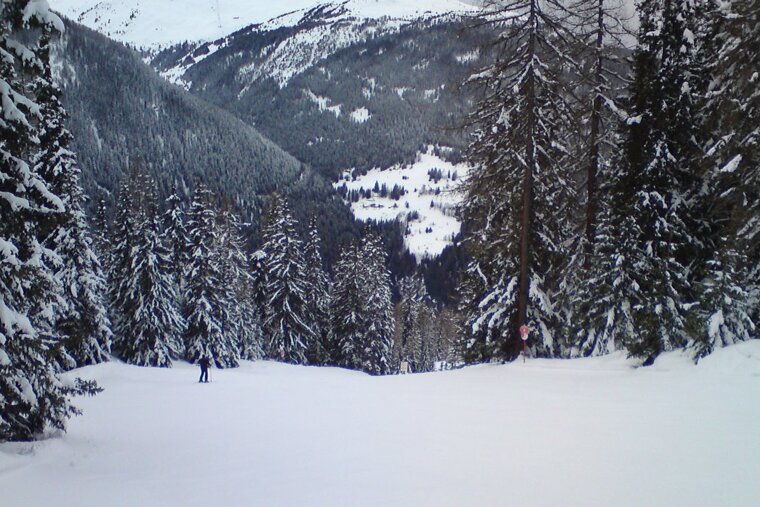 Also above Plan Peisey, it is worth mentioning this little tree-lined red which rolls down the hill through the trees. Accessed directly from the Peisey lift, it is a really picturesque run which seems entirely abstracted from any hustle and bustle you might find on the mountain. It is serviced by a button lift but the incline is quite steep and does not afford the most pleasant ascent. Fortunately, you can turn right just before the end of the Combe run and follow Retour Combe (also red) which takes you down a gentle track back to the bottom of the Peisey lift.
Details: 1.2km Length, 275m Descent (2066m to 1791m), 22.9% Average Gradient
---
Aigle (red)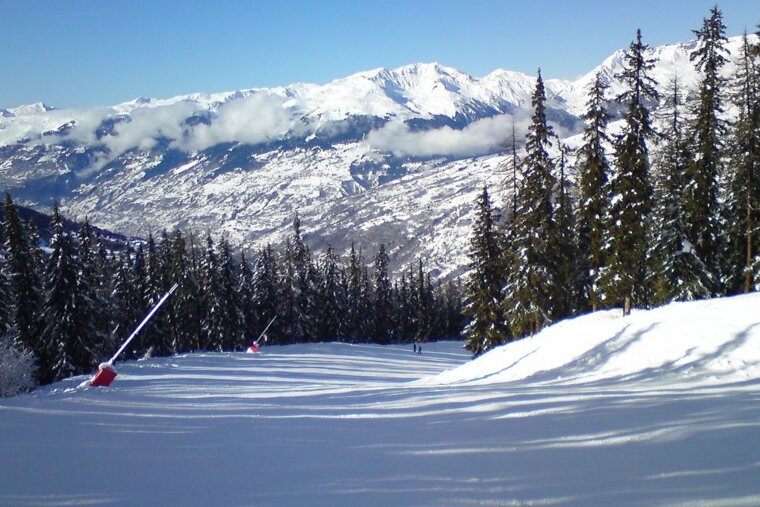 Like Myrtilles above, this is a red run which cuts through the woods above Vallandry, traversing various gentle blue runs, and ending up back at the bottom of the Grizzly lift. There are lots of great reds in this area (Morey, Myrtilles, Perdix then Ours) but, after careful consideration, I think Aigle is my favourite. Never too steep or too flat, the only reason to slow down are the various (well-marked and thus very visible) intersections. The piste is wide, so invites you to pick a line and resulting gradient that suits your style and the conditions underfoot. When the light turns flat or mist settles on the slopes, the tree cover improves visibility by creating a contrasting backdrop. Furthermore, the shade caused by the forest in sunny weather ensures the slopes remain in great condition even very late in the season.
Details: 2.7km Length, 653m Descent (2258m to 1605m), 24.2 % Average Gradient
---
Cachette (red)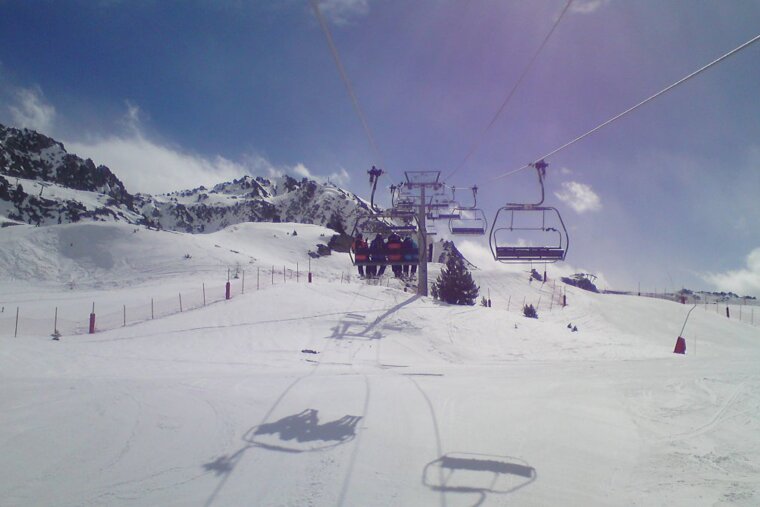 Over in Arc 1600, the dominant red run is Cachette. Visible from Bourg Saint Maurice in the valley, it is a wide, often steep, piste which is paralleled by a specific slalom run. The Cachette run itself can, therefore, vary almost every day according to where the competition slalom has been set up. This run is surprisingly steep for a red, although it is broad and thus invites frequent carving. After the Arpette (blue) intersection, the incline is significant and can be very hard/fast. As it reaches the Arc 1600 snow front, Cachette merges with Mont Blanc (blue) to form a hyper-wide super-piste. It is worth slowing down here because people displaying a wide range of abilities are often travelling in a variety of unexpected directions at the bottom.
Details: 2km Length, 550m Descent (2170m to 1620m), 27.5% Average Gradient
---
Fond Blanc (black)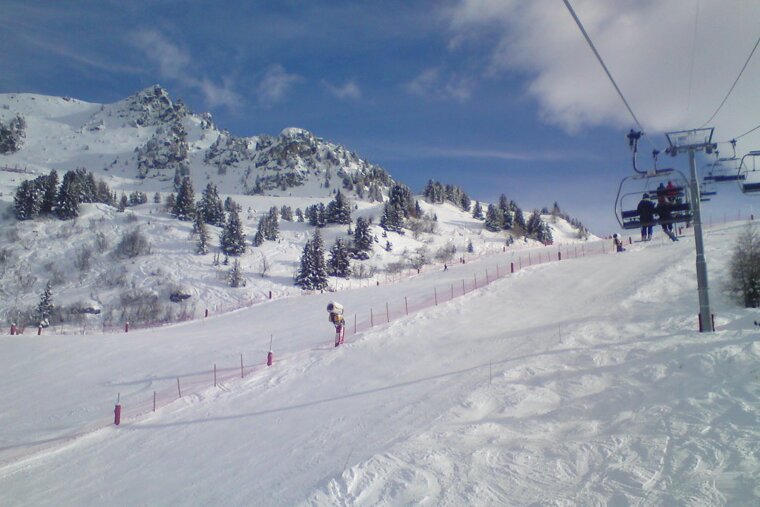 This is the perfect 'finisher.' Short, sharp and sweet. Accessed from L'Arpette peak, this black run drops straight off the ridge, allowing you to pick up some serious speed before joining the Arpette (blue) run above the snowpark. After traversing the ridge, it is properly steep and fairly regularly pisted to keep it smooth. At the end of the day, you can hit Fond Blanc before heading home to Arc 1600, Arc 1800 or even Vallandry. Or maybe you jump on the Arpette lift to have one more go...
Details: 0.6km Length, 183m Descent (2388m to 2205m), 30.5% Average Gradient (although the actual gradient after the lead-in is closer to 35%)
---
Fond Blanc (black)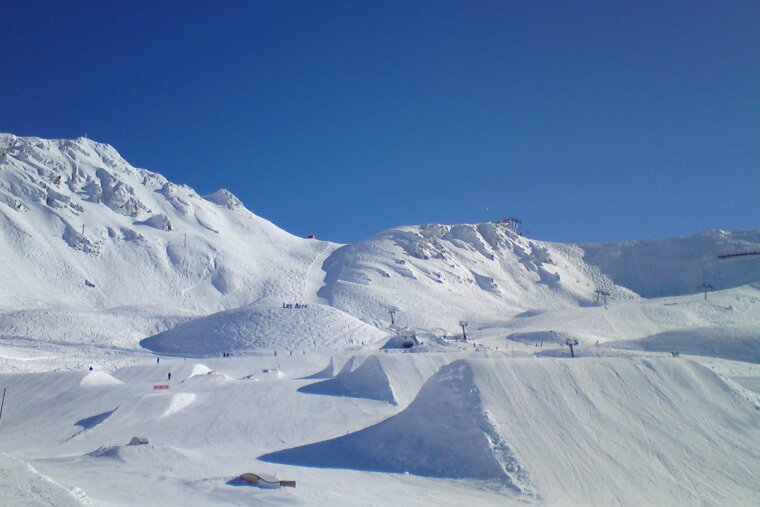 Note about measurements: All the distances and altitudes used in this document are approximate as they have been measured using a domestic GPS fitness watch. Also, although I have aimed for accuracy, and generally try to take the most direct route along the pistes, the length of a run can depend massively upon which line I've taken, how much I've needed to turn, what the ski-traffic was like, and other things of that nature. All figures are included as fun information and are definitely not perfect.
---
---