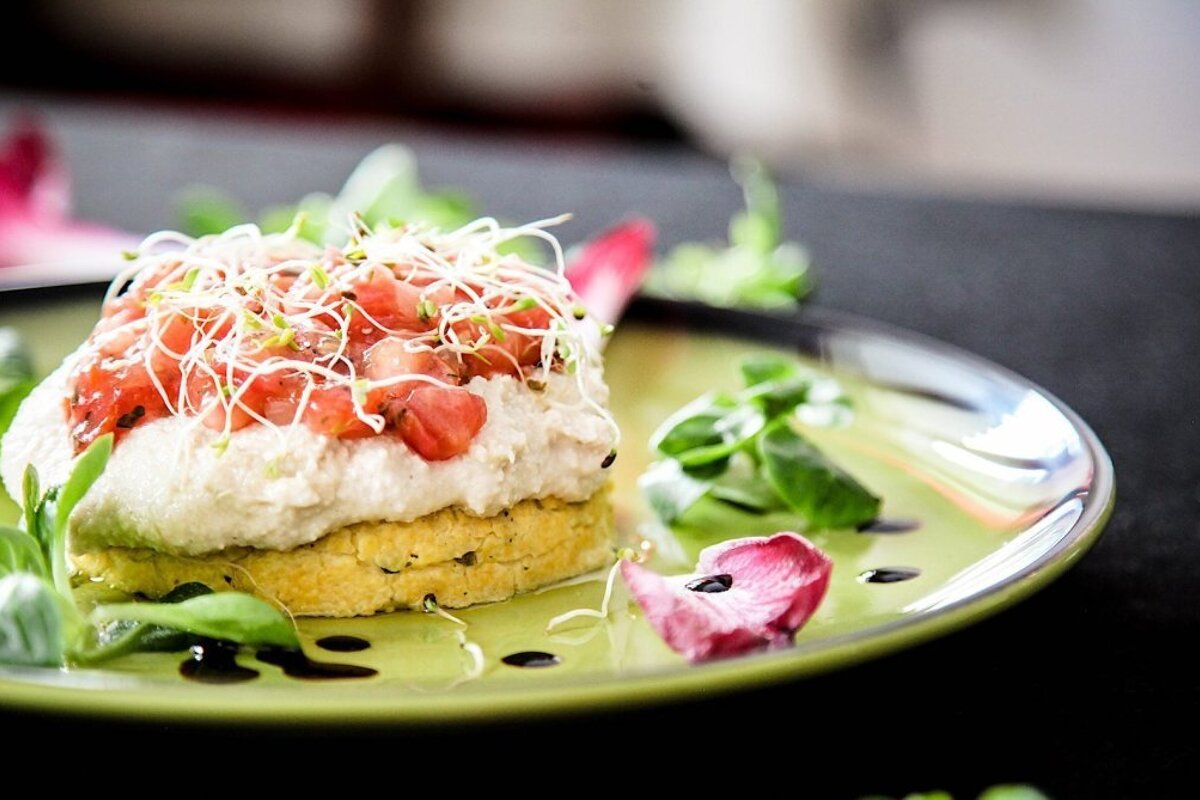 Top vegetarian restaurants in Les Arcs
Your guide to the healthiest & most ethical eateries in resort
It is officially Veganuary and, with an ever-increasing percentage of the European population following vegetarian, vegan and primarily plant-based flexitarian diets, there is a consistent demand for delicious herbivorous foods. Here in Les Arcs, there are plenty of options for people following a non-meat or zero-animal-product regime, you just need to know where to look.
It is surprisingly easy to follow a vegetarian diet at this end of the French Alps, with one of the main staple foods being its locally-produced cheeses. In the summertime, once the snow has melted away after the winter season, the pistes become grazing land for herds of cows with mobile milking units being regularly brought to the herd. Tarentaise specialities are therefore often cheese-based, with vegetarian versions of croziflette and tartiflette fairly common in the mountainside restaurants.
It can be slightly more complicated if you avoid all dairy/animal products but there are still many options in and around the resorts. Les Arcs boasts vegan society accredited restaurants, passionately vegetarian catered chalets, companies who can deliver fantastic food fulfilling all your dietary requirements and stores stocking a selection of alternative ingredients.
Restaurants
In terms of vegetarian food, the proliferation of cheese-based meals available on the mountain makes finding something to eat fairly straightforward. The Alpine pièce de résistance, the Fondue, is available practically everywhere (and, this year, we have created a helpful guide full of the best options). Also, if you enjoy a pizza, you will certainly not go hungry in Les Arcs. Contrary to popular belief there are almost always vegetarian options on restaurant menus, although some have a much wider selection than others. Here are a few choices to get you started...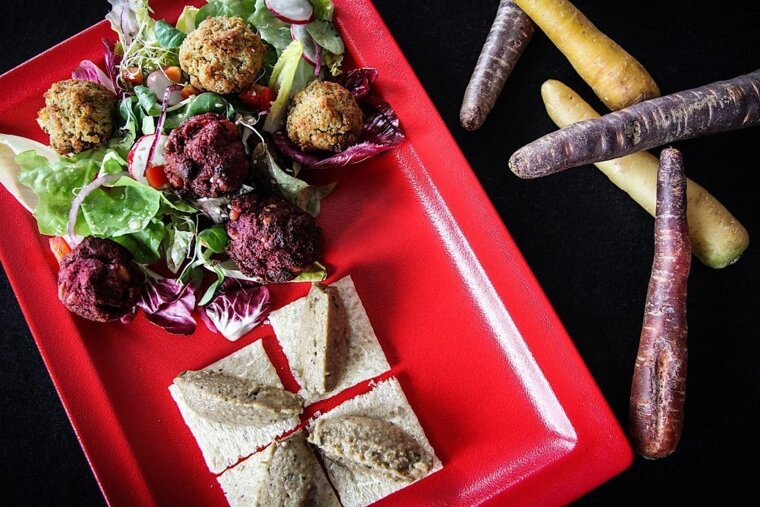 In Bourg Saint Maurice, practically adjacent to the train station, is Le Montagnole restaurant. It is featured in the Michelin guide and the menu contains an excellent selection of vegan food complete with the Vegan Trademark accreditation. The restaurant is good for mixed groups as, in addition to serving the usual Savoyarde fayre containing meat or other animal products, there is a full designated vegan menu with a main course costing €15 and desserts available for an additional €5. Amongst other things, you can enjoy a Soya burger with houmous and red beans (served with chips and salad), tofu ravioli with basil and lentil terrine accompanied by buckwheat salad. The desserts are equally as impressive, with my particular recommendation being the "trio" of ice-creams (chocolate, lemon and vanilla) served with cookies. Yum!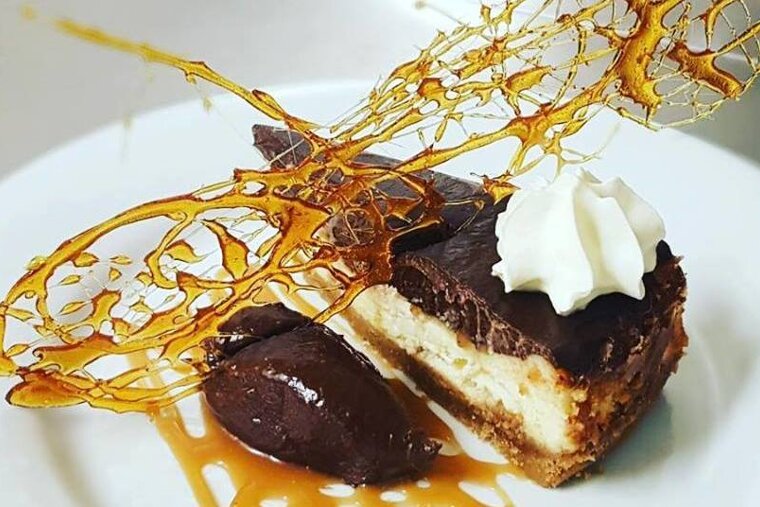 Below the Grizzly lift station in Vallandry, sits the Mont Blanc bar. Featuring an eclectic menu with many world foods which are otherwise under-represented in France, this is the perfect stop-off for a midday meal. There are always a decent number of vegetarian options on the menu and I have enjoyed vegetable fajitas, cheesy nachos and tasty pizzas in the past.
Just off the Grands Mélèzes piste, above Arc 1800 but below the Transarc mid-station, you will find the Chalet Grillette. Perfect for a lunchtime rest, they always have a decent selection for vegetarian diners, from quiches to salads, hearty soups to goat's cheese tarts. Tartiflette is perhaps the most iconic meal in this corner of the Alps and the Grillette serves an option which is entirely meat-free but retains all of the rich, cheesy, potato and onion deliciousness that you would expect (and probably deserve).
Catered chalets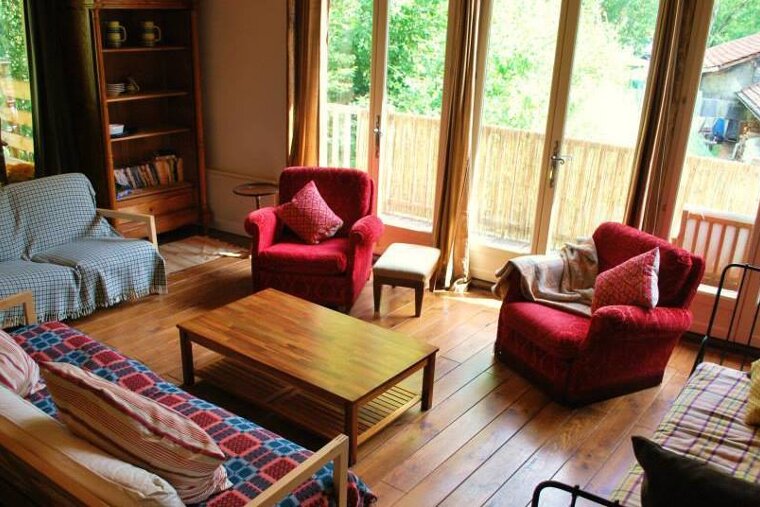 There are a huge number of catered chalet companies across Les Arcs, with the majority of them providing specific menus for vegetarians and some even supplying vegan food for the duration of your stay. There is, however, only one chalet company I know that provides truly exquisite plant-based meals AND actively encourages vegetarian- and veganism by giving financial incentives to ethical eaters. Hidden Alps have five chalets across Paradiski with three options in Landry, a short distance from the tree-lined runs of Peisey-Vallandry.
Led by a vegetarian, Sam, their commitment to a conscientious food ethos is exceptional; they can provide fully organic menus, they source products which guarantee high levels of animal welfare and, as I mentioned above, they provide discounts for guests enjoying a fully meat-free diet. That's right, discounts, and rather generous ones at that: individual vegetarians and vegans get 15% off the price of a catered stay, whilst groups booking a whole chalet (at an already reduced rate) can enjoy 10% off the list price. Also, they host a "try Vegan" week between January 19th and 27th, so you can go skiing, eat delicious, ethical food every day and save money. It's a winner.
Self-catering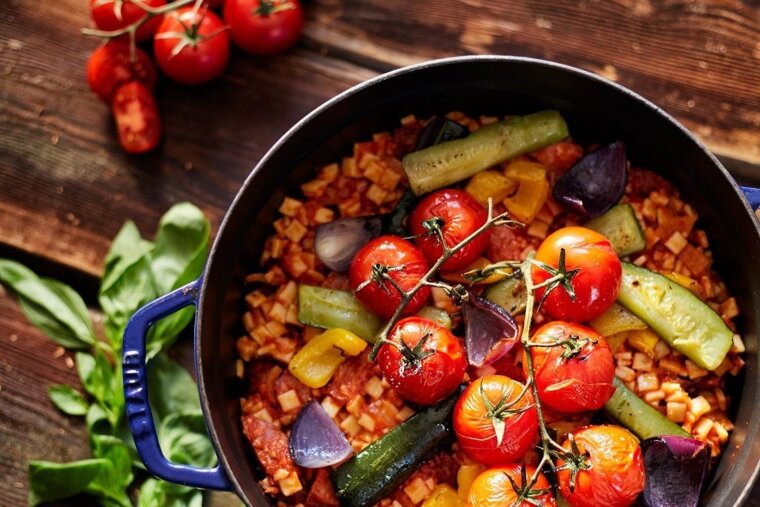 What is cheaper than eating at a restaurant every night but much easier than packing 15 different types of herbs and spices into your hand luggage? Huski is. Providing ready-to-cook luxury meals throughout Les Arcs (and all the other resorts across the French Alps), Huski has an impressive range of vegetarian and vegan restaurant-quality meals which they will deliver directly to your accommodation. Their website is easy to use, you simply select your dietary requirements (vegetarian, vegan, gluten-free, etc) and the menu displays the options available. Prices are very reasonable, there is a six-day vegan dinner menu available for only €54 per person, and it is arguably the best place to get a "proper" curry on the mountain.
I have been fortunate enough to sample a good selection of the well-known "Cook" dishes they offer and have been genuinely impressed. Furthermore, the meals are very simple to prepare: you take it out of the freezer, pop it in the oven for the requisite amount of time and... that's pretty much it. Even I can do it. The containers are oven-safe (and recyclable), so there's minimal preparation and no washing up! As well as boasting a banquet-worthy range of meat-free canapés, starters, main courses and desserts, Huski will deliver a variety of groceries, wine and real ales to your holiday door. It is, therefore, a great option for a vegetarian or vegan self-catering ski group who want to ensure they have plenty of suitable meals to fuel their ski adventures.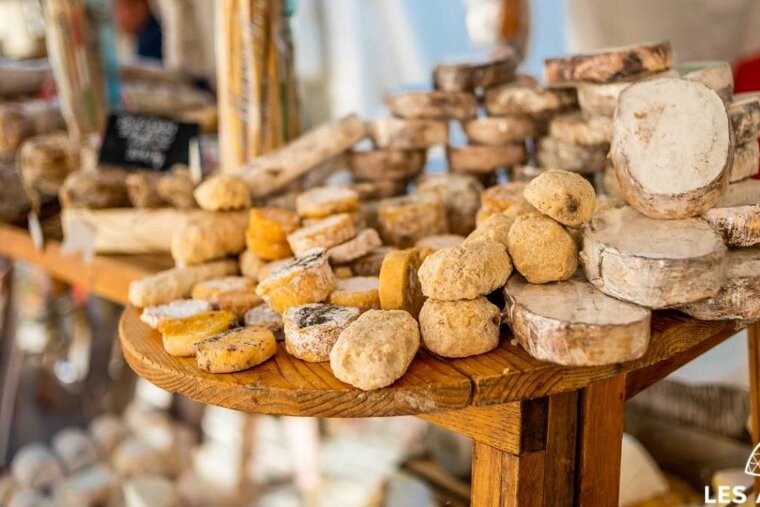 If the particular reason you are staying in an apartment or chalet is so you can cook everything yourself from scratch, there are some good local stores where you can source everything from tofu to seitan. If you are driving to one of the Arcs resorts, there is a brand-new Bio-foods (organic) store on the main access route through Bourg St Maurice: Biocoop L'Eclume des Mers. It has an excellent choice of meat- and animal-product-free provisions, although prices are a little higher than you might usually pay in the UK. Nowadays, even the larger generic supermarkets in the valley offer a selection of milk alternatives, as well as go-to foods like houmous, falafel and harissa, so you can generally get what you need.
Location
Les Arcs Villages, Les Arcs