April in Les Arcs: What's On & Weather
Skiing in a t-shirt and long lunches - there's a lot to love about spring in Les Arcs
About
Spring has sprung, the clocks have gone forward, the evenings are longer and the temperatures are rising. It is April in Les Arcs and we still have four weeks of ski time left before we give our snowboards an end-of-season wax and pack away our winter wardrobe. Don't forget your sunscreen!
The Easter holidays bring families back to the valley for a short end of season break in the mountains. The warmer spring days also brings a party-vibe to the town and the sun / snow conditions obviously warrant a longer lunch break on a sunny terrace to top up the tan, and après-ski seemingly starts a little earlier.
To make the most of the longer sunny days we like get out on our touring skis and split-boards, get away from the lifts, and find that last bit of untouched snow.
Read on for a look at what we like to do in resort throughout April.
What are the weather & snow conditions like in Les Arcs in April?
As winter draws to a close for another year, the snow on the lower slopes is usually much heavier by midday. The temperatures rarely dip below freezing, usually falling between a low of -3ºC and a high of 6ºC, plus there's still the chance of snow as April averages eight days snowfall, and therefore a powder day isn't out of the question.
---
What's on in Les Arcs in April?
X Speed Ski Tour
This is a free event for those who really like to push their boundaries. Based at the Bulle Cafe adjacent to the Arcabulle lift in Arc 2000, the X Speed Tour travels around the French Alps, commandeering pistes and pointing speed-guns at those people who have a verifiable 'need for speed.' Whether you ski, snowboard, monoski, handiski or something else, you can test out the designated piste and get some expert advice from Xavier Cousseau (the World-Record holder for monoski). If there's anyone who can help you increase your top speed in Les Arcs, it is probably a man who has clocked over 131mph in the same resort. You can join in from 10:00 to 16:00 on the specified days.
The Great British Celebration
In Les Arcs, they annually honour the long, happy relationship between France and Great Britain with a week-long celebration of British culture. In Arc 1950 they really understand British culture and there is a tea party in the main square. You can expect small cakes (standard) and an orchestral DJ set (less standard). Still, if there's tea, you can expect a strong British contingent. To finish the week, there is a degustation (food tasting) of both British and French produce in Arc 1800, with sled-racing happening nearby from 16:30. Afterwards, there is a concert in the Villards main square (starting from 18:30).
Freeski Final Big Air
Held in the legendary Apocalypse snow park above Arc 1600, and organised by the Les Arcs Freeski Academy, the Final Big Air is part of the French Championships and will involve some seriously skilled (and brave) athletes. Featuring both senior and junior skiers and snowboarders pulling some unconscionable gravity-defying moves, it is an absolute must-see event.
Silver Cup
Why not head to Arc 1600 and see the future superstars of slalom skiing traversing gates at incredible speed? The Coupe d'Argent (silver cup) sees the 32 best young skiers from the Savoie region competing over a period of three days.
Feel Good Village
April is not all about competitions, rushing around and partying. The Feel Good Village at the top of the Col de la Chal can help you introduce a bit of relaxation and mindfulness into your week. Regardless of when you arrive at the Feel Good Village, you will be able to have a refreshing smoothie or a (possibly even more refreshing) massage. Why not treat yourself?
Ski2Bike
If anything sums up spring in Les Arcs, it is the absolutely crazy Ski2Bike competition. Essentially it is a duathlon where the two sports are skiing and mountain-biking. Open to 200 competitors (sign up beforehand), there is a mass start at the top of the Arpette peak. The participants start with a very short sprint, after which they snap on their skis before hurtling down to the Arc 1600 to transition from planks a mountain bike. They then follow an off-road course which descends another 800m down to the finish line in Bourg St Maurice. There are categories for men, women and even a relay option (for those who prefer to share the descent without having to change modes of transport). It is partly insane, partly genius, 100% Les Arcs.
---
School holiday Skiing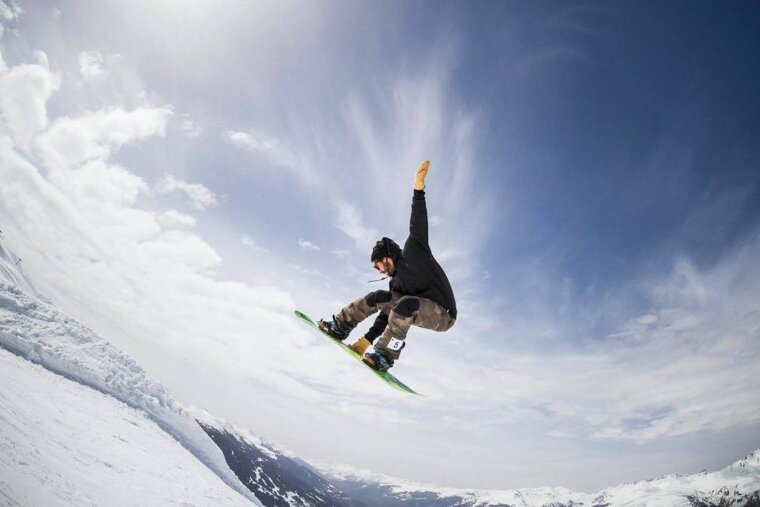 Easter is a popular month for families so the slopes are noticeably busier as soon as the holidays begin. Fortunately, the ski area is so vast, that you can find quiet slopes and minimal lift queues. Here's our insider's top tips for the school holidays:
It will be almost impossible to book private lessons over this period, group lessons are the best option. Make sure to get your ski and snowboard lessons booked well in advance to avoid disappointment.
If you're not in ski school, be an early bird. Arrive at the lifts before they open so that you get up and away before the ski school classes set out around 09:15.
Ski over lunchtime. The slopes are calmer between 12:00 and 14:00 while the French take a leisurely lunch break.
Pre-book your lunch and avoid the queues. Some restaurants offer a Click & Collect service. It's the best way to avoid the queues and make the most of your time in the mountains.
Seek out the peripheral areas. Try to avoid the busy main ski areas.
Get off-piste. Competent off-piste skiers can book a local mountain guide and explore the vast off-piste areas in the valley or even go touring to find complete solitude in the backcountry.
---
Bars & Clubs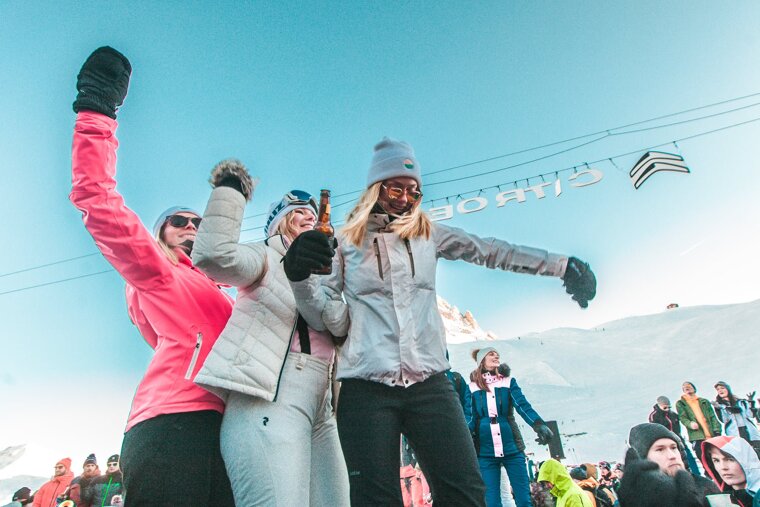 There is still time to enjoy some legendary après-ski parties before the season comes to an end. Since it's opening La Folie Douce has taken the après-ski hotspot crown, but for a more relaxed affair you can always try one of the local bars for some happy hour discounts - and if you're here late enough in the season there are some wild closing parties.
---
More inspiration...
If you're coming to the areas this month or later in the summer, now is the time to start thinking about booking accommodation, how to get here, and some of the many things to do while you're in town.
---