If you are new to the slopes it's a good chance that you'll be wanting to try your first kicker or rail soon. Freestyle is great fun and if you want to learn there is no better place to head than the Les Arcs snowpark.
Snowparks in Les Arcs & Paradiski
Les Arcs
Apocalypse Snowpark - small, medium and large kickers and jumps, rails & quarter pipe
Airbag
Rail park in Peisey-Vallandry
Mille 8 - sledging zone & freestyle ski / snowboard area
La Plagne
7 Cube Snowpark - small, medium and large kickers and jumps, rails & boxes
Halfpipe in Plagne-Bellecote
Fun Zone at Arpette chairlift - boardercross, jumps, rails and rollers
Snowparks in Les Arcs
Les Arcs has very firm roots in snowboarding history as a favourite place to ride and is the season destination choice for many of the Pros. Back in 1981, Regis Rolland (who later began the snowboard manufacturers 'A') was given a snowboard to try out and soon began to break new ground in snowboarding styles and tricks.
Apocalypse Snowpark
The Apocalypse Parc lies between Arc 1600 and Arc 1800 next to the Snowpark ski lift and has lots to offer, ranging from blue level jumps to black kick-rails and a quarter pipe. It also has rail slides, a spine jump and for the really adventurous - a gap jump. Or if you are into testing your speed, try the boardercross for both skiers and boarders alike.
Airbag
They also have a permanent airbag where you can try out your freestyle skills with a guaranteed soft landing. The best thing is it's all free! Check out the video on this page for a taster of what's on offer.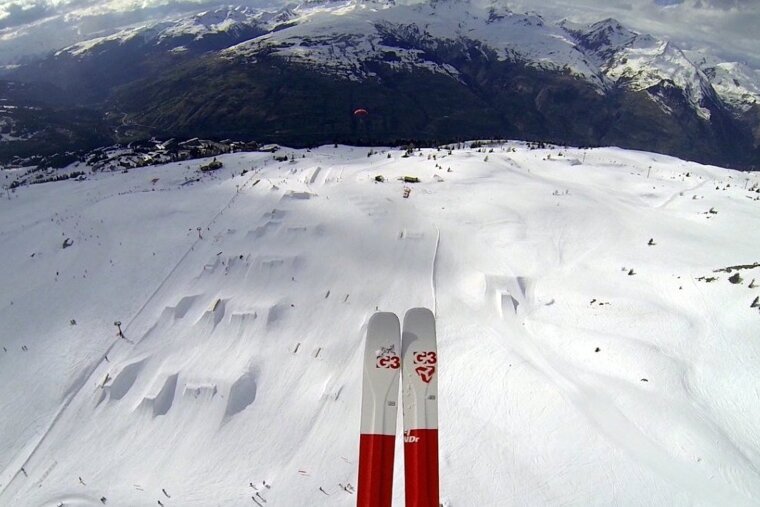 Mille 8 in Les Arcs 1800
Built in the 2015-16 ski season the 'Mille 8' zone in Arc 1800 is home to a swimming pool and spa facilities, children's play area, bar and restaurant, sledging zone, freestyle ski & snowboard area and a handful of winter walking trails.
The freestyle zone includes a large number of features for every level of skier and snowboarder. The whole area is covered with lights & sound systems and you can tag your photos to appear on the big screens around the zone. Access is via the Villards gondola and entry is included in the price of your ski pass.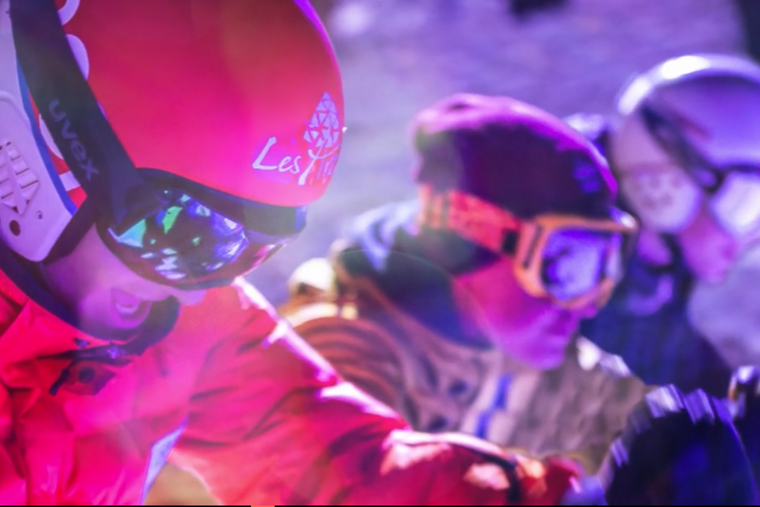 Snowparks in La Plagne
La Plagne is another great place to go if you are a freestyle skier or snowboarder. It has a huge snowpark that sits above Plagne centre and under the Funicular. You can reach it from top of the Colorado lift if you're coming from Plagne centre or from the top of the Blanchets if you're coming from Plagne Bellecote.
7 Cube
La Plagne has a whopping 1km long snowpark known as the 7 Cube which caters for people of all abilities. The park is shaped with skiers in mind as La Plagne has a big freestyle ski scene but that's not to stop the snowboarders having a go too. You will find different sized jumps graded in the same way as the pistes - Green, Blue, Red and Black. As you can imagine, these are named according to their level of difficulty and diversity of their obstacles with green being the easiest and black being the hardest - which is big!
Once the jumps are out of the way the park splits in two and each branch has a selection of rails and boxes and one also has a wall ride. Unfortunately, there is no drag lift for the park so you must use the Colorado chairlift from Plagne Centre. There are often small competitions in the park for everyone to join in and have a go, mostly on a Friday afternoon. There is also a picnic area where you can eat your lunch whilst watching people throw themselves off the jumps or you can just listen to the music in the sun.
Halfpipe
Down in Plagne Bellecôte there is a half-pipe which is also open to all. There is a chairlift called the Blanchets right next to the pipe which can be used to access it.
You can buy a "Pass Park" which will give you access to the '7 Cube', the boardercross at Belle Plagne and the halfpipe at Plagne Bellecôte. Between the three, you can expect to find a variety of rails, tables and jumps to keep you busy all day! Take a look at this year's ski pass prices for more information.