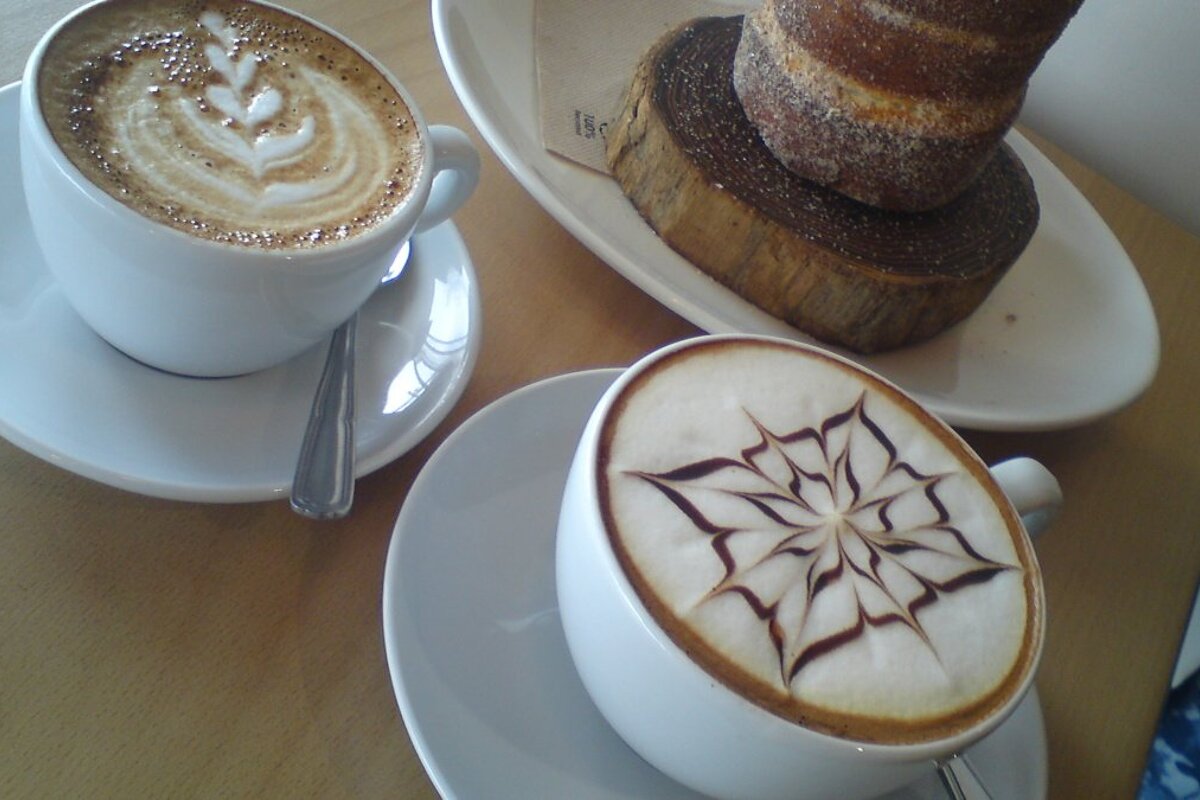 Best coffee in Les Arcs
The premium purveyors of hot caffeinated beverages on the mountain
Coffee is a wonderful and perhaps magical thing. A true chimera of a drink, it can fulfil a wide range of functions (some of which are contradictory) often at the same time. Coffee can wake you up, it can be a creamy, frothy-headed treat drunk from a huge mug on a cold afternoon, it can make an hour with friends seem like a lifetime, or it can be a short, sharp espresso boost to help you maximise the last ski runs of the day.
Similarly, coffee houses can be a mixed bag. Sometimes you want to find a Central Perk, somewhere to chat, while away the hours or read a book in a quiet corner. You might want to sit on a sunny terrace, enjoying the views whilst an Americano warms your hands and heightens your senses. Maybe you just need a shot of caffeine, now (right now), to ward off the after-effects of the previous night and get you ready for another day on the pistes. With that in mind, let me take you on a grand tour of some of my favourite places to get a coffee fix in Les Arcs.
The world-class one: Pause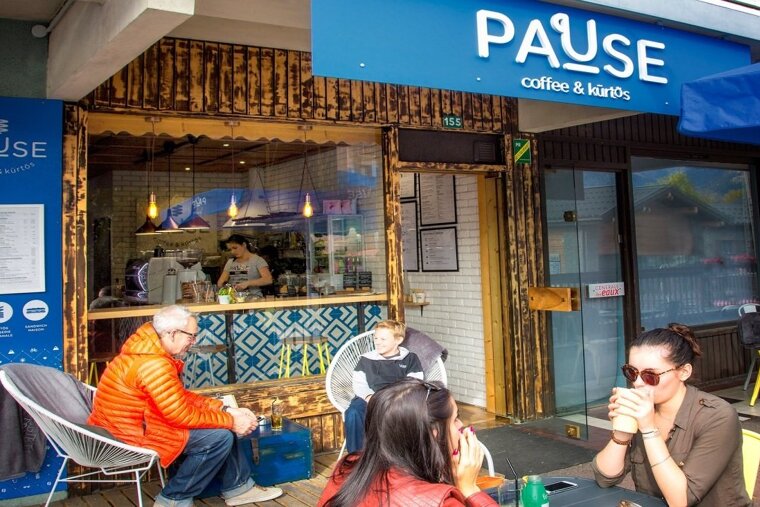 Pause is an incredible coffee shop in Bourg St Maurice. It is on the main road leading to all of the Les Arcs resorts (Peisey-Vallandry excepted) and is only a minute's walk from the central bus and railway stations. Here they are not just enthusiastic or "passionate" about coffee, they treat it as an art form. To the layperson, Pause is simply a very welcoming place where you can get a coffee, a huge variety of teas, a sandwich, a cookie, or even a glass of wine or beer in a relaxed and convivial environment. However, even a short conversation with the lovely baristas, Krisztina and Máté, (which can be in fluent English or French, your choice) reveals an exceptional commitment to quality and detail in their coffeemaking. They only use speciality Gardelli coffee beans and always have an alternative "world single varietal" on the menu. There is a choice of soy or almond milk available for non-dairy or vegan customers, and the things they can do with coffee and steamed milk truly puts the "art" into latte art. Another thing that is unique to this particular coffee joint is the Kürtös: a baked crispy-doughy half-doughnut half-Chelsea bun spiral totem tower, served on a wooden post and finished with either a sweet or savoury coating, the Kürtös is difficult to describe but very easy to eat, and the perfect accompaniment to a hot coffee.
Pause is open from 07:30 to 19:00 every day except Monday, with an early start on Saturdays (06:30) to accommodate the early-morning arrivals on the overnight Eurostar (whose desire for coffee is often outstripped by a genuine need for caffeine). Above I have described Pause as "world-class" and believe that description is completely justified. I have drunk coffee all over the world and, in a previous incarnation, even sold coffee machines for a living so, if you like coffee even a bit, heed my recommendation and visit Pause next time you are in Les Arcs. You won't regret it.
My drink: Flat White €3.50
Coffee: Gardelli
Best thing: Superlative coffee with a warm welcome
Worst thing: Distance from the pistes
The high-altitude one: La Crèche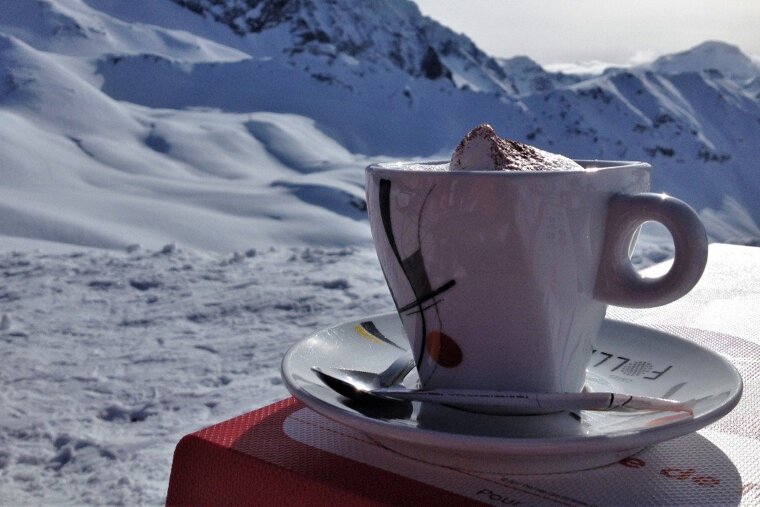 Situated on the Col de la Chal above Arc 2000, La Crèche is very accessible, boasts spectacular views and is the perfect place for a mid-ski pick-me-up. At a height of 2600m, you can reach this restaurant directly from Arc 1800 (using the Transarc gondola) or by taking either the Arcabulle or Plagnettes chairlifts from above Arc 2000. It is possible to ski down to every resort in Les Arcs (except Villaroger) from the Col de la Chal and, as it is also very easy to find, La Crèche a great place to meet-and-drink.
The coffee in La Crèche is the most expensive on this list but is made using a proper (and huge) commercial espresso machine. The vistas from the terrace are beautiful, with uninterrupted panoramas over untouched (and unskied) parts of the mountain landscape. Featuring a full restaurant in addition to a snack bar, you can also get some real nourishment to supplement your caffeine intake.
My drink: Cappuccino €4.80
Coffee: Folliet
Best thing: Outdoor terrace and views
Worst thing: Quality of coffee can depend on barista
The posh one: Le Lodge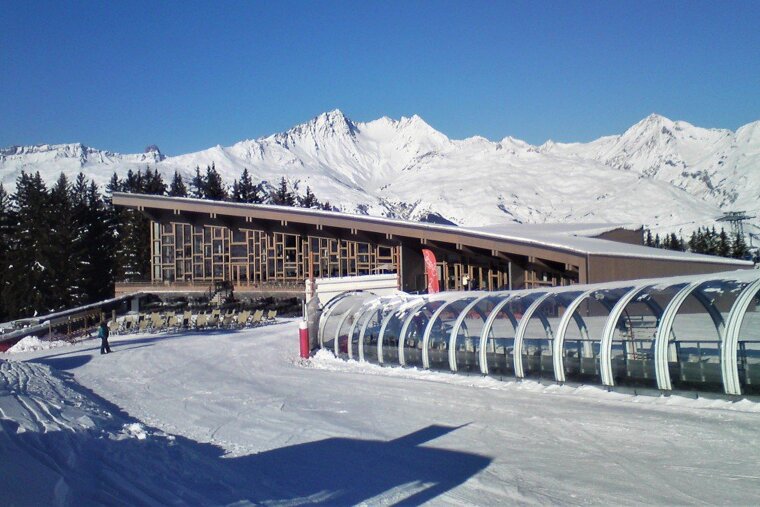 A very visible part of the Mille8 complex in Arc 1800, Le Lodge is a swanky, modern building housing a restaurant and bar. However, despite its impressive decor and piste-side positioning, prices are very reasonable indeed. There is a capacious outdoor seating area as well as plenty of room inside when the weather is inclement. Adjacent to the Le Cube beginners/kids area and at the top of the novice Villards/Cabanes blue slope, it is an ideal spot to grab a hot drink between practice runs.
On my last visit, I sat outside and had a noisette (espresso with a shot of hot milk, named "hazelnut" after the colour of the resulting drink), which was pleasant and seemed well made. I liked that there was a choice of decaffeinated coffees and that you could add honey to your cup for €0.50. Although tempted by the Irish (whisky) and French (cognac) coffees on offer at €9.80 each, on this occasion, prudence prevailed.
My drink: Noisette €2.50
Coffee: Folliet
Best thing: Stunning building
Worst thing: They serve expresso (with an 'x') which is apparently correct in French (and interchangeable with espresso) and thus confusing
The one you deserve: La Ferme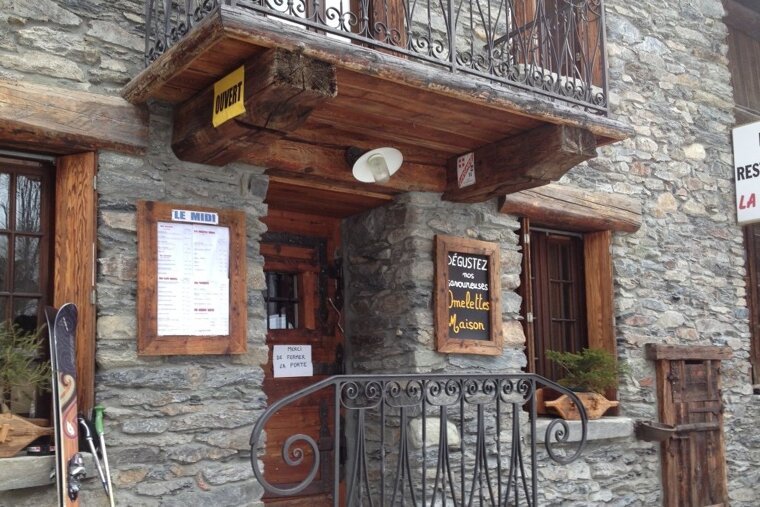 When you have ridden approximately 7km from the top of the Aiguille Rouge (at 3226m) to Villaroger (at 1200m) you will begin to see signs for La Ferme. By this time you will also have earned a hot cup of joe and perhaps even a good old sit down before you take the three consecutive lifts back up to Arc 2000.
La Ferme is a lovely, rustic restaurant in the heart of Les Arcs' most remote village. This is no purpose-built complex in a ski resort, this is a homely bistro in a farming community that just happens to be adjoined to one of the largest ski areas in Europe. Even though I only stayed for a quick cappuccino, aware that it was the late afternoon and I needed to take at least four lifts and a funicular to get home, I was almost delayed indefinitely by the appearance of a man carrying a tray of seriously mouth-wateringly gorgeous homemade fruit tarts. I managed to avoid that particular enticement but only with the caveat that I should return soon, but much earlier in the daytime.
My drink: Cappuccino €4.50
Coffee: Fraica
Best thing: Atmosphere
Worst thing: Unless you are staying in Villaroger, you have a three chairlift ride ahead of you. Add two gondolas if you are going back to the top of the Aiguille Rouge
The one with a bit of everything: Wood Bear Café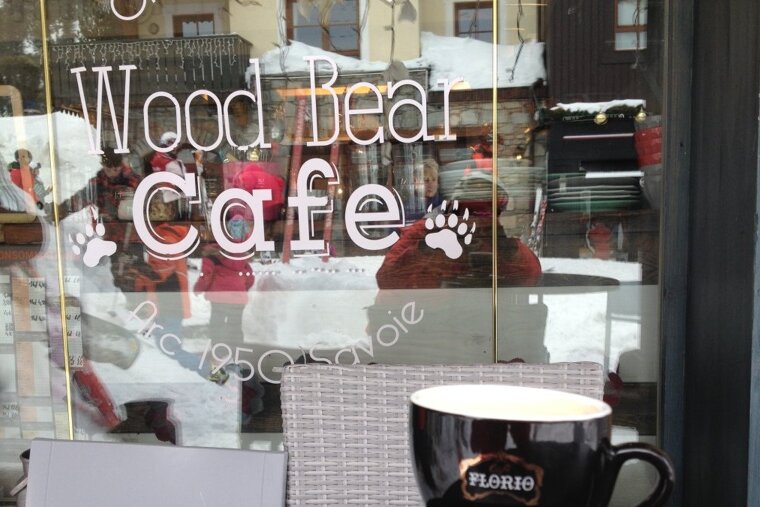 A great all-rounder in terms of coffee houses, Wood Bear Café in Arc 1950 has elements of all the previous places. The coffee is typically very good, the prices are not expensive, you can ski to the front door (through the village) and back to the piste, the inside is characterful with a cute mezzanine area and a "lower ground floor" despite there being seemingly only space for one level. They stock soy milk for the dairy intolerant and you can order a wide variety of coffees, in addition to other hot, soft and alcoholic beverages. The café is open every day from 08:00, serving coffee and breakfasts to the early-risers in Arc 1950 and Arc 2000.
My drink: Soy Milk Latte €3.60
Coffee: Cafe Richard
Best thing: Ticks a lot of boxes
Worst thing: Often busy, so can be difficult to get a table
The quick one: Dou de l'Homme (Energie 3000)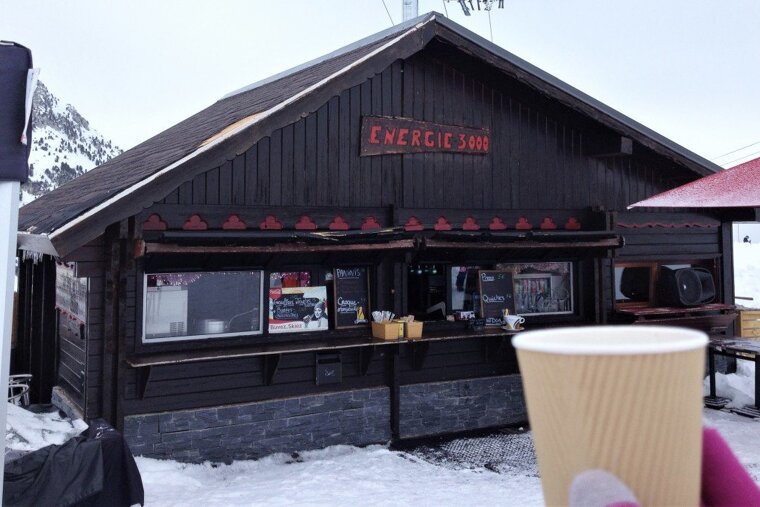 In between the Vallée de l'Arc and Chalets piste, Dou de L'Homme is essentially a shed serving drinks. You can often hear the music before you see the wooden hut. There is no indoor space to speak of, but there are plenty of deckchairs outside where you can watch the world slide by. The coffee here is cheap (espresso for €2), served in paper cups (perfect for drinking on-the-go) and surprisingly good (the crema was immaculate). Simple, fast and effective.
My drink: Espresso €2
Coffee: Folliet
Best thing: You barely have to stop
Worst thing: It's not exactly The Ritz
Location
Les Arcs Villages, Les Arcs