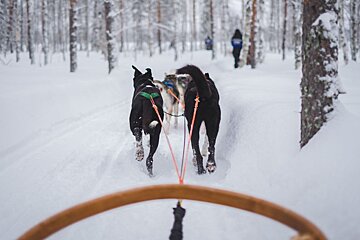 Non-skier things to do in Les Arcs
Can't ski, won't ski? It's not all downhill you know
When your family and friends want to go skiing, but it really isn't your cup of tea, don't panic.
You don't have to ski or snowboard to enjoy a memorable holiday in a ski resort.
Whilst Les Arcs is a great place to come skiing, there are many activities here to suit a non-skier of all ages and tastes.
Here are some great ideas for you:
Buy a pedestrian pass and jump on a lift
Go to après-ski along with everyone else
Ride a skidoo, horse or husky sled
Book a tandem flight
Go snowshoeing or ski-touring
Go to the sports centre
Visit a spa for some relaxation
Book a restaurant for lunch
Visit a museum or see a film
Learn nordic skiing - you might just like it!
Snow fun without the skis
Buy a pedestrian pass
Enjoy the mountains as a non-skier by buying a pedestrian lift pass.
Whilst a few lifts in Les Arcs offer free pedestrian access, these passes give access to many more areas and activities. A number of mountain restaurants can be reached on foot by ski lift, so it's entirely possible to meet up with your family and friends for some fine dining, or you can have a mulled wine on the Col de la Chal (at 2,600m) or even take some freeze-frame photos of Mont Blanc from the Aiguille Rouge peak (at 3,226m).
There are some fantastic opportunities for winter hiking with sign-posted trails that can be enjoyed by all ages and fitness levels.
Easy routes are possible in sturdy hiking boots or snowshoes after a heavy snowfall, and most are easily accessible to any walker with ice grippers and trekking poles. You can pick up a guide from the tourist office and enjoy amazing views and escape into the wilderness for a few hours or the whole day.
Always dress for the weather - layers are the key, sunglasses and sun cream are vital even on a cloudy day. Stick to the trails, respect the environment and be aware of changing conditions.
Après-ski with everyone else
You don't have to ski to enjoy "après-ski".
Meet up with the rest of your group in a local bar and share stories from your day over a beer. Going to party at Folie Douce in Les Arcs 1800 is a great way to spend the afternoon watching the amazing cabaret, then dance to the live, dynamic house band. Accessible on foot via the Gondola des Villards.
Or head to the local ice skating rink for a fun evening set beneath the snow-clad mountains. Situated in the Place de la Patinoire it's a great way to spend a few hours before dinner. Alternatively, grab a sled and head to one of the two toboggan runs - one is 900m in length, the second is 3km. Both are well maintained throughout the season and can be accessed on foot in Arc 1800 by taking the Vagère telecabine or in Arc 2000 from the top of the Arcabulle chairlift.
Drive a dog sled or skidoo
Whether on a sledge pulled by huskies or riding your own skidoo there is an excursion choice to suit all levels of adrenaline.
For husky sledding there are companies near Arc 1950 and in the Nordic area of Peisey-Nancroix who can provide guided trips in the daytime and after dark. We recommend booking in advance as this is a very popular activity. T
he skidoo experience will take you on a super-charged ride across the pistes after they close, through trees and down single lane tracks - remember to wrap up warm and bring goggles especially if there is fresh snowfall.
You can also take a jaunt in a horse-drawn sleigh in the Nordic area, or simply go horse-riding around Bourg St Maurice.
Book a tandem flight
Take to the skies for a bird's eye view of the mountains with a tandem paragliding flight, or book yourself onto a helicopter tour.
Snowshoeing and ski-touring
You can really get away from it all and disappear into nature on some snowshoes (raquettes).
Grab a printed guide from the tourist office or book yourself on a snowshoe excursion with an activity company to see a side of the mountains that most skiers will never see.
Full-day, half-day and night-time options are available to take you into the heart of the mountains – from the highest peaks to the wildest valleys. Equipment and transport are usually included, check when you book.
If you've decided the days of skiing up the mountain all-day, every-day, are well behind you, those with previous skiing / snowboarding experience could try ski touring. There are many famous ski touring routes in the area, and it's a great way to work up a sweat, earning your burger whilst the rest of the world takes the lifts. Hire a guide and pull on some skins for an adventure away from the madding crowd.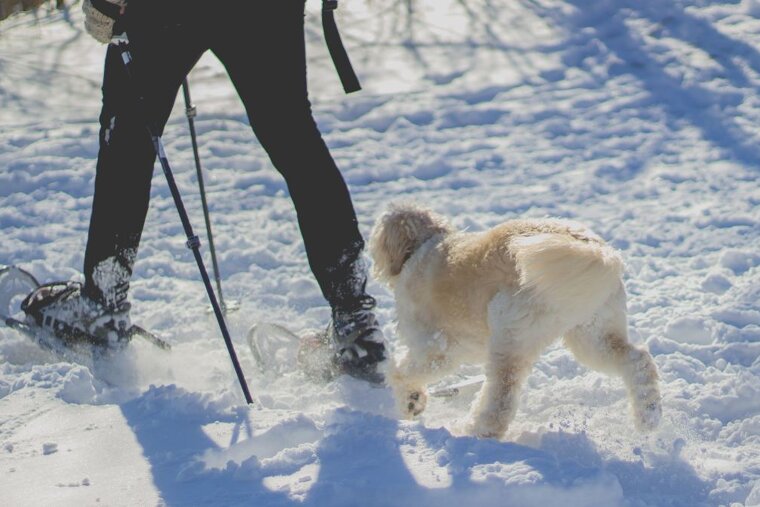 Not just a ski resort
Les Arcs is so much more than a ski resort. In fact, you can really have a great time here without setting foot on a lift.
Go for a swim
In Les Arcs 1800 head to the Mille8 Aquatic and Fitness Centre, a gigantic 3,800m² centre where you can enjoy an indoor and outdoor swimming pool, water massage jets, bubble beds, plus fitness room with gym and cardio equipment, spa with two steam rooms and two saunas, and a relaxation room. In Bourg St Maurice the Centre Nautique has a 25m indoor swimming pool open all year. So don't forget to pack your gym kit and a swimsuit (speedo-style only boys).
Book a treatment at the spa
Or if all of that sounds far too active and you really just want to pamper yourself and read your book, or stare at the view, there are numerous spas and treatment rooms you can enjoy. Many hotels have luxury spas which are open to non-guests, and mobile massage companies will arrange to visit you at your chalet or apartment.
Book a table
Les Arcs boasts some fantastic restaurants serving local and international cuisine. You can have a full English breakfast in Arc 1950, a traditional Savoyarde tartiflette (with unctuous Reblochon cheese and smoked lardons) in Arc 1800 at lunchtime, and a Thai curry in Peisey for dinner. In Arc 2000, you can sample haute cuisine or simply grab a slice of pizza and a beer. If you are hungry like the wolf at lunchtime, most restaurants serve a "plat du jour," or even a "menu du jour," which is often very good value and always washed down with a glass of local wine - go on, you deserve it.
Visit a museum or go see a film
In Les Arcs you can discover more about the minerals and fauna of the area, visit the ice cave grotto situated at the top of the Transarc gondola, or drop into the Bourg St Maurice Coeur d'Or cinema.
Located in the town centre it is easy to access using the free bus service, just grab a box of popcorn and catch up on the latest releases - look for VOST or VO (version originale) for English language films.
Skiing, but not skiing
Nordic skiing
Still looking for something to occupy your time? There's always cross-country skiing to try.
An extremely popular mountain sport, known as 'ski de fond' in France, there are numerous tracks available across the Pardiski area. Once you have grasped the basics, head for one of the many tranquil trails that criss-cross the area.
For truly spectacular landscapes you need to head down to the Nordic area of Peisey-Nancroix at Pont Baudin. The trails here are well maintained and situated on a vast plateau at the entrance to the Vanoise National Park.
This very accessible sport is relatively low cost, you can hire equipment and arrange lessons / guiding locally, and the views are to die for!
More inspiration...
As you can see there is more than enough to keep you occupied here during a no-ski skiing holiday. So unpack all those books you planned on reading, you simply won't have time.