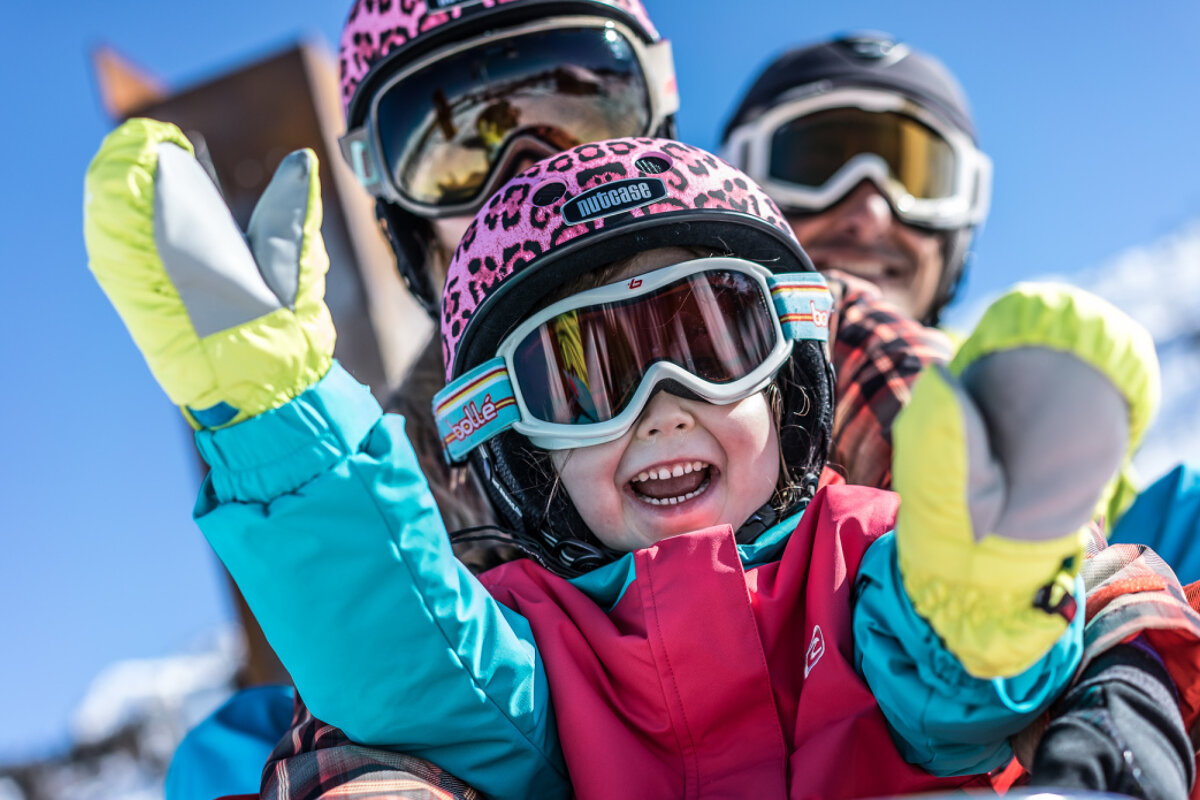 Why book a family ski holiday in Les Arcs
Bring your children on a ski holiday to Les Arcs
Les Arcs is a family-friendly resort that makes all these things as easy as possible.
Travelling anywhere with children can be challenging, and in a ski resort it can be doubly so with things like lift passes, equipment hire and ski lessons to arrange (never mind hats, gloves, snotty noses and the rest...!).
Here's why we recommend Les Arcs as a family destination.
Top reasons to visit Les Arcs as a family
1. Ski area & lift passes
There are lots of beginner areas easily accessible from all of the villages, so it's easy to practice with the kids, and there's a generous choice of 135 blue runs to improve their proficiency and build up confidence. Also Les Arcs offers favourable lift pass prices to families, making valuable savings.
2. Great ski schools
The tuition available in Les Arcs is truly brilliant. You'll find ski schools offer lessons for little ones, even toddlers (three to four year olds) can learn basic skiing in a nursery setting. Some ski schools can also provide lunch options for children, so you can explore the whole area without worrying about rushing back at the start of the afternoon.
3. Short transfer times
When travelling with children, short transfers to resort are a must and Les Arcs has good transport links to the main airports. Geneva airport is two hours 45 minutes away from resort.
4. Easy to get around resort
Les Arcs operates a great free bus service every day throughout the winter season. A fleet of buses operates from 07:00 right through until 21:25, linking together the villages that make up the resort.
5. Child-friendly accommodation
The choice of hotels and rental accommodation in Les Arcs is constantly improving, offering top quality accommodation with services for families.
6. Modern leisure centre
On the days you don't want to ski, head to the Mille8 complex, boasting an aquafun centre (swimming pool, sauna, steam room, etc). There are cinemas, a natural ice rink, definitely something for all ages.
7. Fun on the hill
There's fun for the whole family in Les Arcs with sledging at the Rodeo Park and Mille8 - you can hire sledges and helmets in resort, plus there's husky-dog rides and snow-shoeing.
8. Family-friendly restaurants
Most restaurants around resort are child-friendly and have a children's menu, high chairs, and families are always made welcome.
9. Family activities
Les Arcs offers families a whole host of activities away from the slopes. These include skidoo rides, helicopter and airplane flights, and ice skating to name but a few.
More inspiration...
With accommodation to suit all budgets, easy-to-navigate slopes, activities for all ages and a friendly, accessible town, Les Arcs might just be the perfect spot for your family holiday in the snow.