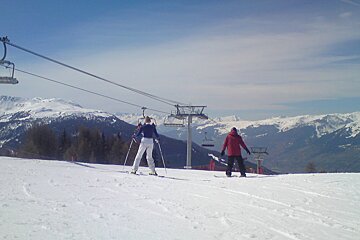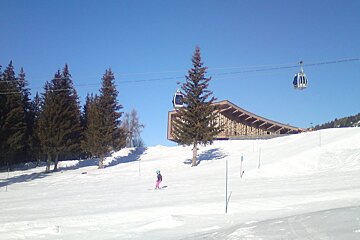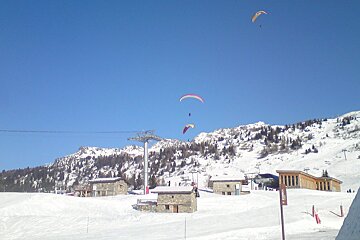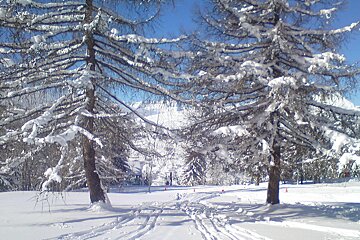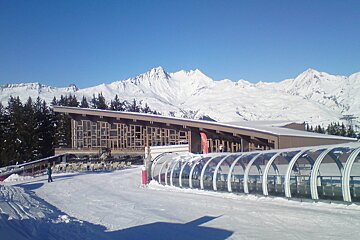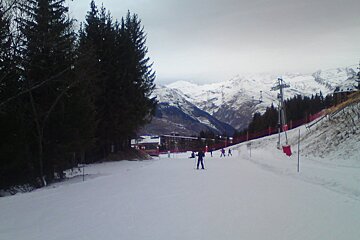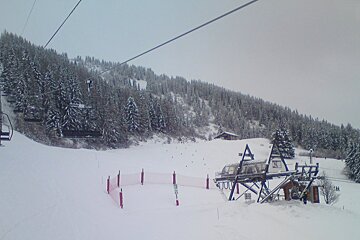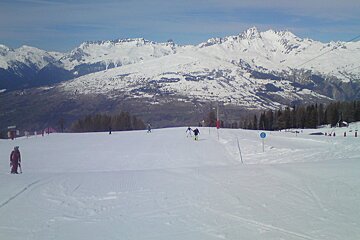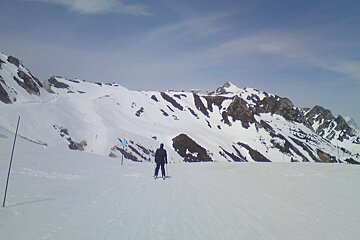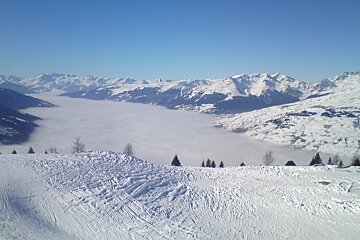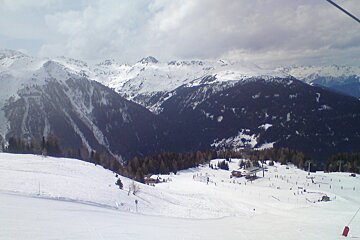 Why Les Arcs is great for beginner skiers
The best advice for novice skiers and snowboarders
A great place for beginners, you'll find so many slopes to explore and enjoy.
Les Arcs is made up of four purpose built villages which together have pistes offering over 200km of vertical descent, a figure which doubles when you include the rest of Paradiski. It is a fantastic resort, purely for the variety of terrain. But it's not all about the super-steep black runs, unpisted mogul fields and the freestyle park, there is genuinely something for everyone. Beginner skiers and snowboarders will discover a wonderful world of areas to explore in and around the resort itself and across the whole of Paradiski.
Here are our top tips:
You may not need a full lift pass - beginner slopes are usually low down, easily accessed and some don't require a lift pass at all
Book into ski school, don't let your mates / partner teach you, trust us and hire a professional
Consider your choice of equipment hire shop
Plan your outfit before you arrive
Utilise free public transport
Enjoy the fun zones, they usually have a beginner area
Explore the whole resort, seek out the blue and green slopes away from the beginner zones
Explore the blues and greens of the other resorts included in your pass
Enjoy après-ski - after all you'll have earned your stripes
Book online
Whilst it is possible to arrange these things once you're in resort, we wouldn't recommend it - especially lessons. Plan ahead, book what you can, and take the pressure off that first morning.
Lift Pass
If you're a complete beginner and booking into ski school you won't need a full Paradiski six-day pass. Each village has it's own beginner's pass that gives you access to the beginner areas and lifts. It's worth checking with your ski school before you buy, some schools offer packages that include a lift pass. Buying online couldn't be easier and the pass itself can be recharged / reloaded next time you visit. And rather than opt for them to be mailed to your home address, simply pick them up in resort. It's one less thing to remember to pack.
Lessons
Don't let your friends or partner attempt to teach you to ski or snowboard. Trust us, for the sake of your relationships, put yourself in the hands of the professionals. Luckily there are many ski schools in Les Arcs offering group and private lessons with friendly and knowledgeable English speaking instructors. If you're the only beginner in your group it's definitely worth joining group lessons. You'll learn in a safe and fun environment, and make new friends with rest of your crew over your shared experiences. Lessons are definitely something you should book well in advance to ensure you get your slot - especially if your ski trip is during the school holidays.
Equipment hire
Renting your gear online is often cheaper than in resort, and most shops have beginner ski / snowboard packages on their websites. Also it's worth making sure your pick up point is close to your accommodation, so it's not too far to carry your gear. Some shops offer free locker use near the slopes for customers, delivery services, and may even come to you for fittings on arrival if pre-arranged, especially if there's a group of you. It's worth checking this with the shop before you book.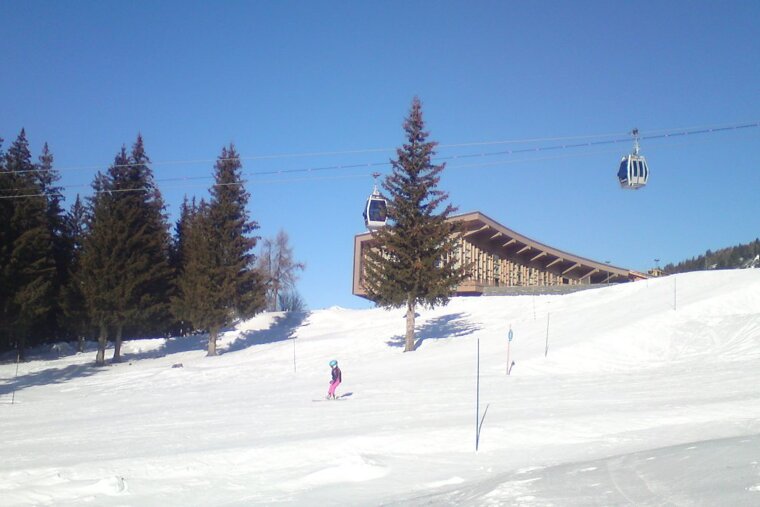 Make the most of your time
All the gear, no idea
For the beginner skier or snowboarder it might seem expensive to lay out for the right apparel before you arrive, and there aren't many places that rent clothing in resort, so borrow what you can, check out the sales and online discounts. At the bare minimum make sure in addition to your trousers and jacket, that you've got a helmet, some goggles, gloves, and technical ski socks. Plus a lightweight back pack is always handy for carrying water, snacks/lunch, sunscreen and an extra layer.
Get on the bus
Plan your route from your accommodation to the beginner slopes, and use the resort's excellently linked public transport system to get around until you get the knack of carrying skis and poles like the pros.
The beginner slopes
Les Arcs has plenty of gentle terrain, with each area having a number of easy gradient slopes, with designated zones for beginner skiers and snowboarders. The two villages closest to La Plagne, Peisey and Vallandry, each have an excellent beginners' area situated at above 2000m. This makes them popular with learners whilst still being right in the middle of Paradiski.
Situated next to the Mille 8 complex in the heart of Arc 1800, is one of the more fun areas to learn your snow craft. The specially-created Villards "debutant" piste winds its way through the forest past a giant xylophone (play it with your ski poles), an open-air barbeque, various wooden cabins and even a video wall! At the top, the short Le Cube run provides a zone with a very gentle slope for learning the basics. This compact area is complemented by a "travelator" moving-walkway which, for skiers and snowboarders alike, is the easiest kind of lift to ride.
The fun zones
Firmly favoured by snowboarders, Les Arcs has the Apocalypse Snow Park, which might test your beginner skills too far, but it's always worth a visit to watch the rest of them give it a go. The Mille 8 area (mentioned above) is accessible using the Villards gondola lift, which you must walk aboard whilst carrying your equipment. With this particular lift, it is also open late, and the piste is illuminated by floodlights for evening ski fun. Overall, this is a great sector for people who are returning to skiing after an absence; they can spend a morning "finding their feet" in the mild Le Cube area, move onto practicing short runs on the Villards piste before finally heading off onto some genuine blue runs in the Arc 1800 area. Also, if you get a bit cold or tired, the Mille 8 spa is just next-door.
Explore
It's easy to stick with the tried and tested slopes, but as every village on the mountain has easy access to dedicated beginners' areas, letting you concentrate on improving your skills (whilst enjoying the scenery), it would be a shame to stay in the same place all week. With slow-moving lifts and helpful staff sensitive to the needs of the novice skier and snowboarder you really can move around with ease and make the most of your time in the mountains.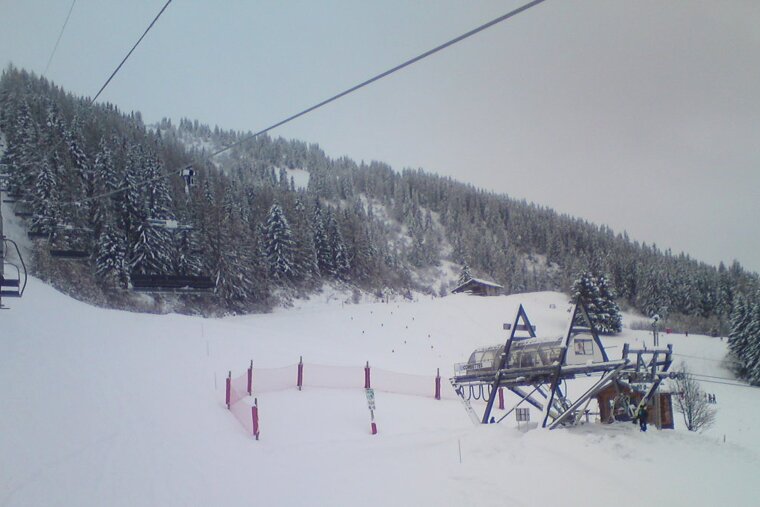 Enjoy après-ski
After all you have earned your stripes (and probably some bruises), now it's time to share your stories from the day with your family and friends, new and old.
Les Arcs is a great place to let off some steam after a day's exertions on the slopes. Whether that's in the local après-ski scene over a beer or two, in a local restaurant, or with a swim and sauna to relax those aching limbs. Whichever area you're staying there will be a sports centre, swimming pool or ice rink nearby to find some fun and / or relaxation. Don't let a stay in Les Arcs pass by without visiting the Mille 8 Aquatic and Fitness centre - a huge complex full of aquatic fun for every age.
These are great options for a day off the skiing, in the event of poor weather or a great way to spend a few hours after the slopes close.
Families, at the very least, may finally have a shot at exhausting the kids with this option!
More inspiration...
So what are you waiting for? Get yourself out here and have some fun in the snow!