This year I was fortunate enough to receive the ultimate Christmas gift. My partner, Eléa, booked us on an excursion I've wanted to try since forever: a once in a lifetime helicopter ride round Mont Blanc.
Our trip would involve a 20 minute flight from Les Arcs, over the Tarentaise valley, around the Mont Blanc massif before returning back to Arc 1950. Similar flights are available from most resorts in the area however the company we booked with, Helipass, operates from the Mont Blanc Helicopters base in Les Arcs.
The morning of our flight was similar to most mornings so far this season - cold, crisp and clear – not great from a snow perspective but perfect weather for flying. We arrived at Arc 1950 and joined a small group of fellow passengers already assembled, waiting at the base. A little disconcertingly there was, as yet, no sign of any helicopter.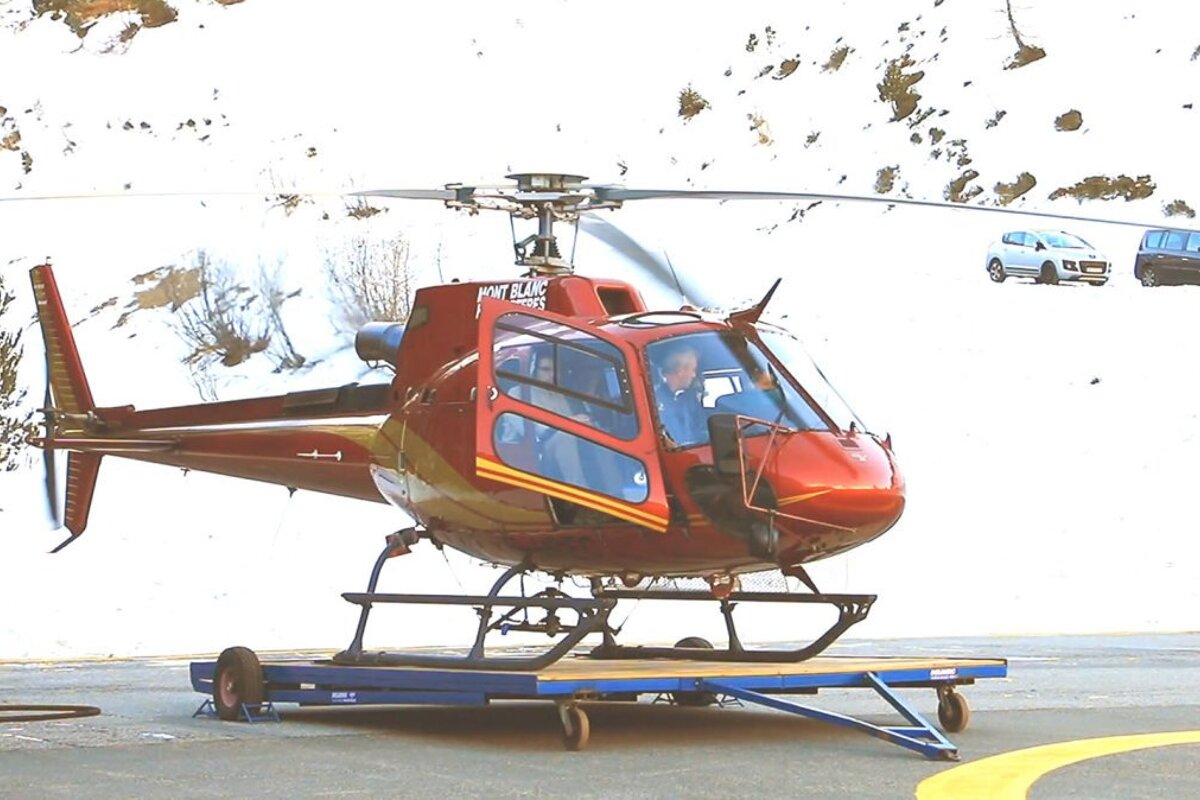 After a few minutes shivering in the cold, I thought I heard a low droning noise slowly building somewhere behind us. Suddenly a helicopter burst into view, rising head-on impressively from a gorge to our right, before making a spectacular banked turn high above us. The aircraft slowed to a hover then gently touched down on a platform to our left. It was quite an entrance – something more suited to a Schwarzenegger film than a sightseeing trip. The pilot cut the engine, jumped out and strolled confidently toward us, hand extended.
It was at this point I realised – in my own head at least - this man would now forever be known simply as Airwolf. There followed a very short safety briefing in very quick French – the only part of which I understood was where to find the sick bags. Always handy. Briefing over, we boarded the heli, strapped in and donned noise-cancelling headsets. Slowly the blades began rotating above us, the noise and intensity increasing until, with a quick upwards judder, we lifted free from the ground. The aircraft inched gingerly across the helipad when the engine suddenly roared and we unexpectedly pitched down and forward, plunging into the ravine below.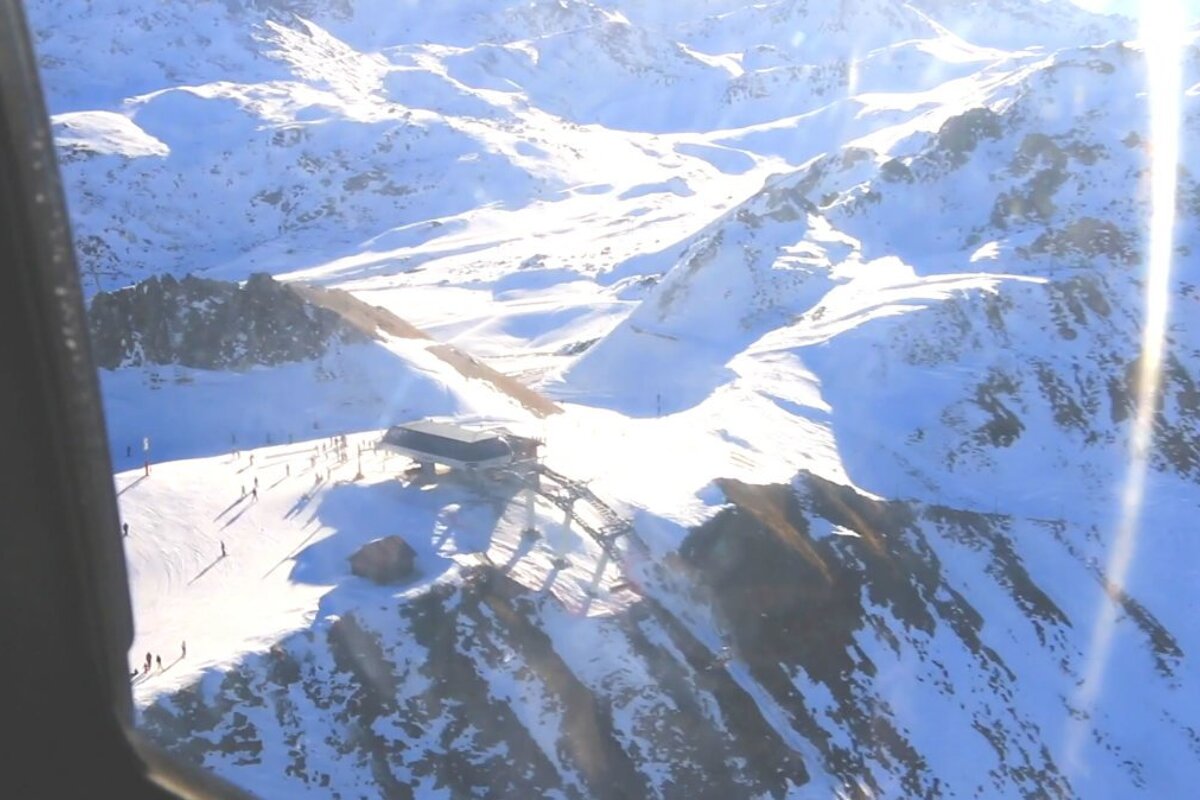 Now, I've seen the Art of Flight movies, That's It / That's All etc and yes, on reviewing our footage, I would concede we didn't exactly dive headlong from the sky but - at that moment, in that heli – I could have sworn we were near vertical.
We lurched down through the shade of the gorge before breaking out into the sunshine, the Tarentaise valley rolling out like a carpet below us. Having never been in a heli before, I found the speed of straight-line travel surprising. The journey by road from Arc 1950 to La Rosière would typically take an hour or so - yet we covered the distance in mere minutes. La Rosière is the last French outpost on the famous Col du Petit St Bernard – a mountain pass that links Bourg St Maurice and the Savoie in France with La Thuile and the Aosta valley on the Italian side. Typically the road opens May to October and would normally be under several metres of snow by now - yet today it looked to be almost passable with care. The effects of 5 weeks without significant snow in this region are really starting to show and the mountains this side starkly contrasted with the whiter Italian peaks further South and East.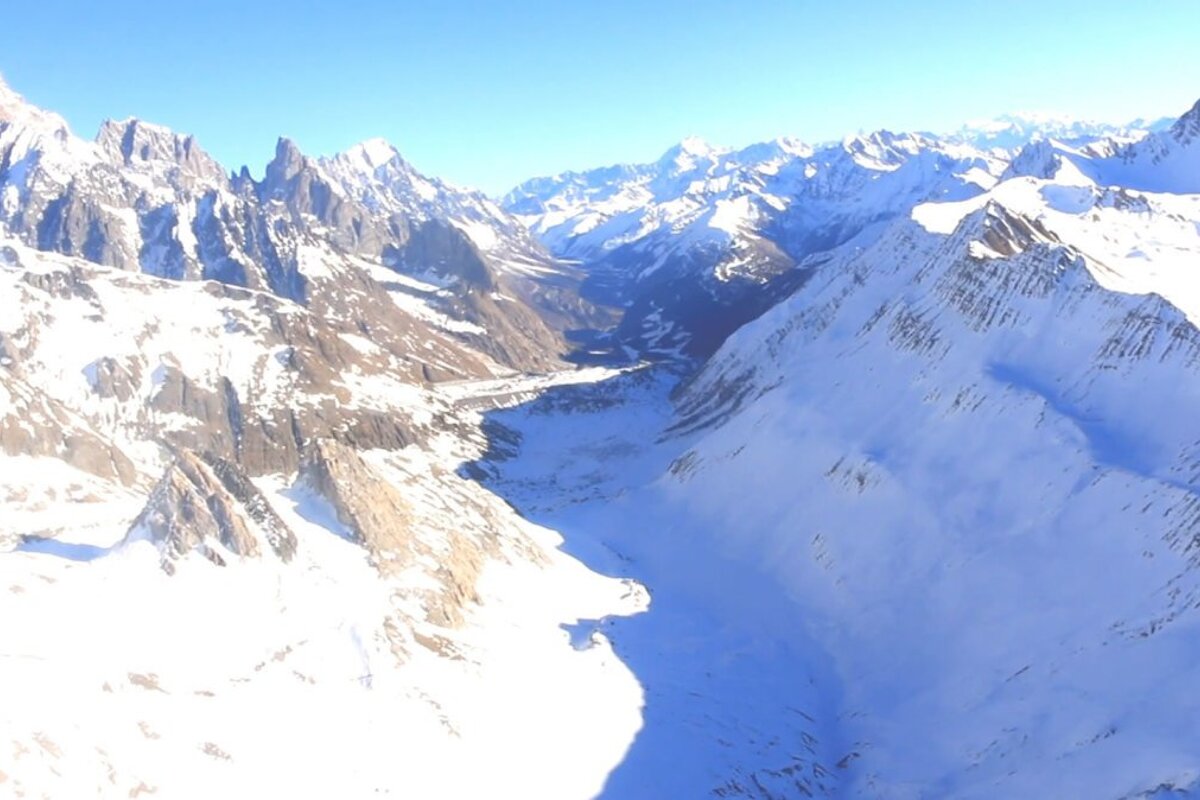 Passing La Rosière, we flew in an arc, hugging the French side of Mt Blanc. We didn't go as close as I'd imagined but no matter – the views were breathtaking nonetheless. Plunging down peaks and skimming over crevasse fields, we flew over some truly impressive, truly awe-inspiring scenery.
I've been coming to this part of the Alps for more years than I'd care to mention and I previously thought I knew this area quite well. A helicopter flight made me revise that view. The world appears a very different place from above - perspectives change, the mountain topography becomes clearer and distances shrink. It was quite humbling to see so many world-renowned resorts from the air – to appreciate just how close they are to one another. We flew onwards as the interconnected, sprawling hugeness of these Alpine resorts stretched out beneath us.
We were really very lucky with the weather and the sky was so clear we could see the mountains of Flaine, Sestriere, the Ecrins National Park (Les Deux Alpes, Alpe d'Huez etc), La Clusaz, Avoriaz and even Cervinia's Matterhorn. At one point we could actually see as far as Geneva and Grenoble.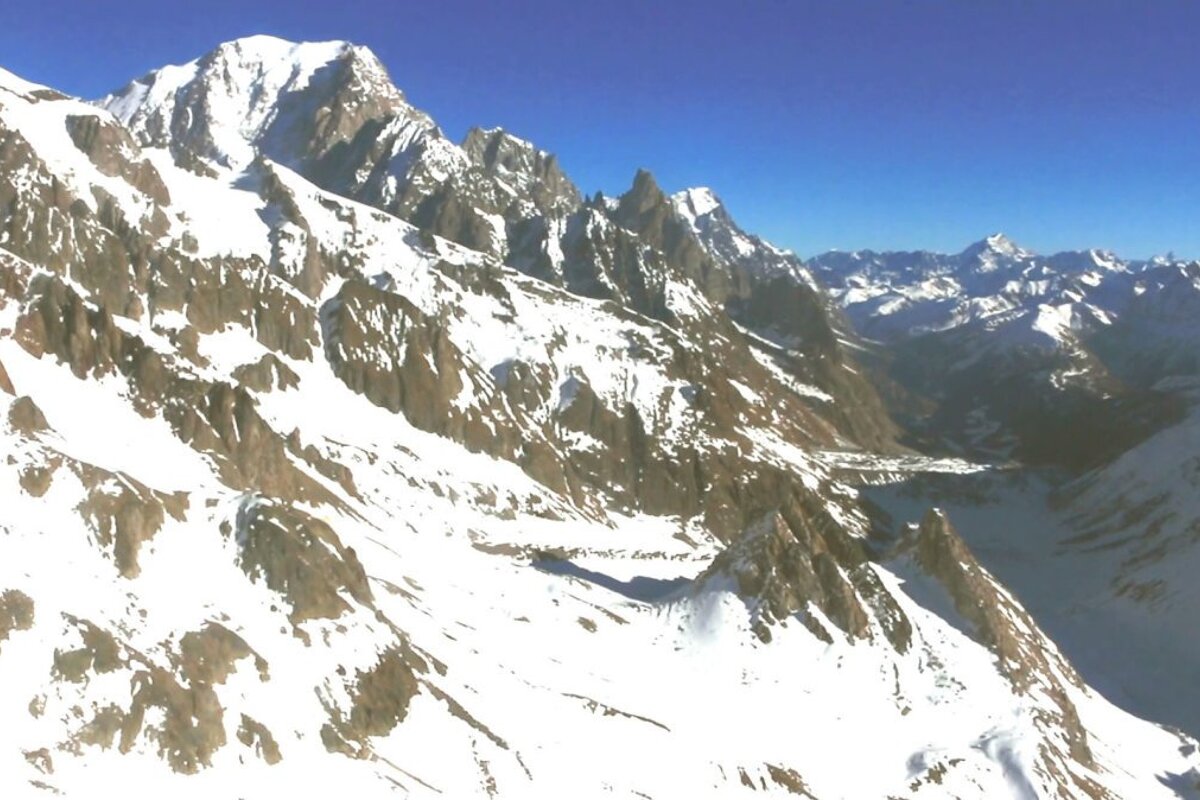 Closer to home we had an unrivalled panorama over more familiar peaks – Mt du Vallon and the Aiguille de Péclet (Trois Vallees), Aiguille Rouge (Les Arcs), Bellecôte (La Plagne), Grande Casse and the Grande Motte (Tignes). And of course in the centre of things, dominating proceedings, was Europe's highest peak - the mighty Mont Blanc itself. Obviously there's debate as to whether Mt Blanc (4808m) or Russia's Mt Elbrus (5642m) is Europe's highest mountain. I guess it depends what you consider the borders of 'Europe' to be. For me anyway, Russia is a different landmass and Mt Blanc remains King of Kings.
We flew on, skirting foothills and glacial tides, passing impossibly close to a massive rocky outcrop before heading back over the valley to Les Arcs. We drifted teasingly low over the summit of Col des Frettes and the Carrelley chair before pitching steeply down the other side towards Arc 1950.
By now, our pilot had clearly worked out this particular group of passengers had an appetite for more aerobatic-type flying so he unleashed full Airwolf mode and set us into a series of spiraling descents. The G forces were incredible, squeezing us into our seats as we corkscrewed down into the valley. The closest I could compare it to is a spiral dive in paragliding – controlled, fast and full of stomach churning sensations.
And then, all too soon, it was over - the quickest 20 minutes I can remember. We floated slowly over the landing pad before touching down gently - whereupon everyone spontaneously broke into applause for Airwolf's skills.
So, in conclusion, is a helitrip worth the money? Well, for me anyway, it was a huge tick off the bucket list and a lifelong ambition achieved but let's be frank - this is not a cheap thing to do. In fact it would tip the budget of most holidaymakers never mind that of a lowly saisonnaire.
That said, if you're looking for a one-off experience that will stick with you the rest of your days – then yes, go for it. I'd particularly recommend it if, like me, you're already fairly familiar with the area as it will give you a completely different perspective on the mountains and resorts you think you know so well.
We flew with Helipass, paying €300 each for a twenty minute flight. Yes, that's not cheap but, then again, you get what you pay for and I can genuinely think of no better way to see the Alps, the Tarentaise resorts and their peaks.
There are a multitude of sites offering similar flights but many appear to be re-sellers for the same core providers – so it's likely you may find fluctuations in price depending on the commission each individual company charges. It's also worth noting prices seem to vary depending on the time of year and, particularly, the company you book through, so shop around for the best deal on the flight that's right for you.
---
Stuart is Creative Director of iRide Ski and Snowboard App, available now for iOS and Android.
Watch this...
More Les Arcs Insights...