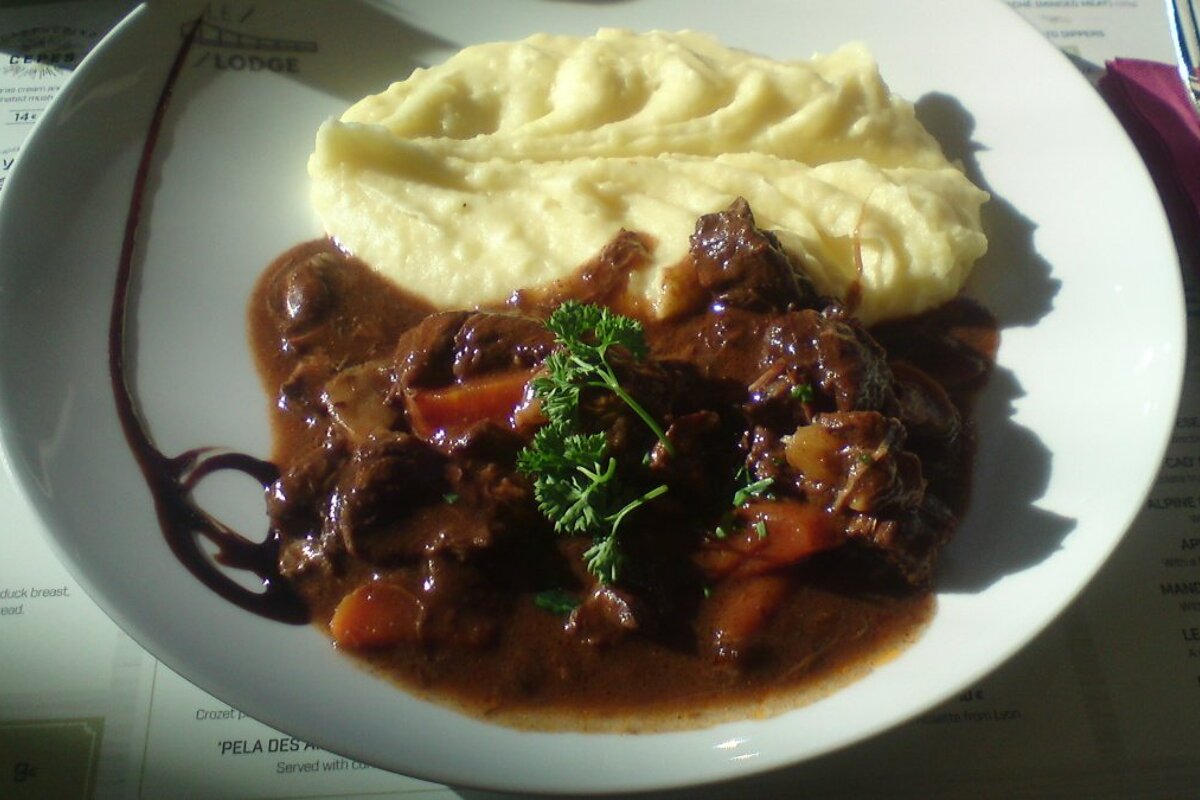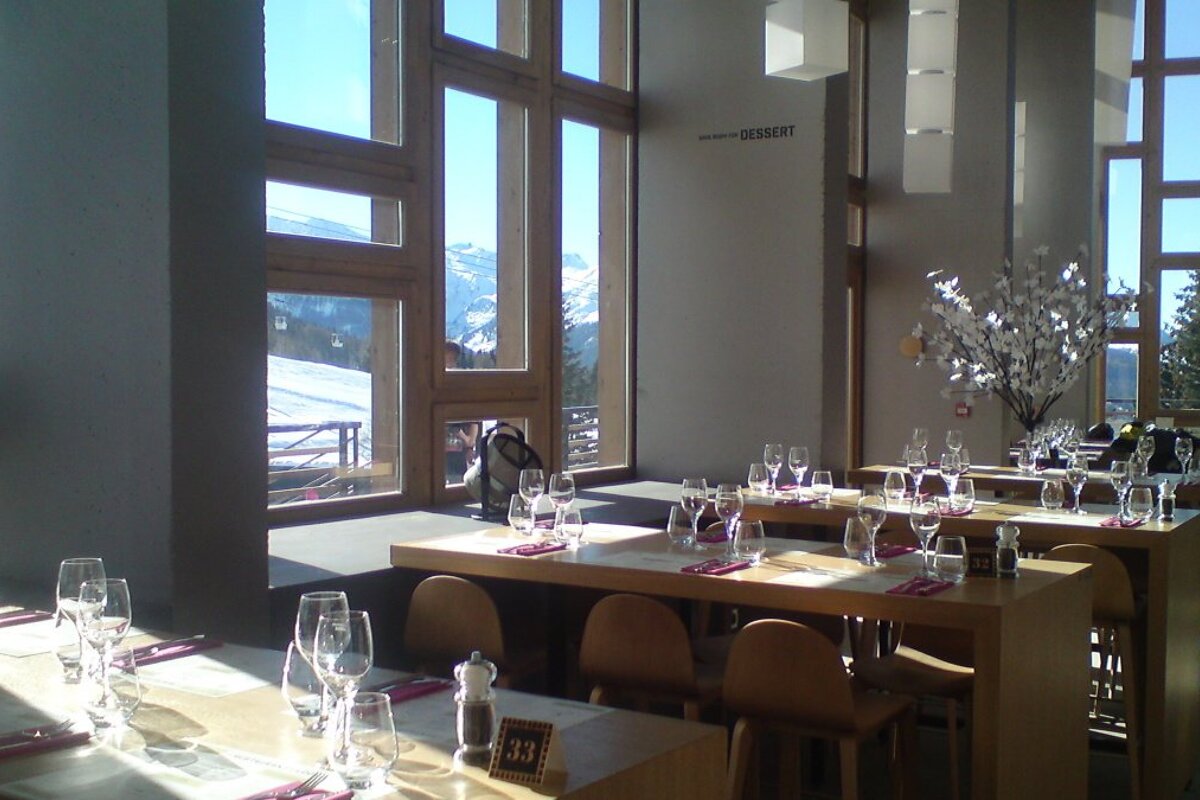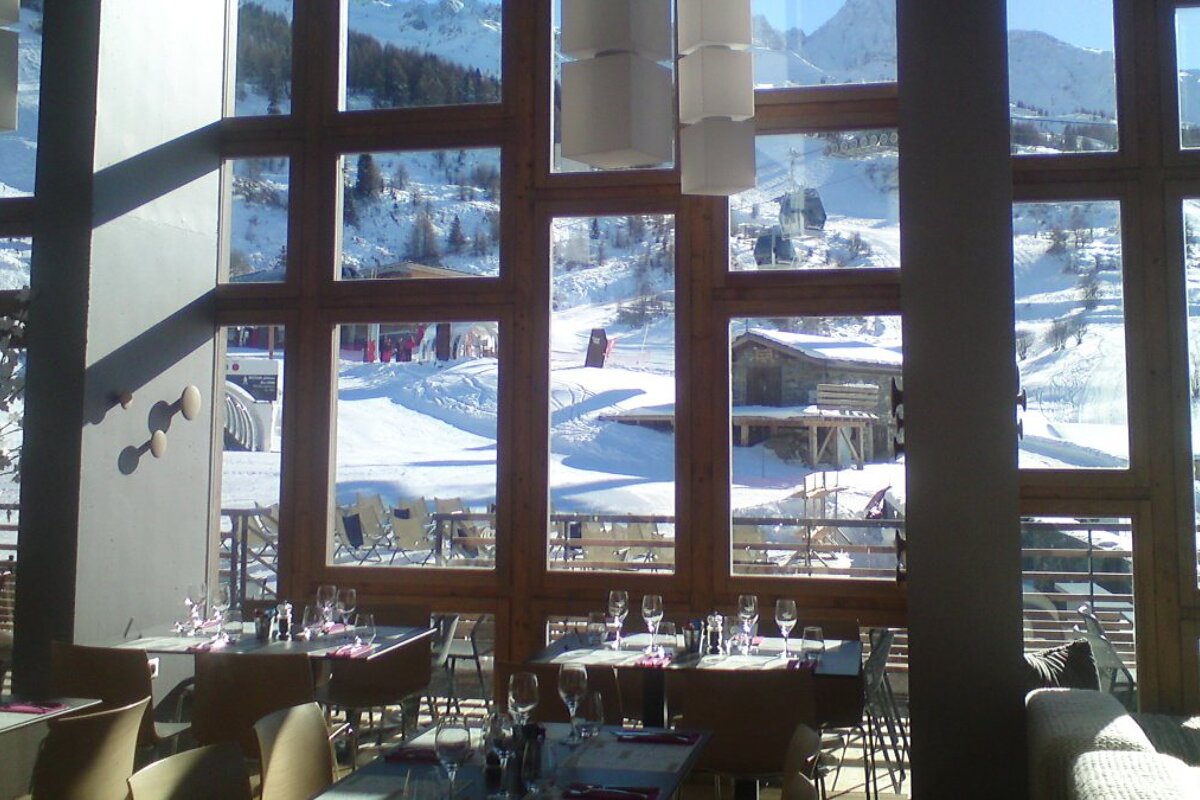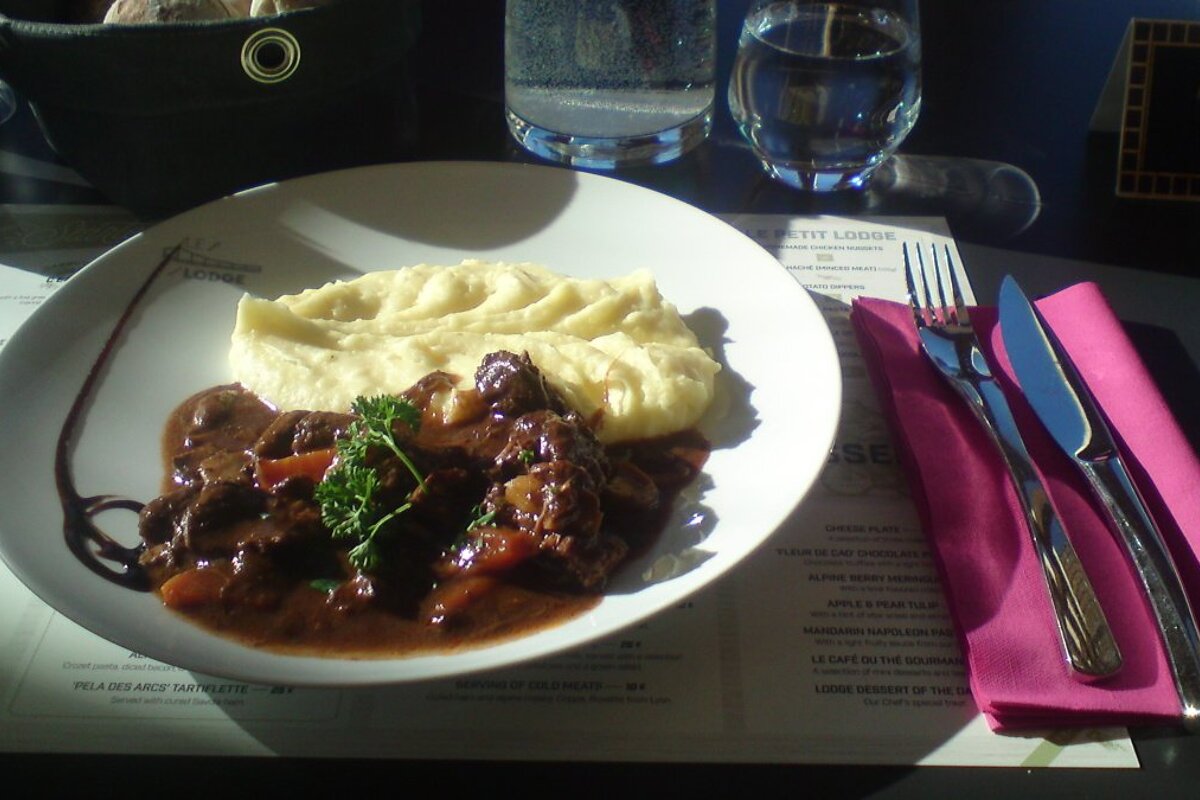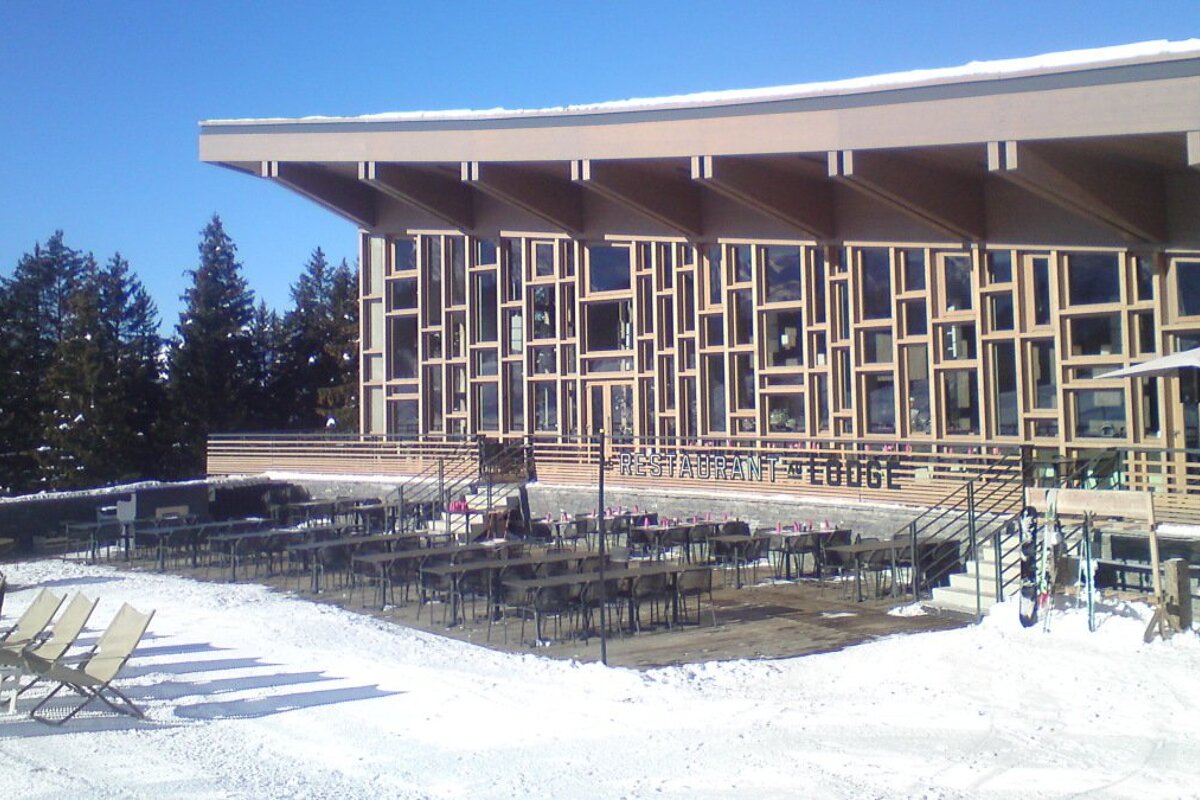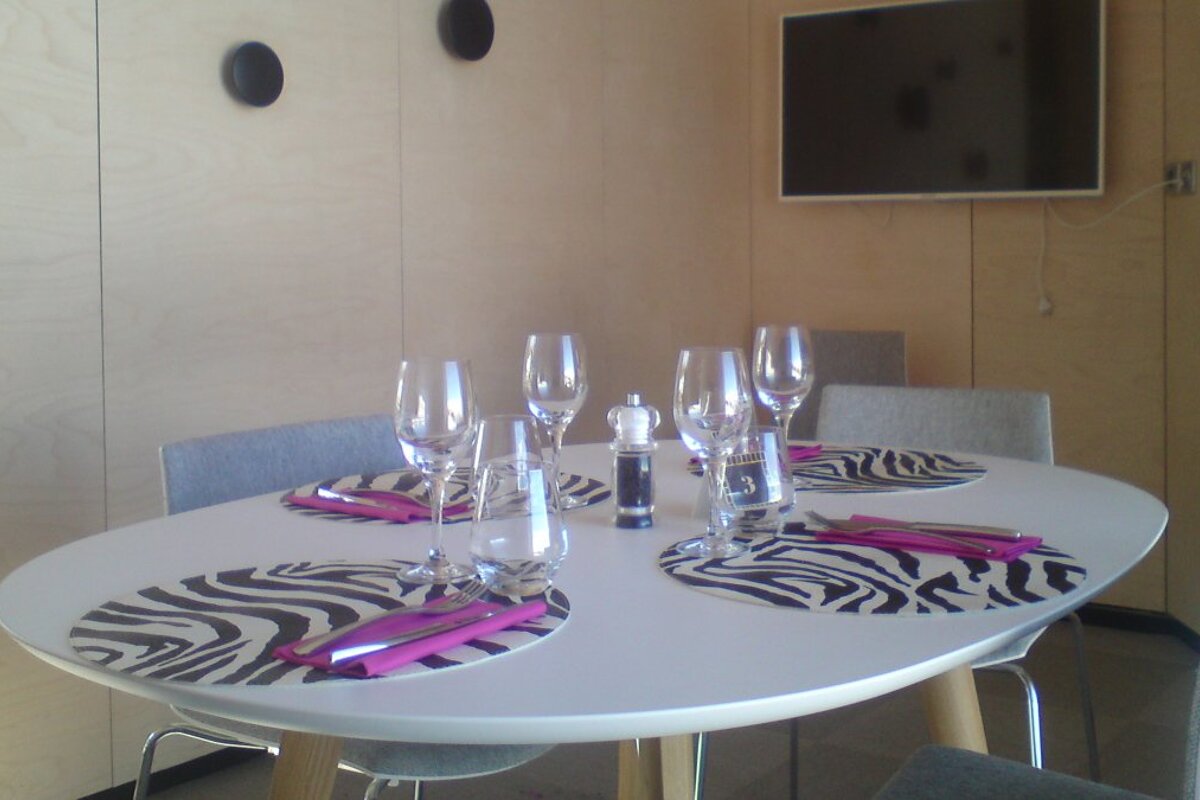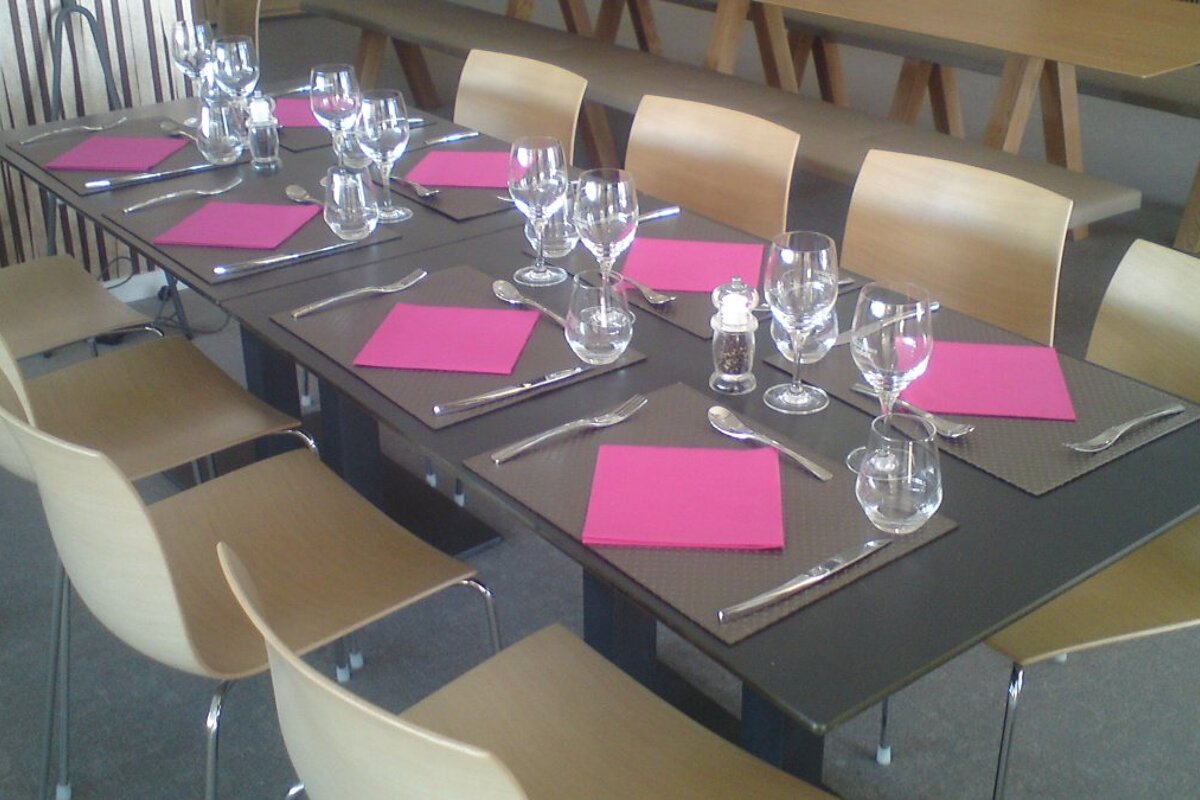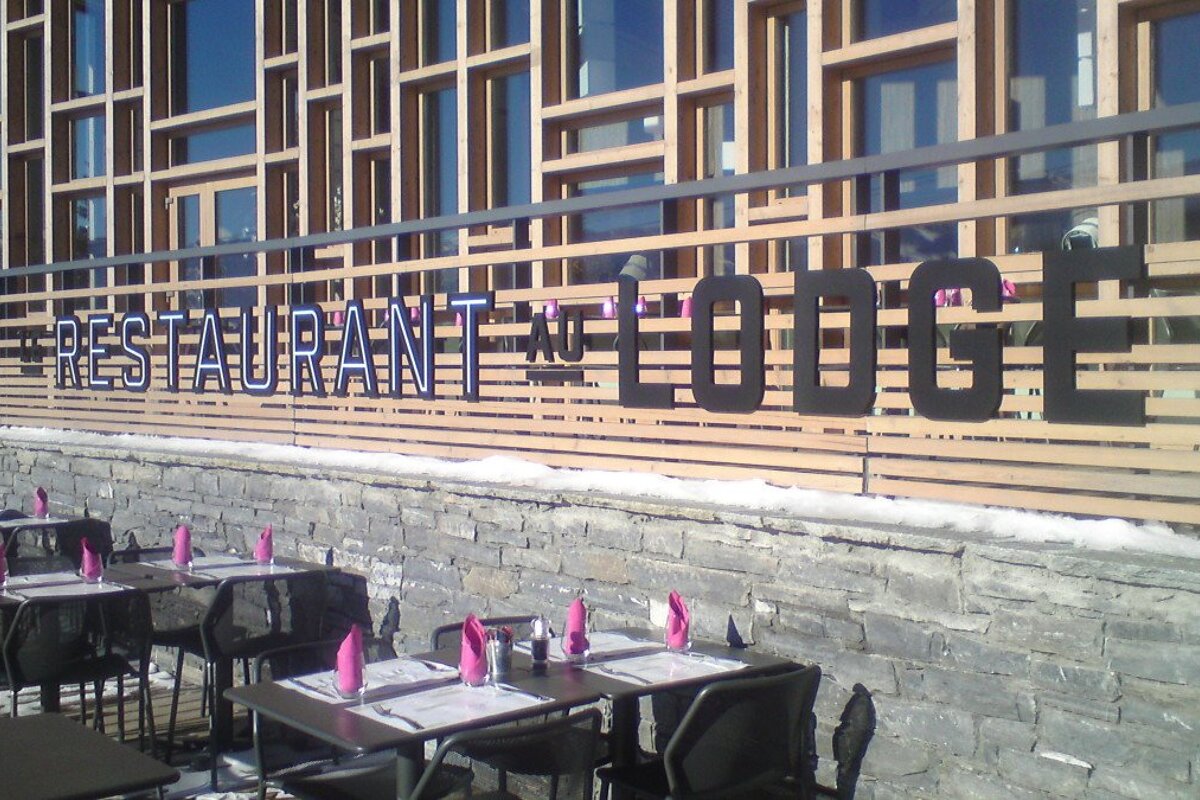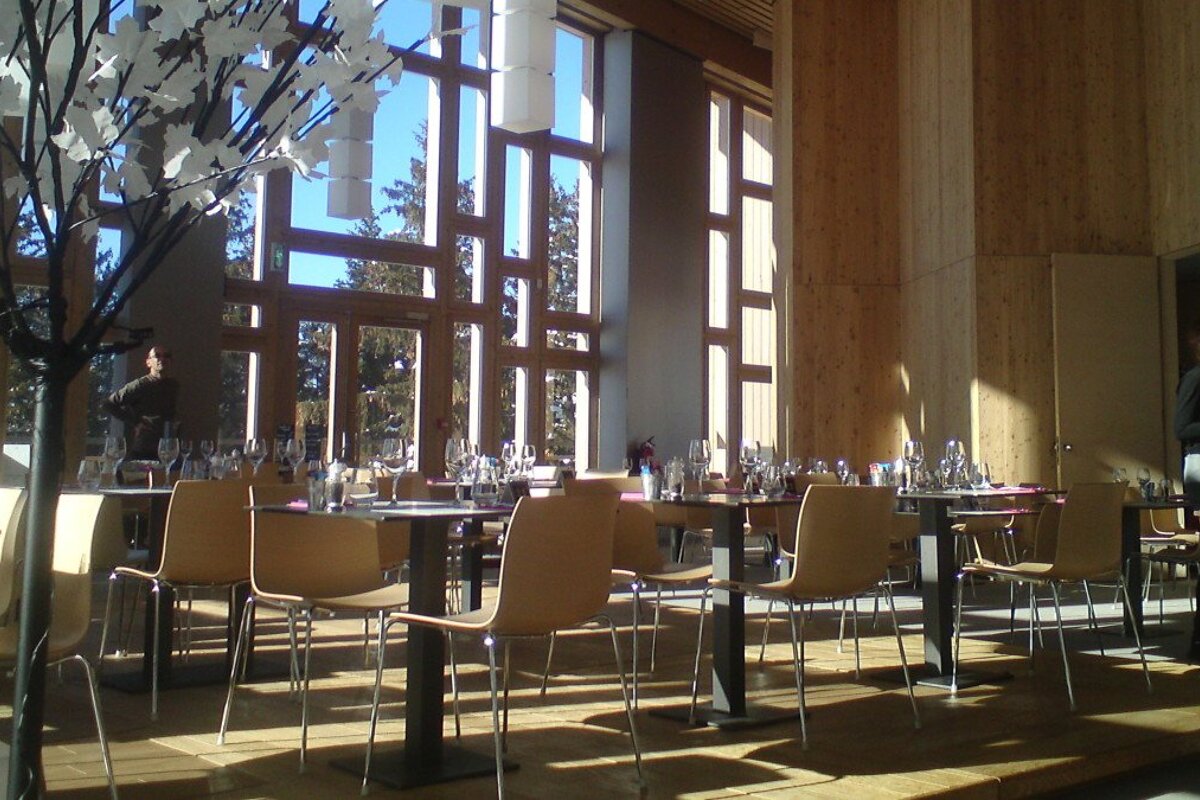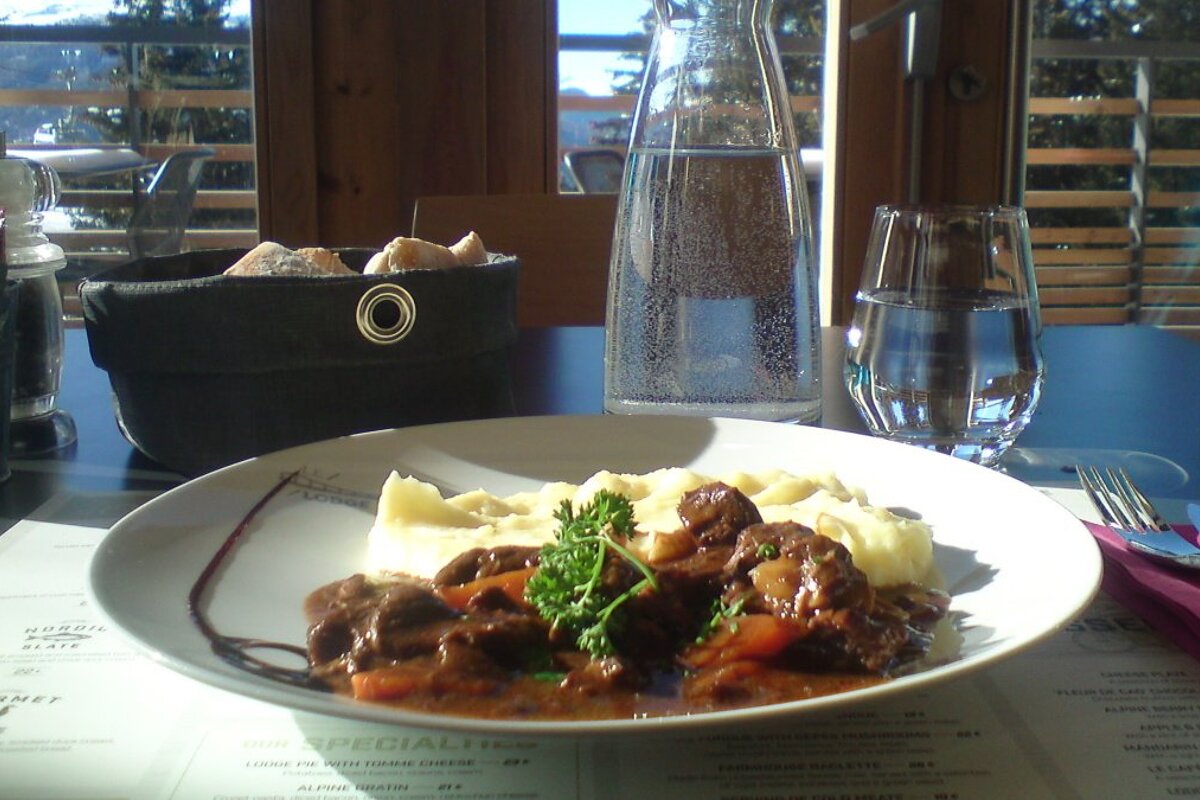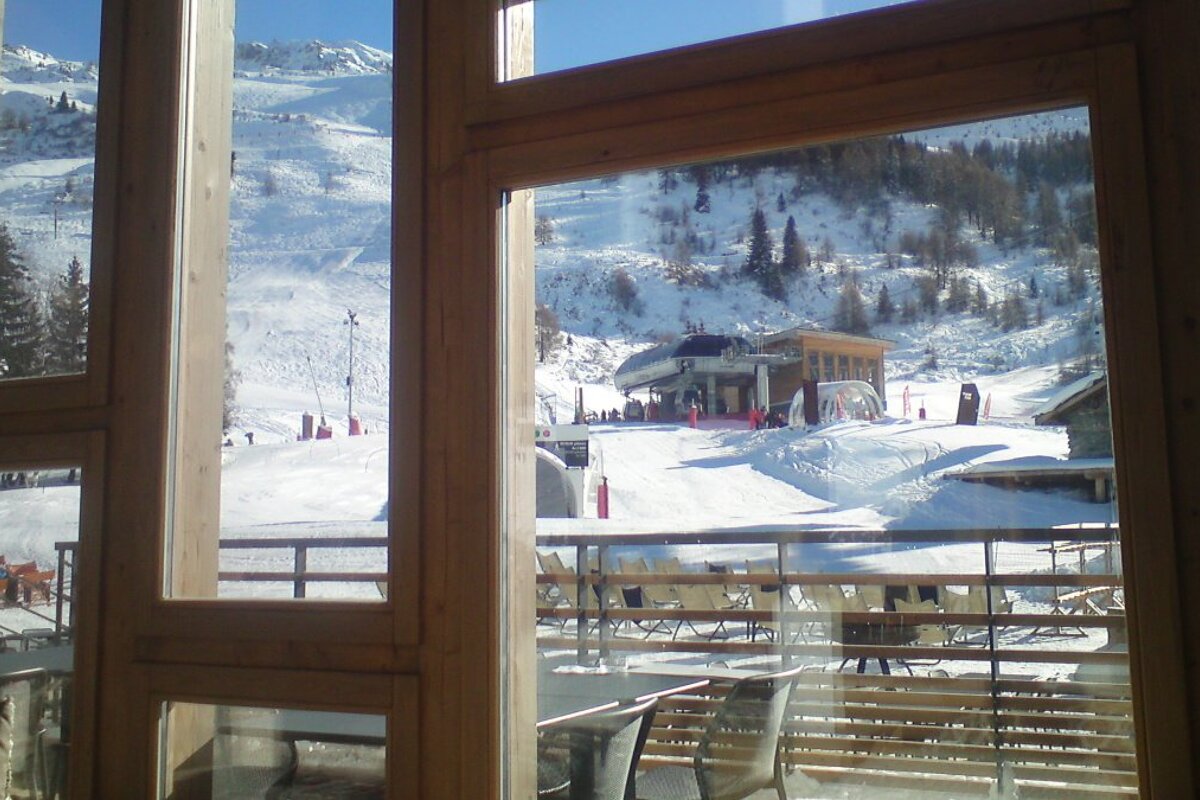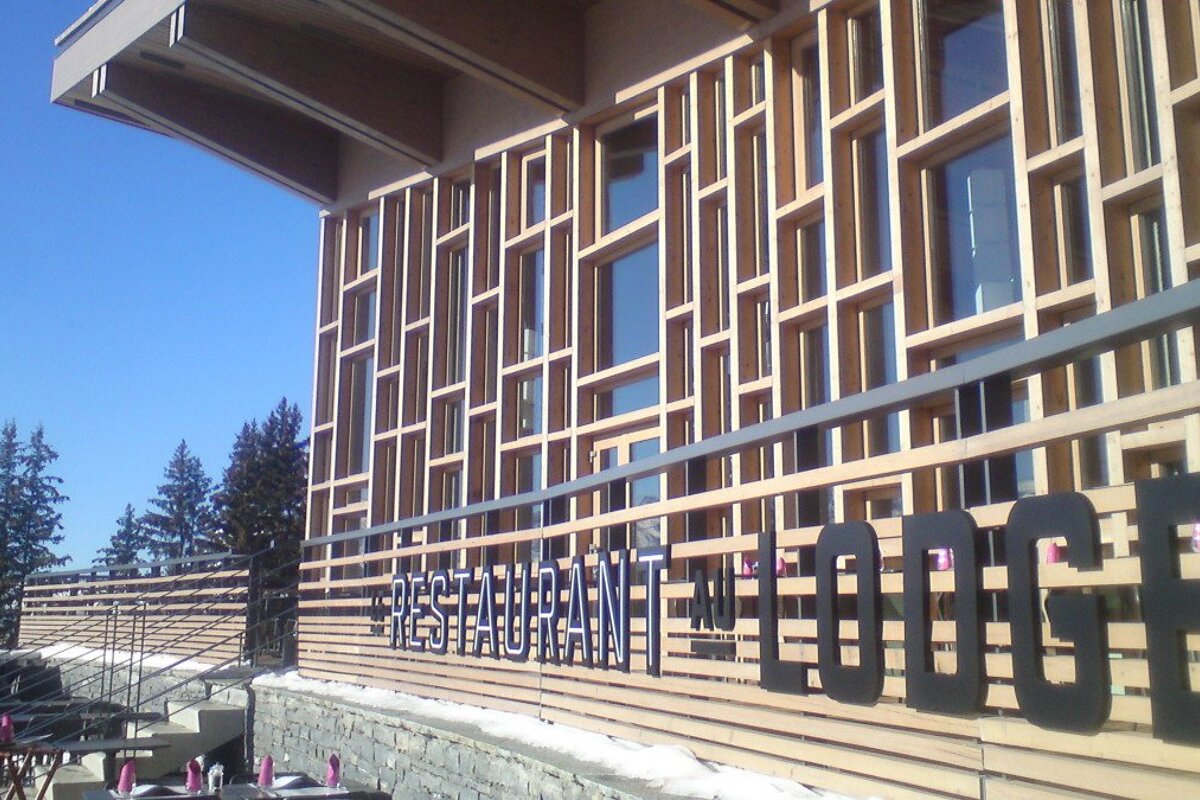 Le Restaurant au Lodge Review
Contemporary dining with spectacular views & very modern touches
Sitting at the top of the Mille 8 complex in the heart of Arc 1800, Le Restaurant is part of the vast Le Lodge building serviced by the Villards gondola.
The entire structure is truly striking thing and its avant-garde styling would not look out-of-place in the centre of a large city. The interior is no less impressive, with the floor-to-ceiling windows providing incredible views of the surrounding pistes.
Le Restaurant is very different from most mountain eateries in a variety of ways. Whereas most restaurants give you the options of being inside (usually with little natural light) or outside, the immense glasswork of Le Lodge blurs the line between the external and the internal, giving you the sensation of being outdoors even when you are not.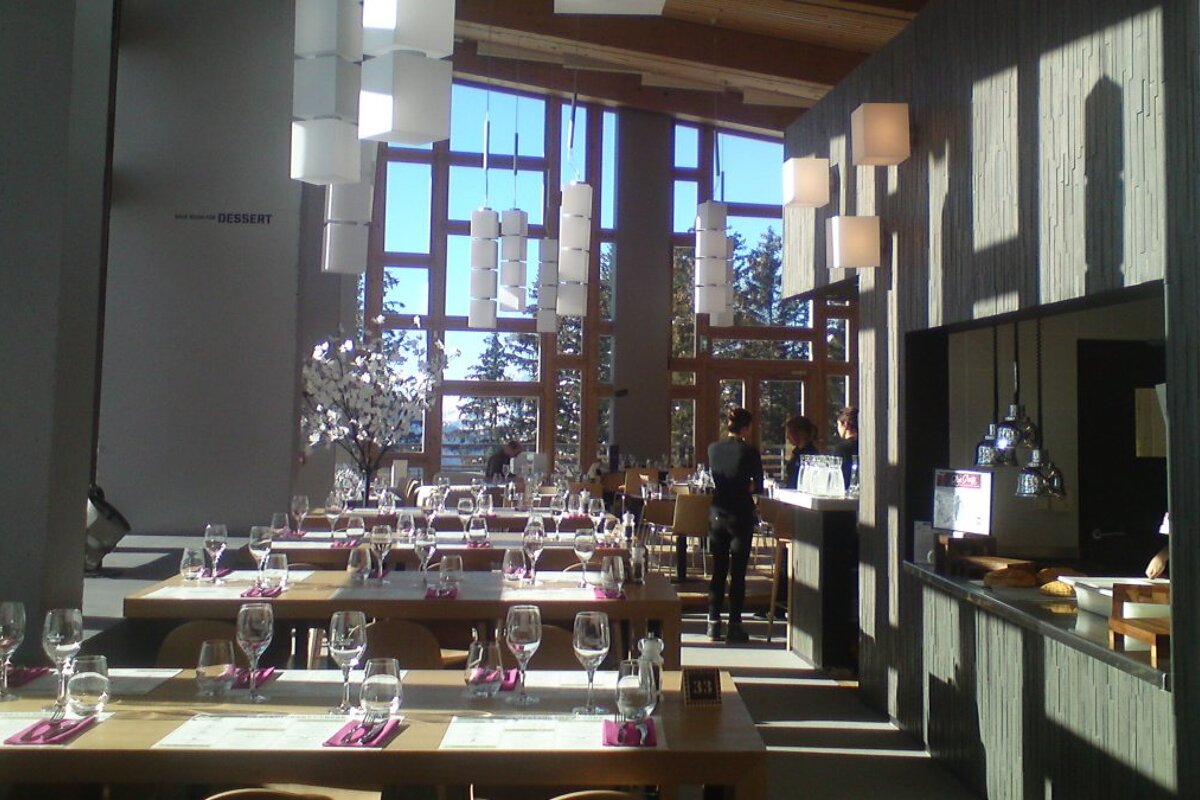 The Restaurant
There are two main dining areas in Le Restaurant, plus private rooms. In the main room there is a bar, a relaxed sofa-seating area, a decent number of tables (including raised tables with stools) and, of course, the impressive picture windows. Along one side of this space, there are a handful of individual rooms each with a table, a window with a view of Mont Blanc and a television so you can play the helmet-cam footage from your own action cameras. Downstairs there is similar additional seating, although without the grandiose high ceilings and panoramas. All tables can be reserved in advance.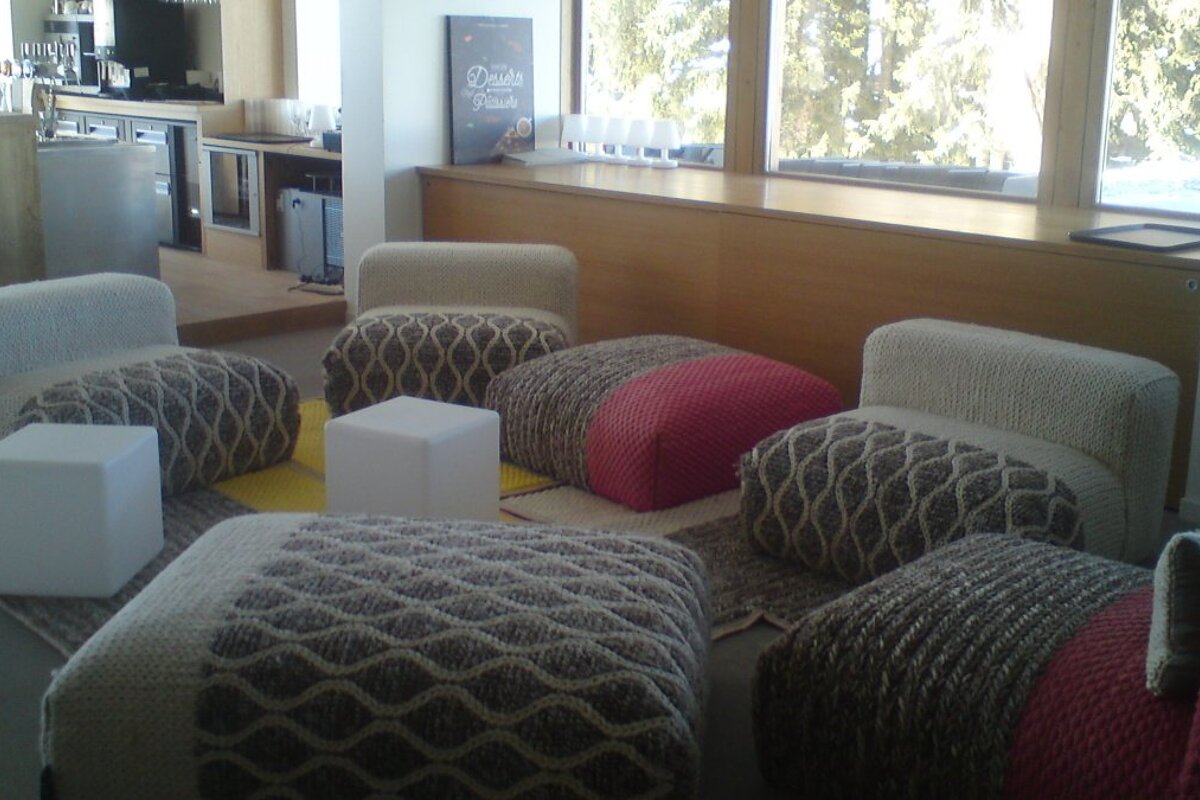 Le Restaurant is open between 11:45am and 6.30pm every day, serving lunch and "Happy Hour" drinks and snacks (between 3.30pm and 5.30pm). Dinner is served only on Thursday nights, when the Lodge is open to the public for a while longer, and a restricted menu of Savoyarde specialities is available.
The decor and finishing throughout Le Restaurant is top-notch and the clientele ranged from skiers just off the slopes, to ladies-who-lunch wearing designer apparel, and a good number of patrons who clearly worked directly for Paradiski (which, I think, is a very good sign). It appears that no expense has been spared in the realisation of the building, with the separate child's play area (including Playstation 4), the individual dining rooms, the capacious bathrooms and even the cutlery paying testament to the restaurant's inherent quality and attention to detail.
Outside there is a suitably large, two-tiered terrace area complete with tables for eating and deckchairs for relaxing.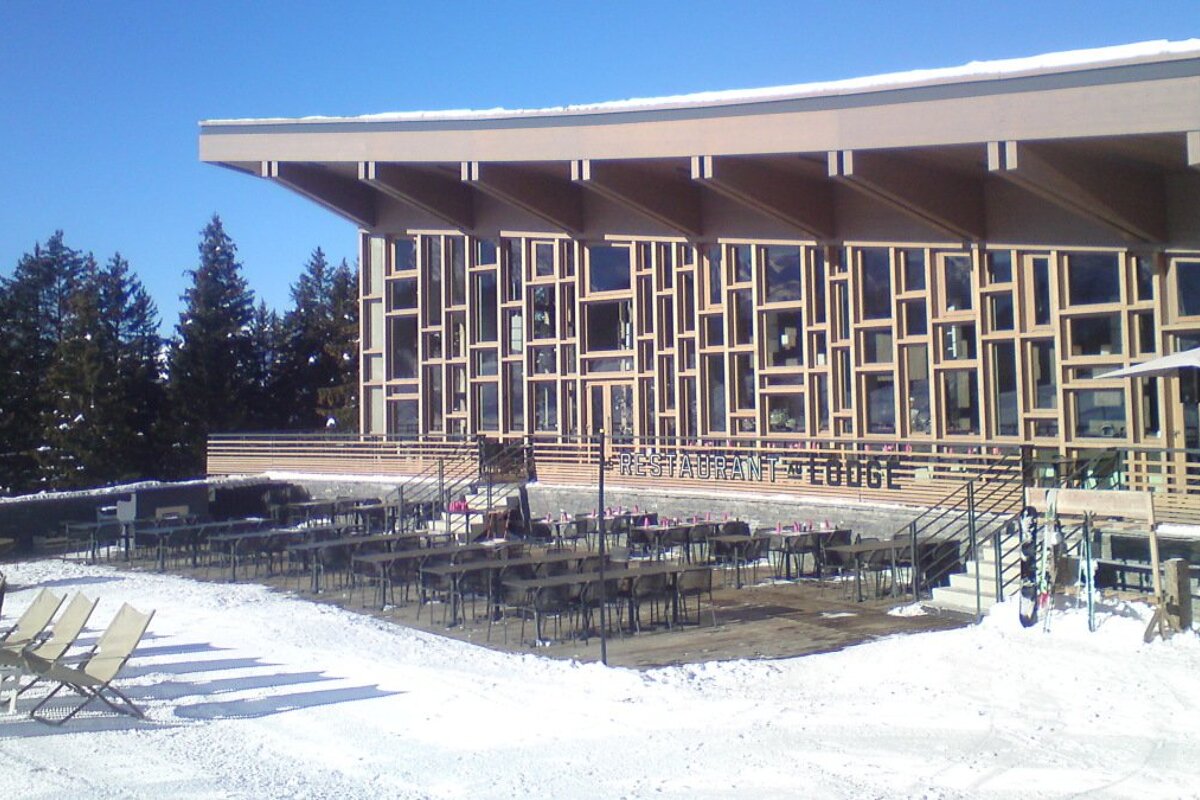 The Food
As usual I chose the "plat du jour" (€17) which, on this occasion, was Beef Bourguignon with Purée Maison (or very smooth mash with a leaf pattern, as I like to call it). There is also a daily starter (€9) and dessert (€10), or you can have all three dishes as a menu du jour (€27).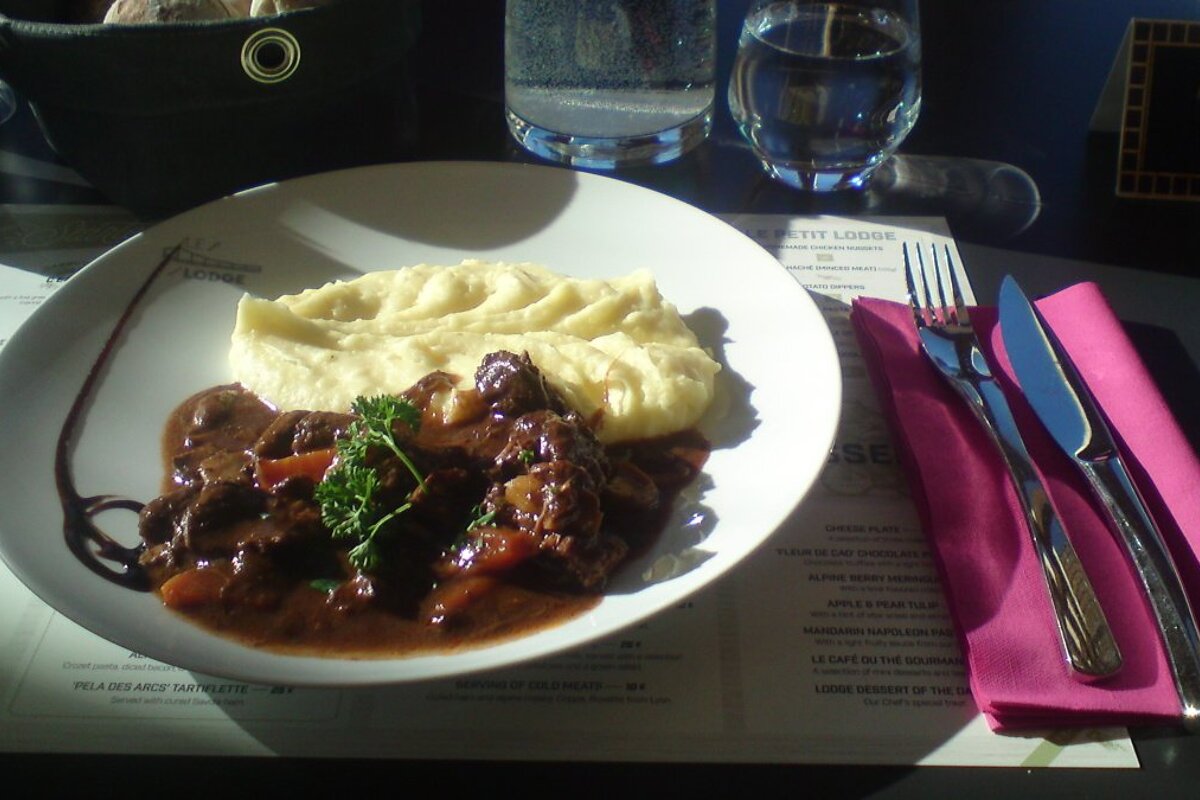 The menu itself has a good selection of salads (starting at €14), the typical Savoyarde fayre (with a traditional fondue costing €19), a couple of pasta dishes (starting at €16), and a few meat options (including "Le Lodge Burger" at €22 and duck breast with winter vegetables at €26). The starters were mainly available as sharing platters, which I thought was a nice idea even if it might not suit every group size.
If you can drag the kids away from the play area, then they are also catered for well: the children's menu has two meat options, served with one of pasta, potato dippers or vegetables, followed by chocolate pudding for €14. There are also six baby high-chairs on hand for tiny people.
Throughout my meal the waiting staff were very attentive and pleasant, with my lunch arriving very promptly. The beef was beautifully cooked and the stew had a great depth of flavour. The accompanying mashed potato was very smooth and creamy, off-setting the rich, meaty sauce very well. I must admit, in a weaker moment, I virtually wiped the plate clean with one of the complementary bread rolls.
Having demolished my main course, I was tempted by the pudding menu which included a cheese board, an Alpine berry meringue, and a coffee (or tea) gourmand featuring a medley of mini-desserts (all €12). However, knowing I had plenty more snowboarding to do in the afternoon, I stayed strong and fought the urge.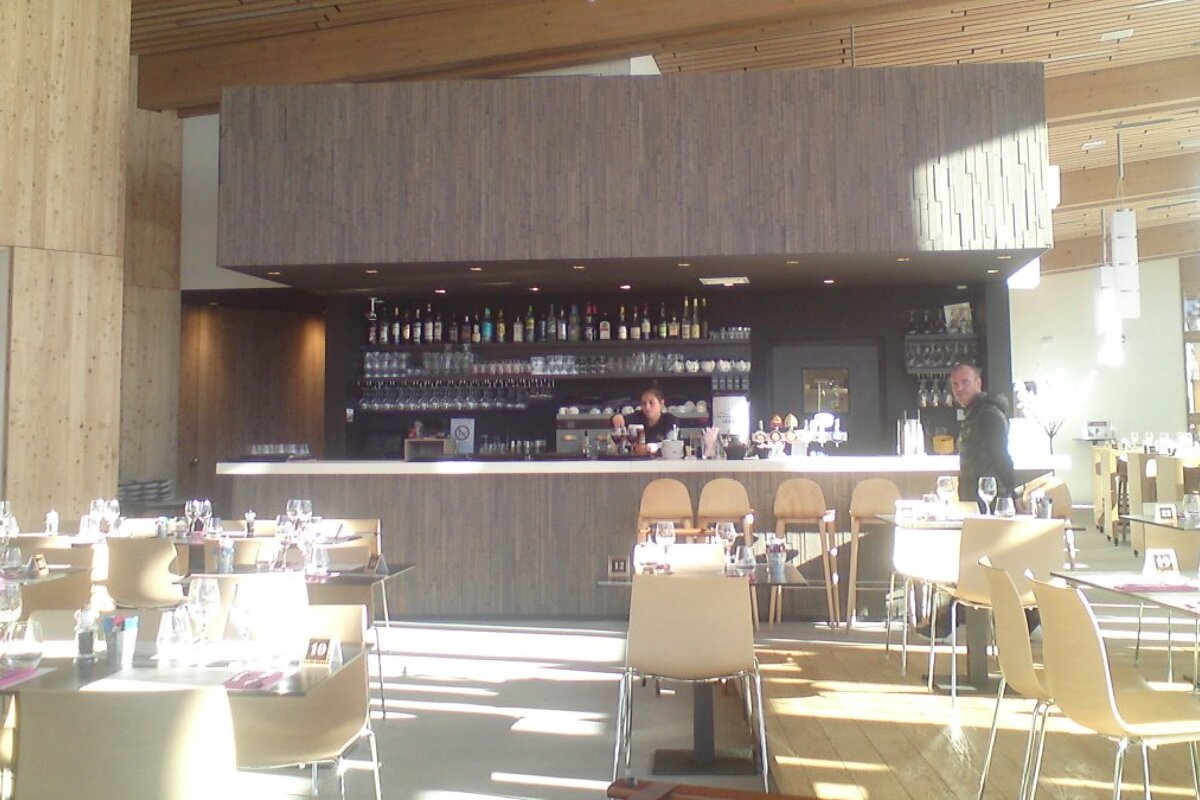 The Drinks
There is an excellent wine list including four choices of Champagne for any special occasion (starting at €70). There is a wide range of cocktails (from €8), an extensive list of liqueurs, and four beers on tap. During "Happy Hour" you can have a "demi" Stella Artois for a very reasonable €2.50 and mulled wine for €3. At the same time, you can sate your hunger with crepes, waffles or platters of meats or cheese.
If you fancy something non-alcoholic, the bar offers an assortment of teas and coffees, soft drinks, "mocktails" and fruit juices to whet your whistle.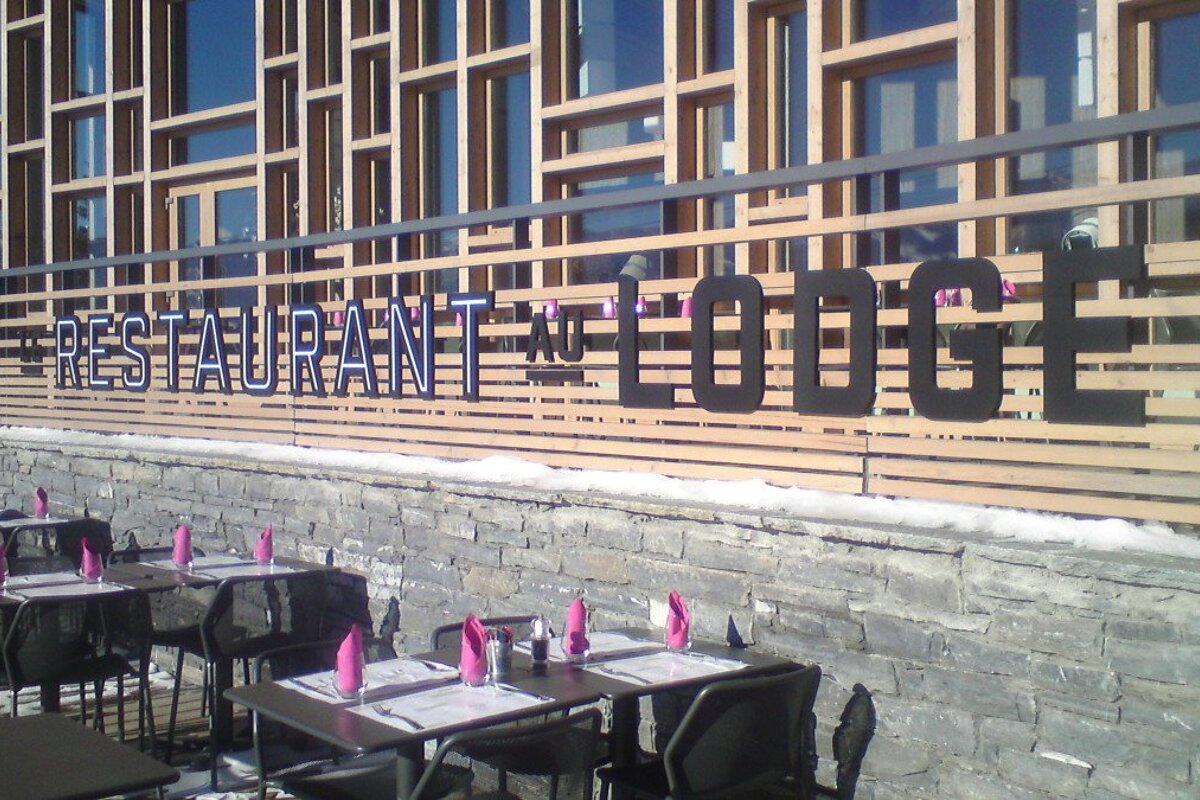 Overall
Le Restaurant is not the cheapest place to lunch in Les Arcs, neither is it the most expensive, but it is certainly one of the most unique. The architecture is stunning, creating an incredible space in which one simply eats delicious food. Whether treating yourself to a slap-up lunch, or just enjoying a quick drink on the way back to your home resort, it is worth visiting Le Lodge at least once during your holiday. You can't help but love the venue and its extensive views.
Location