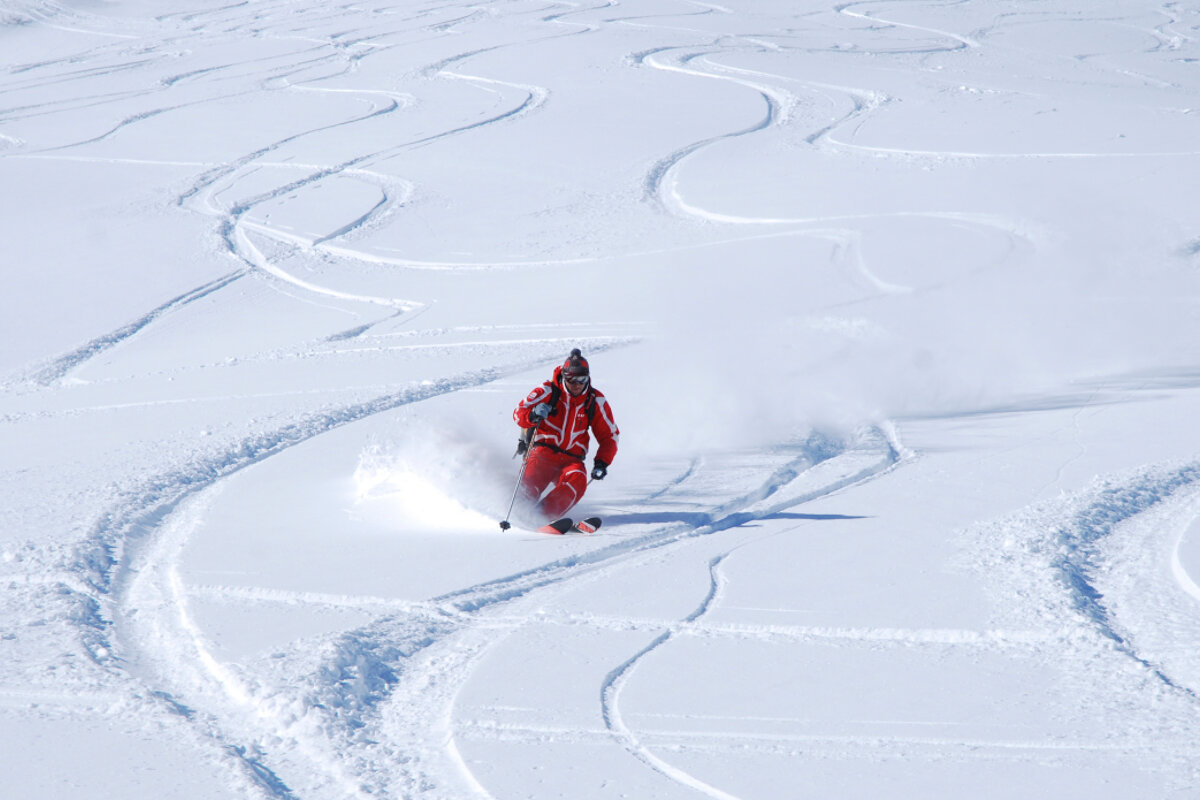 Off-piste Ski Areas in Les Arcs
Discover the top Les Arcs off-piste skiing
Off-Piste Skiing in Les Arcs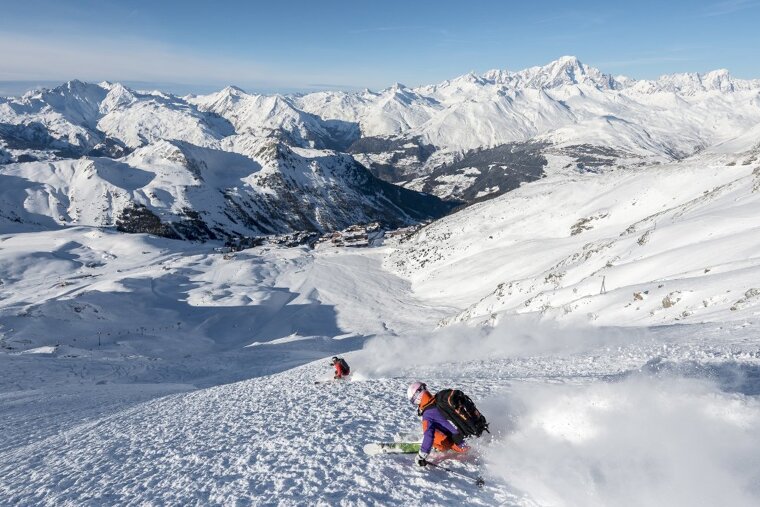 Even with its reputation of being a great place to ride powder, it takes a surprisingly long time to become tracked, unlike many other Alpine resorts. There are some areas which will hold fresh snow longer than others and, like all ski areas, you're more likely to get powder higher up.
The Grand Col is an off-piste playground. The lift is small and slow, which can be off-putting, but there are typically fewer people on the two (one red, one black) pistes than in the off-piste areas surrounding them. Because the whole area is above 2500 metres it receives, and keeps, more fresh snow than most other areas in the resort. Be prepared for the very flat (if not slightly-uphill section) towards the bottom of the red run, you'll need some serious speed to traverse it without undue effort.
Similarly, but a bit lower down, there is plenty of off-piste accessible from the top of Arc 1800's Vagere lift around the Golf and Vagere red runs. There are some hidden streams towards the end of the Golf run however so, as with all off-piste skiing, exercise caution in areas you do not know well.
For beginners who want to try some off-piste, they should try the wide-open area above Peisey-Vallandry, around the 2300 lift. Although largely groomed, there are some patches which are left unpisted, and can be great fun immediately after a snowfall. You've got to get up there quickly though!
If you like dodging the trees, there's plenty of forest near the Derby lift which can be successfully negotiated by those with the requisite skills. There's also lots of other woodland leading down to, and beyond, Arc 1600.
Off-Piste Skiing in La Plagne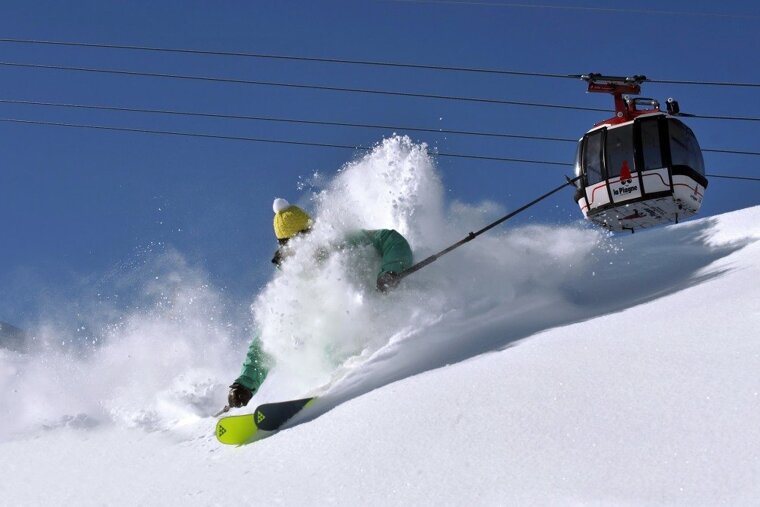 As with the intermediate pistes of the La Plagne ski area, the smaller villages are good places to head for fresh snow. Over in Champagny, the Verdons Sud side of the Grand Rochette is a big open face that has an amazing formation and fun terrain. The Montchavin/Les Coches area has many runs through the trees, also perfect on bad weather days, and also big open bowls in between the Dos Rond and the Mont St Jacques. There is an amazing route through the trees from the Mont St Jacques all the way to the bottom of the Olympic Bobsleigh run below Plagne 1800. For beginner powder hounds there is a nice gentle off-piste run that follows the blue Les Bauches down from the top of the Dos Rond.
The main area, of course, is the glacier. The most famous runs are on the north face of the glacier and there are many off-piste routes to choose from. The 'Petit Face Nord' is the easiest and most accessible choice as it is a pretty simple traverse from the Traversee chair lift. The 'Couloir Canadian' is the next step up and involves a hike up. The best place to see the north face is from above Vallandry in Les Arcs where you can see the difficultly increasing just by looking from right to left. Parts are very steep and large avalanches are common so a guide is definitely needed for all runs on the glacier.
As with all off-piste skiing make sure you are well equipped and ready to tackle the un-groomed mountain, check out our avalanche safety guide for more tips. We also recommend that you take a mountain guide with you when heading off-piste, they have extensive knowledge of the mountains and can show you the ropes.
Before heading off-piste
Before you head off piste, here's a few things you should be thinking about:
Take a course in avalanche awareness and practice the techniques learned. Henry's Avalanche Talk is one way to find out more with regards avalanche safety and there are several companies who run courses in alpine resorts throughout the winter.
Look at the weather and avalanche forecasts for France, reviewing the degree of local avalanche risk also. Henry's Avalanche Talk produces a translation of current avalanche conditions in English and PisteHors is also an excellent reference place.
Don't ignore advice given by local mountain guides or others if advised to ski a certain path, or to keep a specific distance between fellow members in a group
Plan the route carefully, evaluating all different options and assessing all elements of danger. Look at the timings for each route. Inform others of your route, and when you expect to arrive back
Attach your transceiver properly to you and DON'T FORGET to turn it on, test the signal is working, and make sure you have all the necessary equipment. (A transceiver is of no use if the user has not been trained in its use, it is turned off, or it is in a rucksack - unless you want just your bag to be recovered).
Read more about understanding avalanches & how to try to avoid them.