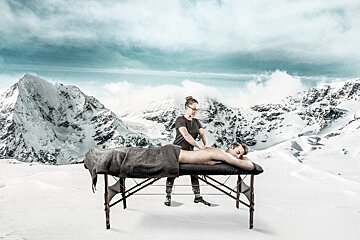 Massage Me, Les Arcs
Mobile Massage Company
Massage Me work across the French Alps and can offer a whole variety of massages and treatments from the comfort of your own chalet, apartment or hotel.
Whether your aim is to indulge in true relaxation on holiday or to re-energise in preparation for more fun on the slopes, the experienced team of professional therapists at Massage Me has something to offer everyone. Best of all, you won't even have to leave the comfort of your room as they come to you and turn your accommodation into your own personal spa - now that's luxury!
Their tailor-made service means you can choose a treatment to suit your needs, from the classic, traditional massages and the Winter Wonder's created specifically with your holiday in mind, to the completely customisable indulgences like their luscious 100% tailor-made massage or their super-special pregnancy massage for the mums-to-be (from 13 weeks). Massages are available from 30-90 minutes (for a minimum of 60min total booking).
For those needing some revitalisation before another long day on the slopes, Massage Me offer a number of specific ski treatments, such as Skiers Legs, designed exclusively with the skier/snowboarder in mind, this deep tissue treatment will rejuvenate aching muscles and keep you on the slopes from first lifts to your last run.
Therapists are on hand between 08:00 and 20:00, 7 days a week.
What's included
Massage Me therapists will arrive with everything they need for you and your treatment.
Worth knowing
For groups there are 10% discounts available for bookings of 3 or more consecutive hours, so it's ideal for getting everyone involved.
Massage Me also offer some wonderful gift vouchers if you're looking to treat someone special.
Location