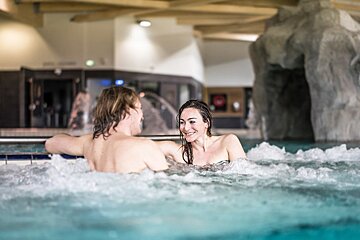 Top spa breaks in Les Arcs
Pamper yourself in resort this season
Winter holidays in Les Arcs are not just about skiing and energetic outdoor pursuits.
You can sweat in a sauna or sauté in a steam room, have a full body treatment or an exfoliating facial, you can even try biokinergy or reflexology. Here is our guide to the best places for personal pampering.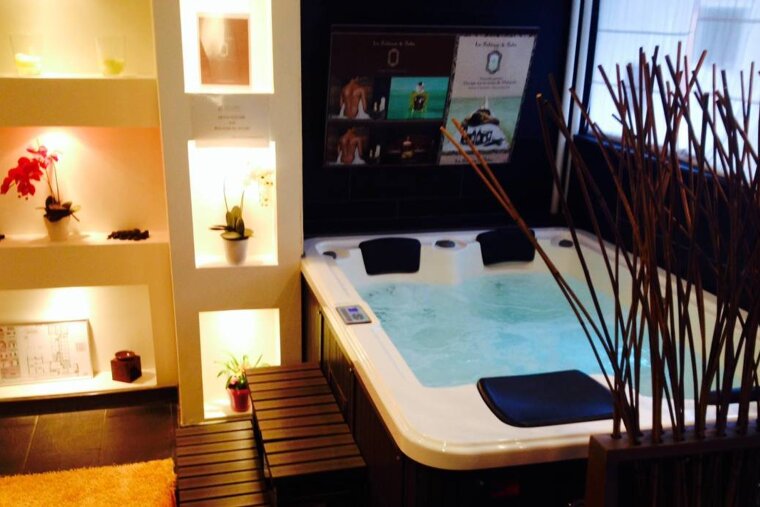 Arc 1600
If you are staying in Arc 1600, the obvious choice for a treatment is the Hotel Arcadien. It has a full spa featuring a Jacuzzi, sauna, steam room and, if you want your body to match your ski-induced face-tan, sunbeds. They also offer a full menu of beauty treatments which include a two-hour Balinese "voyage" via a lotus flower and frangipane scrub, a shea butter body wrap and a full-body massage. Entry to the spa, which features a unique wooden outdoor hot tub with panoramic mountain views, is only €18 for non-residents and can be even cheaper (€10!) between 11:00-15:00.
If you wish to visit a spa in a different resort, you can ski to any of the Les Arcs' villages within about an hour. Otherwise, you can easily take the funicular into Bourg St Maurice or a free shuttle to Arc 1800, Arc 1950 or Arc 2000. This opens up a wealth of other spa options.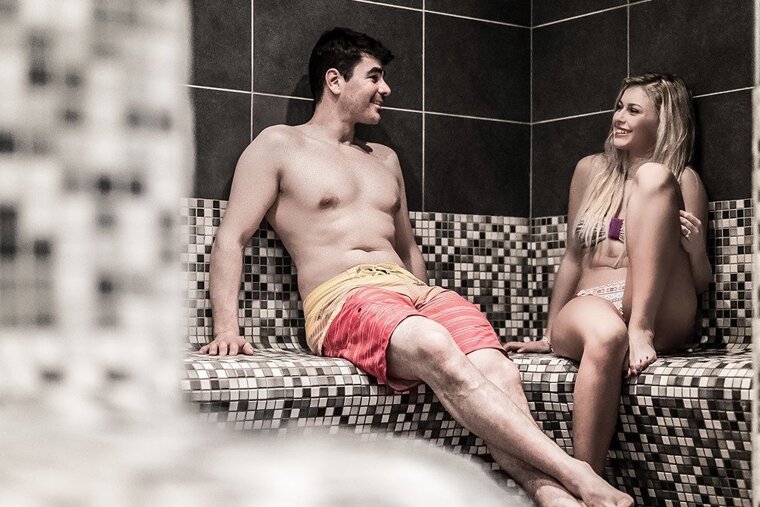 Arc 1800
This resort has a large number of spas, wellness centres and expert therapists available to the holidaymaker, some of which are genuinely spectacular.
The modern Mille8 centre contains a swimming pool, fitness centre and fully equipped spa with two large steam rooms. There are also two saunas, a solarium with views of the piste and a Jacuzzi. Day access to the gym, pool and spa areas cost just €20, with a full week pass available for €79. There is even has a happy hour in the early afternoon (12:00-14:00). Come to unwind, stay for the complimentary herbal teas!
There are two Deep Nature Spas: Les Alpages de Chantel and Hôtel du Golf. These both offer a range of body, facial and beauty treatments. With upmarket interior design and expert beauticians, masseurs and therapists on hand, you can get everything from a sports massage to a simple leg wax.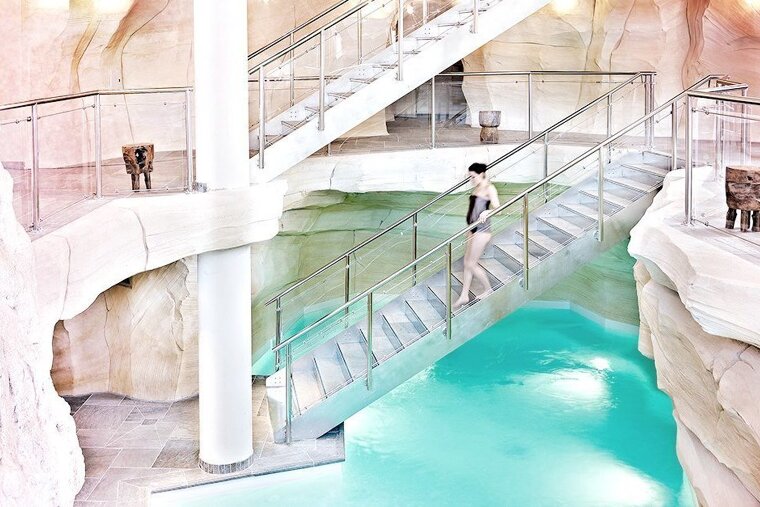 Arc 1950
Arc 1950 also hosts a Deep Nature Spa in the Pierre & Vacances Les Sources de Marie residence. The exceptional surroundings contain fun pools and a "dragon sauna" in a volcanic cave. A vast choice of treatments is also available helping you to make the most of your downtime. A two-hour spa session is only €25 between 12:00-14:00, rising to €29 after 14:00. If you really fancy a full day of relaxation, for only €125 you can have a 20-minute facial treatment, a 20-minute body treatment (massage), lunch and spa access: just the thing for mid-ski-trip rejuvenation.
In addition to the usual skiing and public transport access to other villages, from Arc 1950 it is just a short trip on the (free) Cabriolet gondola to Arc 2000.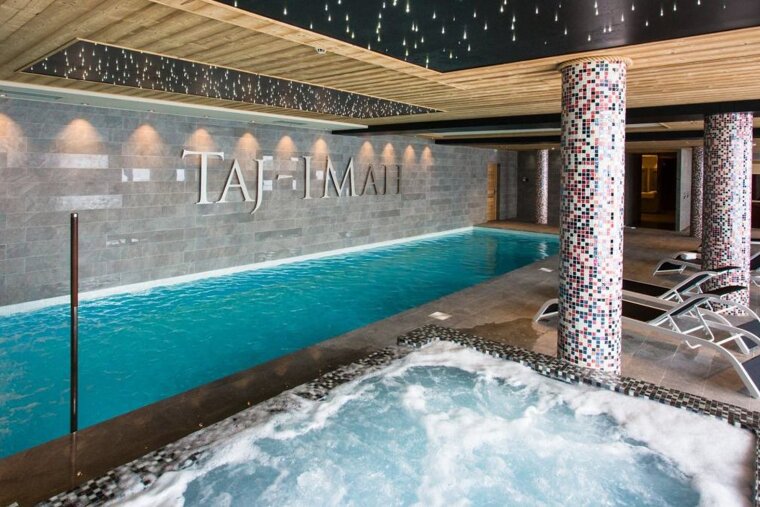 Arc 2000
The brand new five-star Taj-i Mah Hotel, overlooking the local slopes, contains a suitably upscale spa spanning 400m2. There is a swimming pool, a sauna, a steam room and a Jacuzzi. Available treatments include massages, facials, manicures, pedicures and a variety of hot waxes. Access to all the facilities costs €25 before 16:00, or €35 after. There are a couple of good deals worth noting: spa access including a 25-minute massage is only €85, or you can enjoy the spa, massage AND lunch for €125.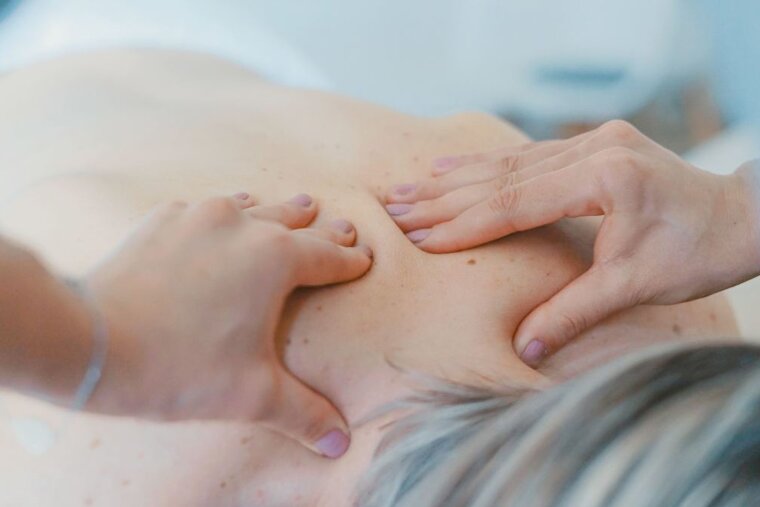 Bourg St Maurice
In the valley, you can visit Modelages Bien Étre, or they can visit you, for a body scrub, massage, or even waxing. Alternatively, the nearby Carpe Diem Institute also provides a range of beauty treatments from facials to eyebrow tinting. On the quaint high street, which is only a short walk away, you will find L'Eau Vive organic shop which sells healthy, delicious food, as well as organic hygiene and beauty products.
All around Les Arcs
You can also get pampered in your own chalet, apartment or hotel room. Massage Me offer a mobile massage service sending some of the best therapists in the Alps to your home in the mountains. Their range of treatments goes from the classic relaxing and sports massages to their signature Winter Wonders devised especially for skiers and including full body, legs, back, shoulders or feet massages. They also have facials in their menu, which you can combine with any other treatments, as well as pampering services for pregnant women. Or you can just ask them to tailor their treatments to your specific needs.