January in Les Arcs: What's On & Weather
Plenty of snow, quiet slopes and some spectacular events
About
January is truly the heart of the winter in Les Arcs. The Christmas and New Year's crowds dissipate, the snow settles in and there is a whole month to enjoy everything the mountain has to offer. January is a stunning time to come to Les Arcs, so wrap up warm and get outside to find new year adventures.
After the Christmas holidays are over, January is the quietest part of the main winter season in resort. Although the lifts have been open for a few weeks, this often feels like the 'real' start of the winter season. Typically, it is normally the first month of the year before the snow begins to arrive in earnest, opening up every area and turning the mountainside into an access-all-areas playground for snowsports enthusiasts. January generally brings a huge quantity of snow, leading to powder days galore.
The quiet conditions on the mountain don't translate to quiet nights in the town. There are fewer families and more adult visitors, meaning it can be easier to get a table at a restaurant, and the bars are buzzing with plenty of live music and party nights to keep you entertained whilst you warm your hands on a glass of vin chaud.
Read on for a look at what we like to do in resort throughout January.
What are the weather & snow conditions like in Les Arcs in January?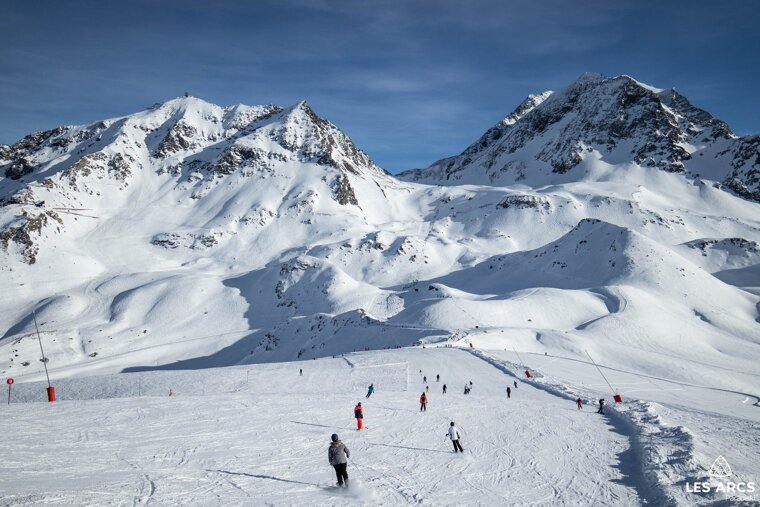 There is regular snowfall - on average 12 days - and subzero temperatures keep it nice and fresh. In January the average daytime temperatures generally fall between a high of-1°C and a low of -9ºC, getting around five hours of sunshine. Definitely pack those thermals!
---
What's on in Les Arcs in January?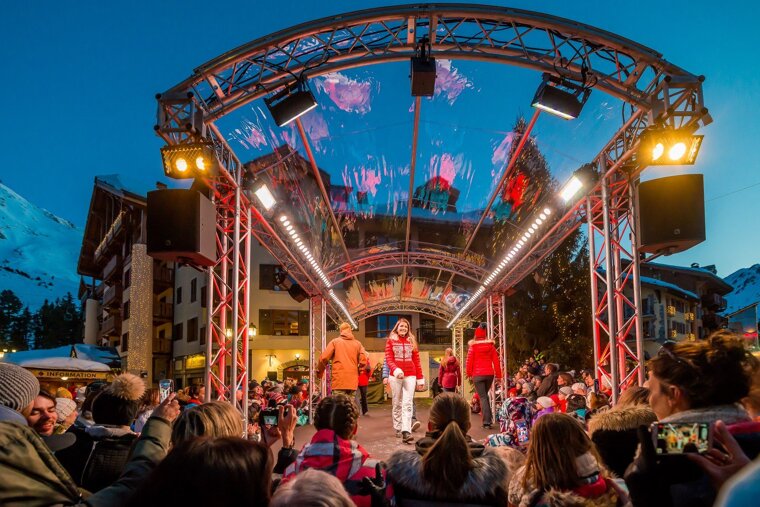 Russian Christmas Week
Following the New Year celebrations is Russian Christmas week in Arc 1950. The main event is the fashion show, which features an open-air catwalk with models wearing the latest winter styles, a live DJ, oysters, champagne, a laser show and fireworks. Starting at around 18:00, it's quite an eclectic mix but definitely worth a visit.
Australia Day
On 26th January, our antipodean friends celebrate their national day. Australia Day has become a day to celebrate for all nationalities and it's now an institution across the Alps. You'll probably see large groups of seasonnaires BBQing on the slopes and then hitting the bars afterwards.
Pierre Blanche Ski Mountaineering Race
An event that utilises both the long January nights and the physical fitness of its participants: the Pierre Blanche. A convivial exploit open to everyone, this is an evening ski-touring event which is 4.6km in total, including a 2.3km hike up the mountain (430m of ascent) before skiing back down. Entry cost includes a post-ski buffet and registration starts from 17:30 at La Coupole in Arc 1600.
Launch Pad Freestyle Competition
Launch Pad is a big air freestyle competition in the snow park above Arc 1600 / Arc 1800. Featuring some of France's top skiers and snowboarders, including at least one big air world champion, the first day is an all-day practice session, whilst the second features a morning of qualifying rounds, before the finals in the afternoon. With competitors flying through the air, doing gravity-defying tricks, grabs and spins, it is a must-see event to kick off the new year.
E-Fat Bike Challenge
If you are looking for something a bit different but still involving snowy downhill, why not sign up for the E-Fatbike challenge in Arc 1950? Fat-biking is essentially downhill mountain biking on bikes with massively oversized wheels. Usually takes place mid-month.
---
Skiing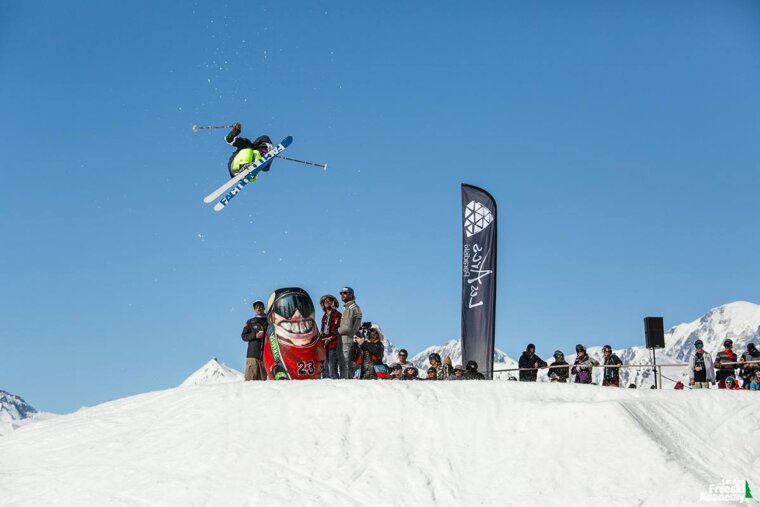 With all those empty pistes, no lift queues and perfect conditions, we like to get out into the mountains on our skis and snowboards as much as possible.
If you visit the resort in January you can buy a lift pass and join one of the local ski schools' many ski or snowboard lessons taking place around the resort.
---
Things to Do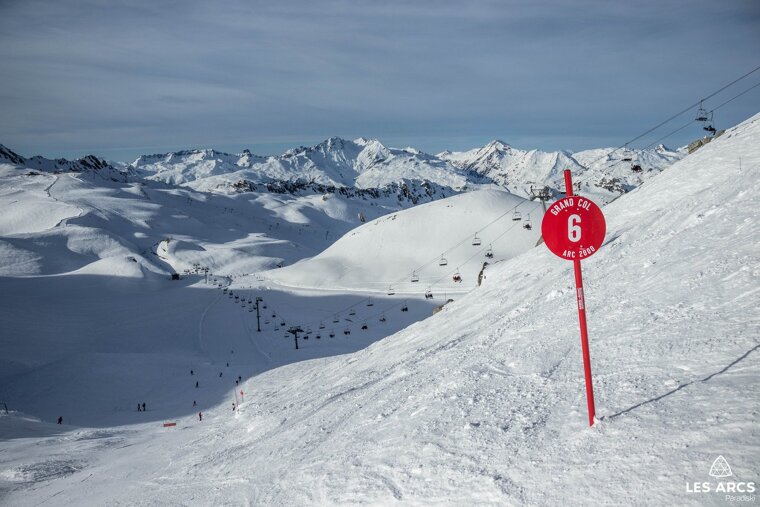 Alternative Winter Sports
It doesn't just have to be piste based adventures you take part in. Ski-touring and split-boarding have become extremely popular in recent years, and there's nothing that gets the heart pumping like gaining altitude under your own steam. When it's a 'white out' you'll find us changing tack entirely, pulling on some raquettes (snowshoes) and venturing forth into the wilderness on one of the many snowshoeing routes around the valley, all the while dreaming of tomorrow's bluebird powder day.
Skating & Cross-country skiing
Explore the great outdoors and landscapes of Les Arcs / Peisey-Vallandry while indulging in a gentle and invigorating sport with your family and try cross-country skiing. There's a 5km course in both Arc 2000 and Arc 1800, and a 44km Cross-country skiing course at the Nordic site of Peisey-Nancroix.
The Electric Scooter
Try out some TROTR'X all-terrain electric scooters - the new fun, green activity. Supervised by a qualified guide, all equipment is provided, you'll bring the laughs and good humour as the resort of Les Arcs becomes your playground. You must be aged over 14 to take part. Contact the tourist office for more information.
---
Bars & Clubs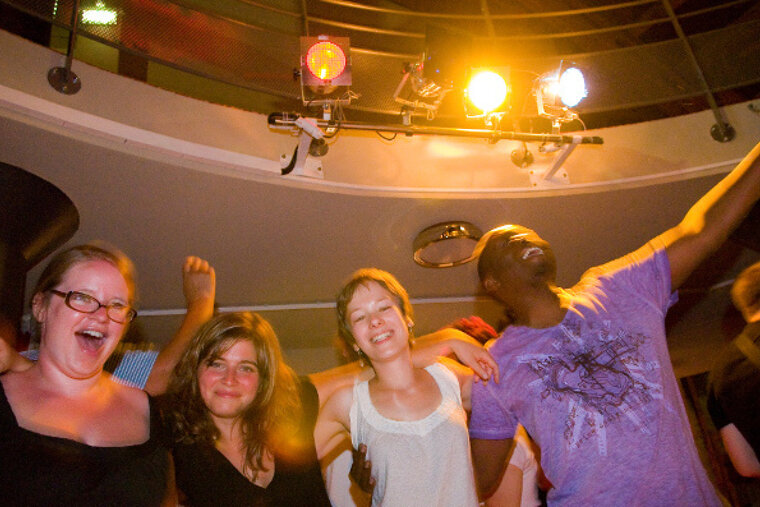 At this time of the season we are looking forward to some live music sessions, whether from local bands or even one of the open mike nights and jam sessions that the local bars often hold. So, whether you fancy yourself an Adele, Bob Dylan or a Satriani, there's definitely somewhere you can 'entertain' the crowds.
Of course, that's if we've made it home from one of the many après-ski events taking place. In addition to the regular afternoon on-pistes parties (like WTF and Neon at La Folie Douce above Arc 1800), there are some big events that light up specific resorts throughout the month.
---
---
More inspiration...
These may be the headliners but there is always something going on in the Les Arcs resorts, with welcome drinks a usual feature of the villages' snow fronts on a Sunday evening. You can make early "first tracks" before the lifts open, go cross-country ski joëring pulled by a horse, play laser games, compete in a parallel slalom race, have a snowball fight or do a little night skiing. Check out our events calendar for more ideas.
---